After Boris Johnson became Prime Minister there was a brief rise in confidence that he could meet his October 31st Brexit deadline – but it has now dwindled significantly
The UK is due to leave the European Union at the end of the month, but YouGov data reveals that the initial confidence Boris Johnson had inspired in people that Brexit would occur on time has evaporated.
When YouGov began tracking expectations that the deadline would be met back in the middle of July, 27% of Britons thought success was likely. A week later it became clear that Boris Johnson would be PM, and this figure jumped to 38%. It continued to rise thereafter, peaking in early September at 45%.
Since then, however, confidence has deflated. By the end of September only 21% of Britons believed it likely that the Prime Minister was going to be able to fulfil his pledge, and this figure currently stands at 26%.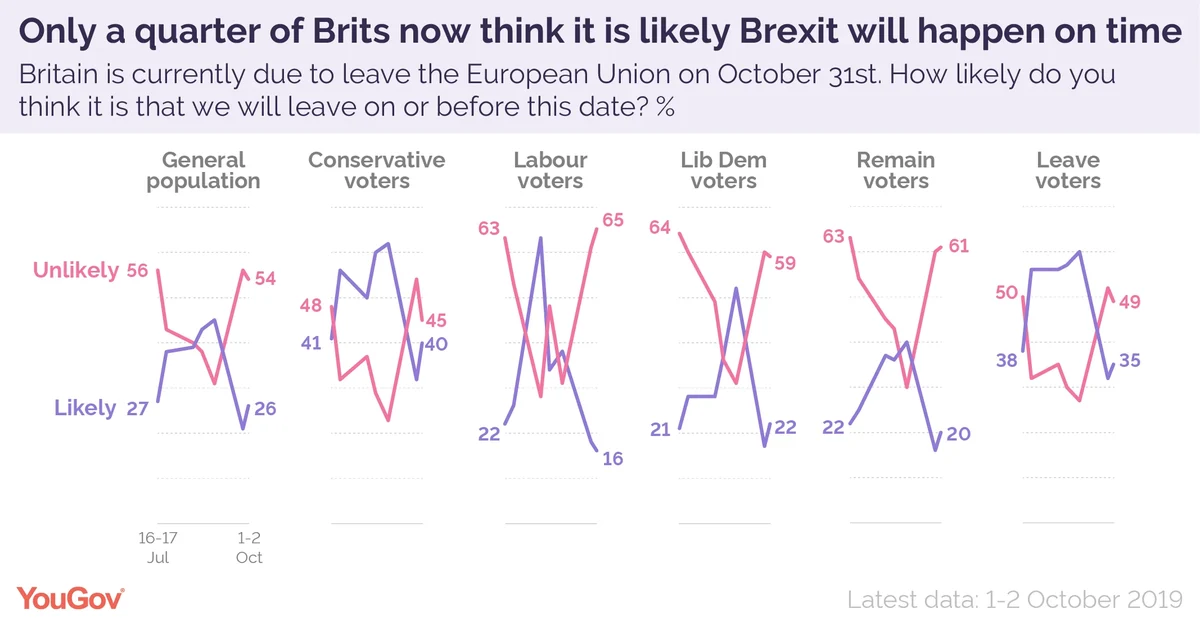 Those groups that tend to be more pro-Brexit are still more likely than their opponents to think our withdrawal from the EU will happen by the end of the month. Nevertheless, the confidence of Conservative, Brexit Party and Leave voters has been shaken.
Whereas 62% of those who voted Conservative in 2017 believed Brexit was likely to happen on time when asked in early September, this figure has since fallen to 40%. Over the same time period the proportion among Leave voters is down from 60% to 35%.
But will this hurt Boris Johnson?
The pledge to deliver Brexit on October 31st formed the core of Boris Johnson's pitch to become Prime Minister, and his opponents will hope that in blocking his ability to fulfil his promise they have fatally weakened him.
It is not clear at this point that they are right to think this. In an attempt to match the likely argument Boris Johnson would be making should the Brexit deadline come and go, a separate YouGov tracker has asked Britons the extent to which they would think it would be the Prime Minister's fault if the deadline was missed because MPs had voted to block Brexit taking place by that point.
The first time we asked this question was in early September, when a healthy majority of Leave, Conservative and Brexit Party voters said it wouldn't be the PM's fault at all. This also coincided with the peak in belief that Brexit would be delivered on time.
While confidence that Britain will leave the EU by the end of the month has slumped since that point, the proportion of voters who Boris is seeking to woo that consider him blameless for any delay has actually increased slightly.
Where in early September 59% of 2017 Conservative voters said a delay would not be Boris Johnson's fault at all, this figure has now risen to 65%.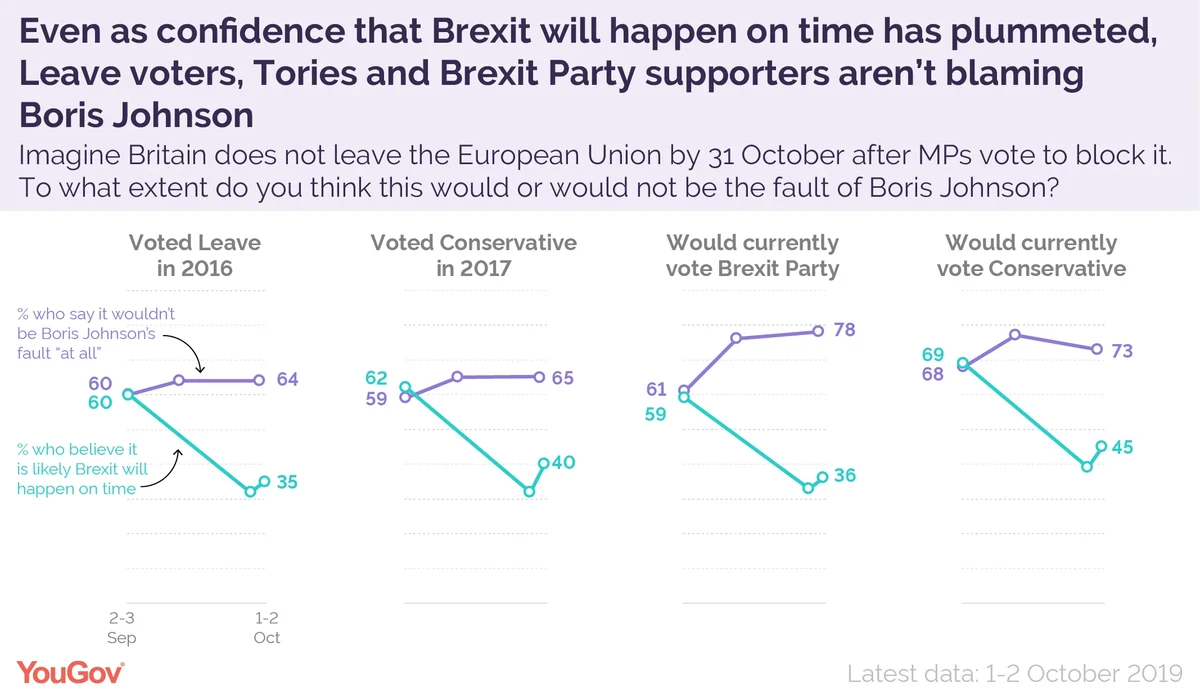 Among those who say they currently want to vote Conservative, the number has gone from up from 68% to 73%, and among people who say they will vote Brexit Party it has increased from 61% to 78%.
There has been a much more modest increase among Leave voters as a whole, with the figure having risen only four percentage points, from 60% to 64%.
Of course we won't truly know until the beginning of November how Brexit-supporting Britons will treat Boris Johnson should he fail to bring Britain out of the EU. But at this point the Prime Minister doesn't seem hurt by falling confidence.
Photo: Getty
See the Brexit deadline expectation results here and the blame for Boris results here