By 44% to 37% the public oppose a cross-party government to oppose Brexit, and also don't approve of any of the options for a temporary PM
With a No Deal parliamentary showdown expected this autumn, discussions have begun about a "Government of National Unity" to bring down Boris Johnson's administration and avert a No Deal Brexit on 31 October.
New YouGov polling shows that by a margin of 44% to 37% the public oppose the idea, with the remaining 19% say they don't know.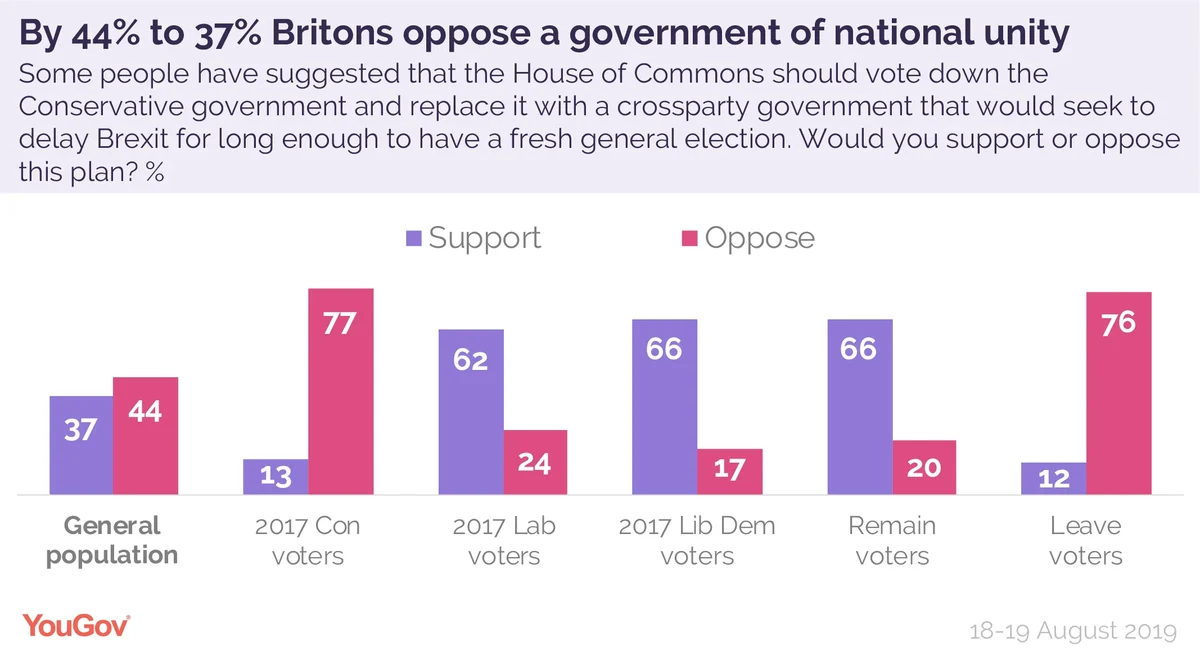 Unsurprisingly, most of the opposition comes from Conservative voters (77% opposed) and Leave voters (76% opposed). By contrast, two thirds of Labour voters are in support (66%), as are 62% of Remain voters.
Ironically, those calling for a Government of National Unity are unable to unite behind a chosen candidate to be temporary Prime Minister. As leader of the largest opposition party Jeremy Corbyn has been arguing it must be him, while Liberal Democrat leader Jo Swinson says that it should be another politician who can garner more support in the House of Commons.
When it comes to public opinion, there is little support for all five of the potential Prime Ministers we tested. Jeremy Corbyn is the alternative PM that is met with the most opposition, with just 15% thinking he would be a good choice compared to the more than four times that number who disagree (63%). The remaining 22% said they don't know.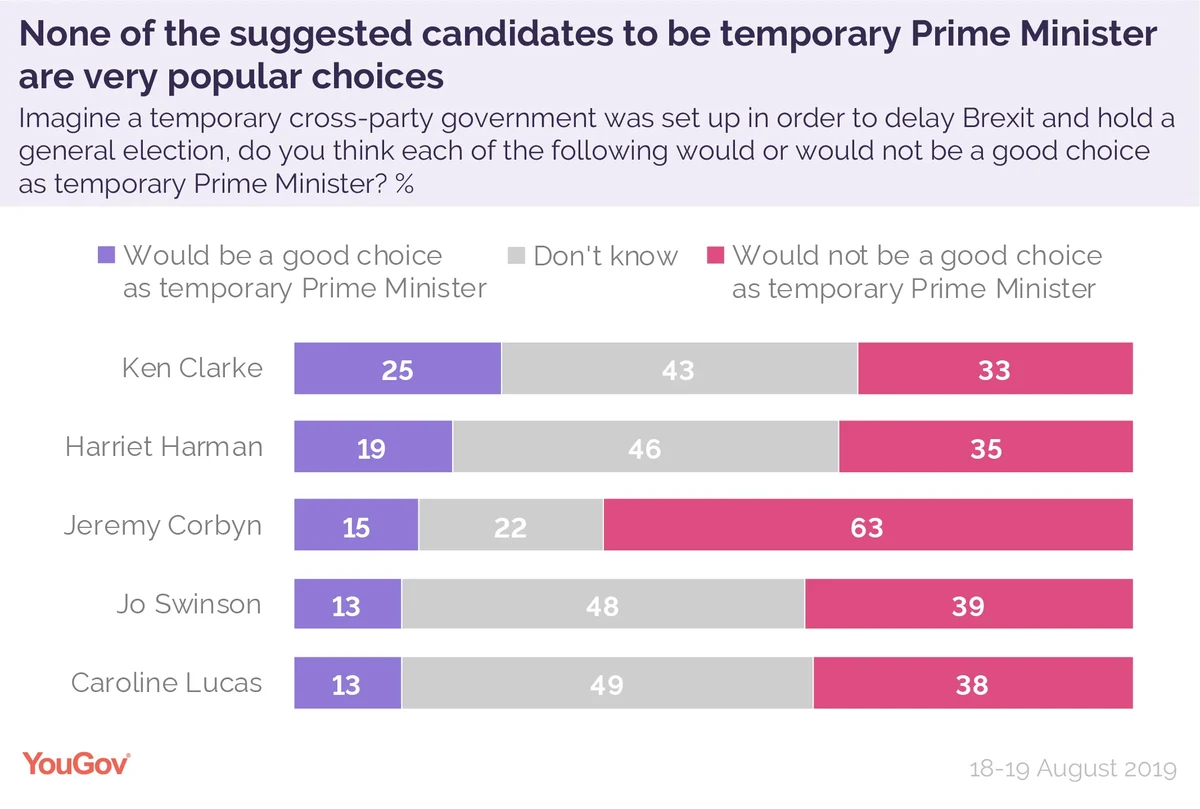 Father of the House and Conservative MP Ken Clarke is the most popular option with 25% thinking he would be a good choice. Nevertheless, even in Clarke's case people are more likely to think he would not be a good choice for a temporary PM (33%).
The three other candidates we tested also have very limited support, with just 19% thinking Harriet Harman would be a good choice and 13% thinking the same of Lib Dem leader Jo Swinson or Green Party MP Caroline Lucas. However in all three of these cases there is a high number of people who say they don't know (46-49%), likely down to the low name recognition of those candidates.
The lack of support for a Government of National Unity isn't because of wide support for the current administration. It is clear the new Prime Minister isn't particularly popular, with just 34% having a favourable view of Boris Johnson, compared to 55% who have an unfavourable view of him (a net score of -21).
It is also clear that the majority of the public do not support Johnson's Brexit position, with our latest poll showing just 22% think that a No Deal Brexit would be a good outcome for the country, compared to over twice that number (49%) who think it would be a bad outcome.
But the polling also demonstrates one of the issues for those opposed to the current Prime Minister. Whilst the public may not like what he is doing, they don't much like any of the alternatives either.
Photo: Getty