Using BrandIndex data for brands such as YouTube and Netflix, CEO Stephan Shakespeare explains why we shouldn't write off traditional media yet
Last week I had the pleasure of two days of pure blue skies at the Monaco Media Forum. As you hope and expect at these gatherings, there was also a confusing barrage of blue-sky thinking. One speaker was working on a project to develop the 3D printer concept by investigating the practicality of printing a warm gourmet meal. Maybe that is little way off; most of the presentations focused on whizzier ways to advertise using micro-targeting and social media.
At the gala dinner, I sat next to a seasoned New York ad exec who might have walked straight off the set of Mad Men. He warned me against over-enthusiasm on the futurology front, caustically remarking: 'You see these great claims for the future but right now we're not even using a fraction of the technology they already have.'
It turns out all that much-vaunted clever tracking and precision-placement of personally relevant ads hardly ever really happens – maybe three per cent of banner ads are truly targeted, he said. And one of the presidents of Warner Brothers reminded us that if Netflix were in a league table of networks, it would come 81st. Even YouTube would struggle to be in the top-ten for shares of eye-balls.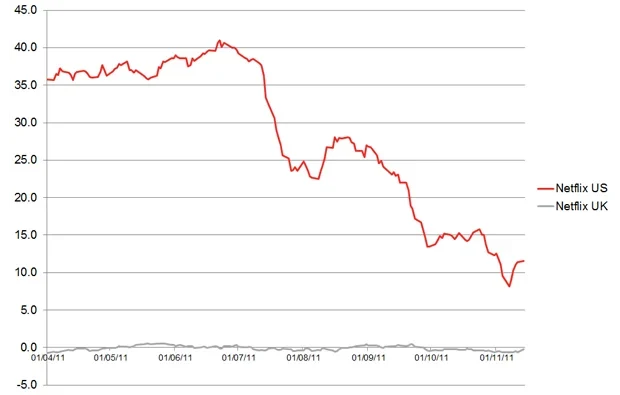 Looking at those two brands in YouGov's BrandIndex, YouTube certainly performs well, scoring around +40 on the Index score (a composite of six key measures) but still trails the BBC, which at around +50 is consistently one of the strongest performing of the 850 or so brands measured. Netflix has barely registered in the UK, but its well-publicised troubles in the US saw its Index score fall from a high of +41 this summer to +12 today.