Boris Johnson is the clear favourite to become Conservative leader, but victory was not always inevitable. Our data shows how his popularity has waxed and waned among the Tory membership in recent years.
Despite a weekend of bad press, Boris Johnson is still the overwhelming favourite to be crowned Conservative leader and Prime Minister next month.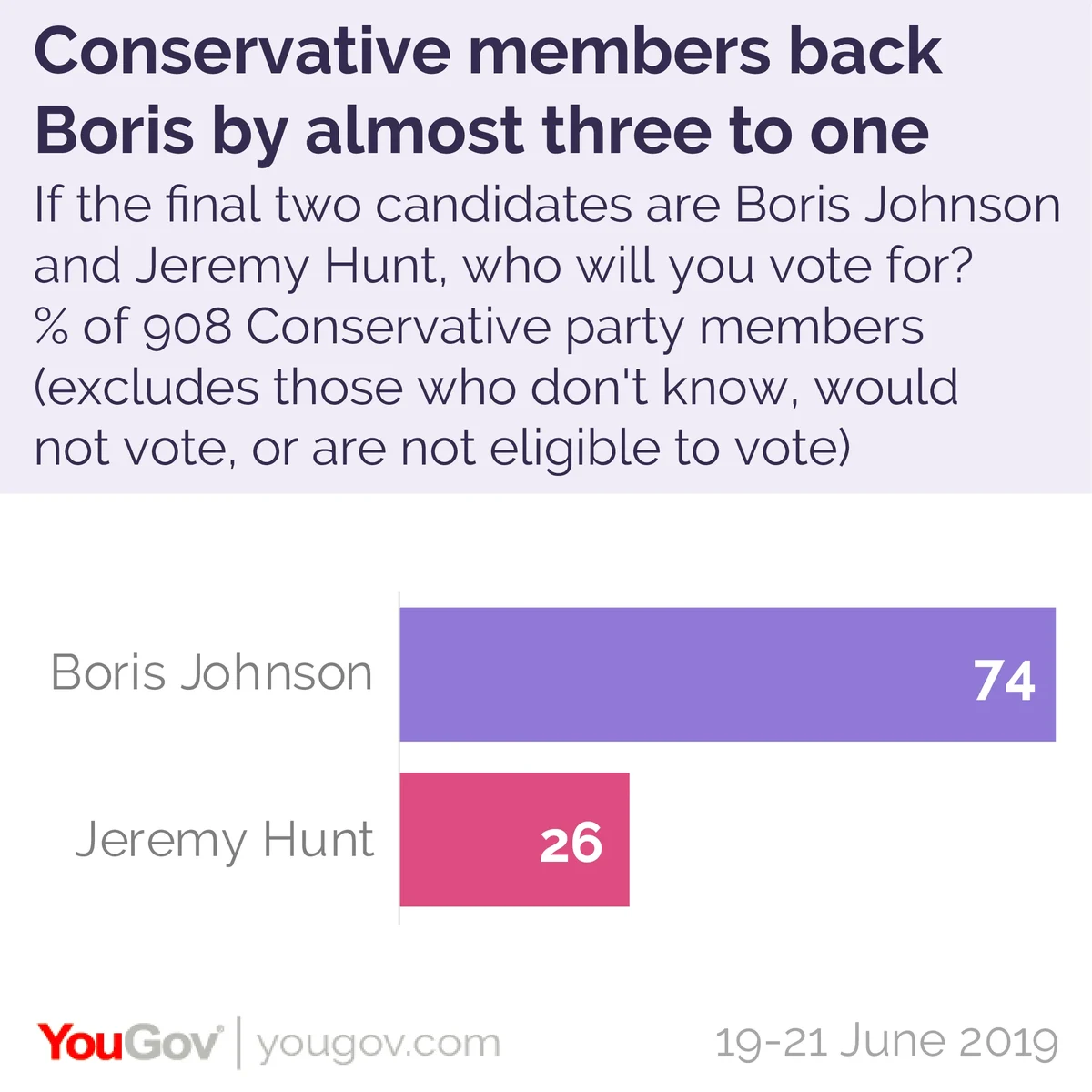 In the latest YouGov poll of Conservative party members Boris Johnson leads Jeremy Hunt by 74% to 26%. The fieldwork was conducted before a story broke on Friday about the police being called to Johnson's home, but this commanding 48 point margin shows how far he would have to fall before this race even became close.
Given the size of this lead it may look like a Boris victory was always inevitable, but our historic data on member's views shows this is far from the case.
During the 2016 Conservative leadership election, prompted by the vote to leave the EU and David Cameron's subsequent shock resignation, most commentators predicted a Boris victory if he could make it into the final two and onto the ballot paper. The bookies had him as favourite, right up until the moment he astounded Westminster by pulling out of the race in early July.
But by that point our polling already showed that even if he did make it onto the ballot paper he was lagging 18 points behind Theresa May in a potential head-to-head battle - with him on just 41% to her 59%.
In fact, his popularity started declining amongst the membership the moment he came out in favour of Leave vote in the 2016 referendum. A remarkable 83% of party members had a positive view of him the week before, but this fell to 76% in just a week after his decision. This trajectory continued, and by early July just 50% of members had a positive view of him, compared to 75% who had a positive view of Theresa May.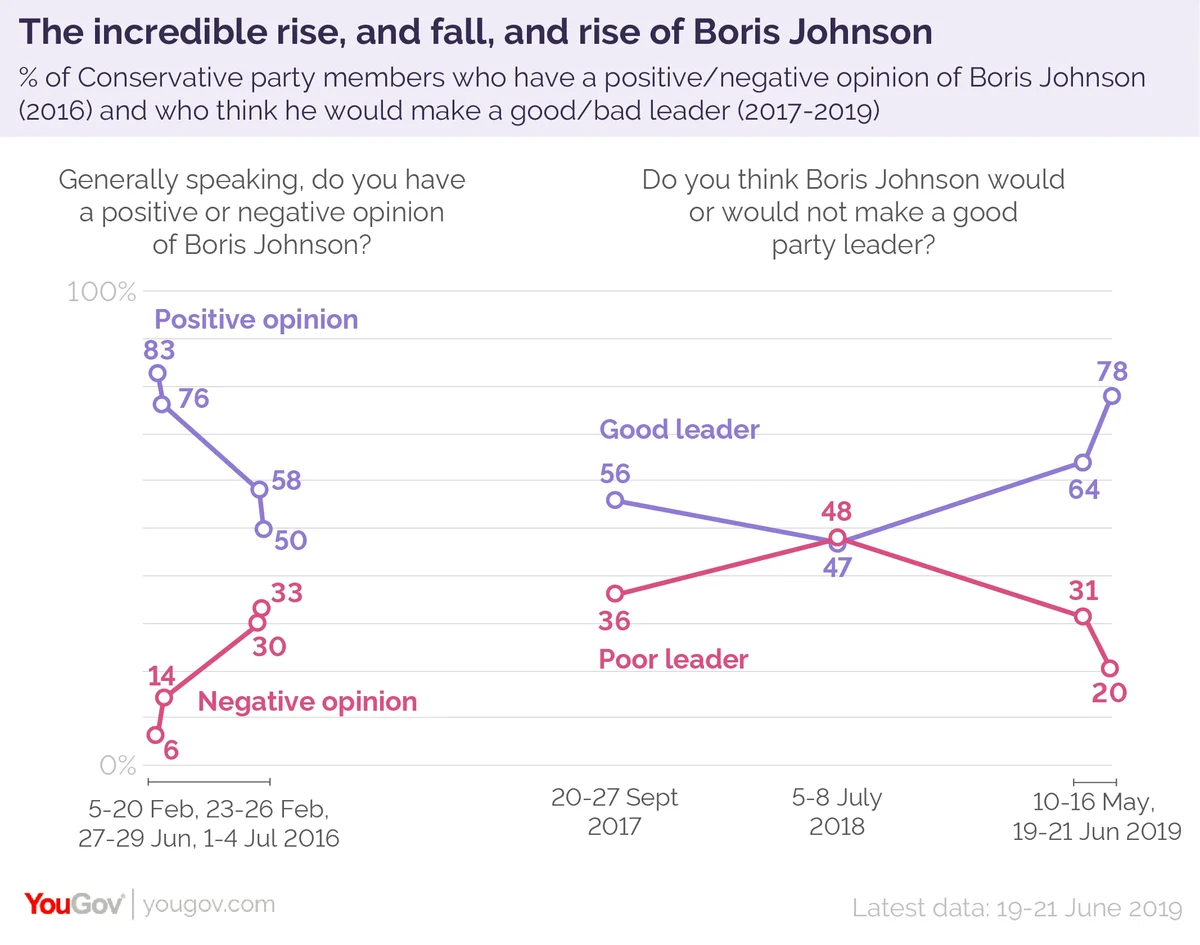 And joining cabinet as Foreign Secretary seemed to damage his popularity even further. Polling the week before the Checkers summit last July showed that just 47% of the Conservative membership thought their current Foreign Secretary would make a good Prime Minister, compared to 48% who thought he would make a bad one.
If there were to have been a leadership election at that point, our data showed that many other candidates would have stood a better chance of victory, particularly the recently promoted Sajid Javid who was then beating Boris by 55% to 45% in a potential head-to-head.
But in the 12 months since then his support amongst the party members has surged, with 78% now thinking he would make a good Prime Minister, compared to just 20% who think he would make a bad one.
So what's changed?
Firstly, he has managed to mitigate against some of his perceived character failings amongst the party membership. Last June, Boris lagged behind other leadership contenders on three main traits, competence, leadership, and ability to win a general election.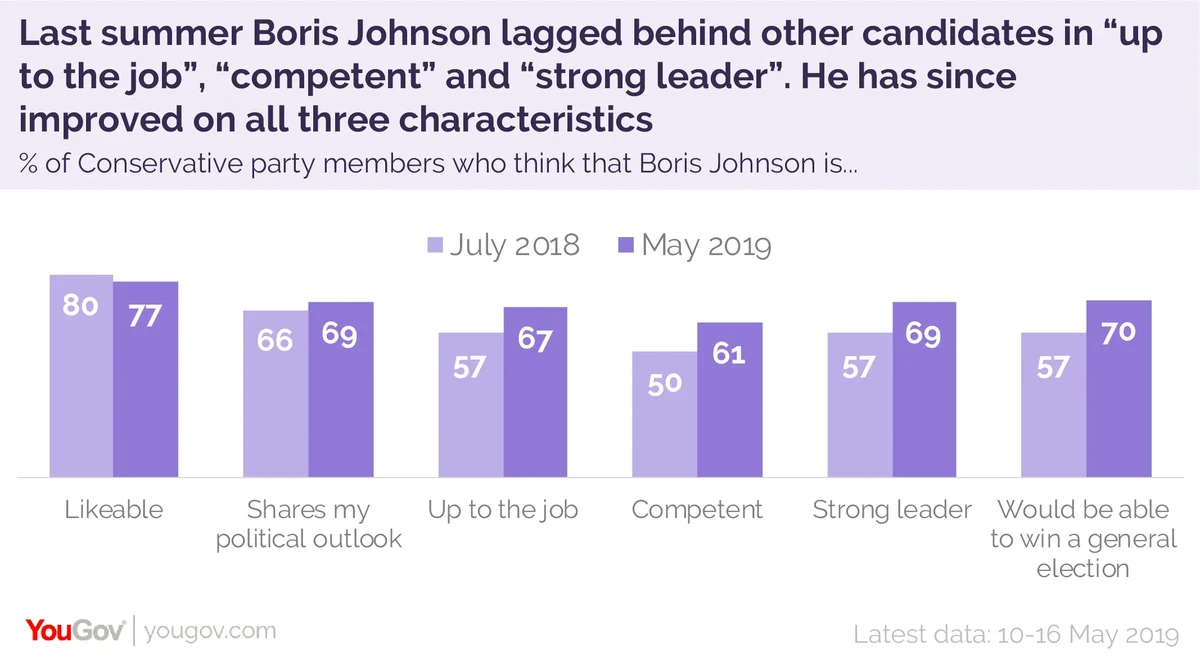 Since then he has improved his score on all three of these measures, with 70% of party members now thinking he would be able to win a general election (up from 57%), 69% describing him as a strong leader (up from 57%), and 61% describing him as competent (up from 50%).
But more important is the ever present issue of Brexit.
Churn within the party membership over the past three years has seen many Remain-supporting Conservative's leave, and Leave supporters join. So Remain voters have shrunk from around a third of the membership to around a quarter.
And most of those Leavers support a fairly hard position on Brexit, with six in ten party members (59%) wanting the new Prime Minister to try and renegotiate a better deal with the EU, but if one isn't reached, leave without a deal in October.
Since resigning from cabinet after the Chequers summit, Boris has cemented himself as the candidate most likely to follow that path, with the vast majority (71%) of members thinking that is what he would do if he becomes Prime Minister. By comparison, just 16% of these voters think that this is what Jeremy Hunt would do.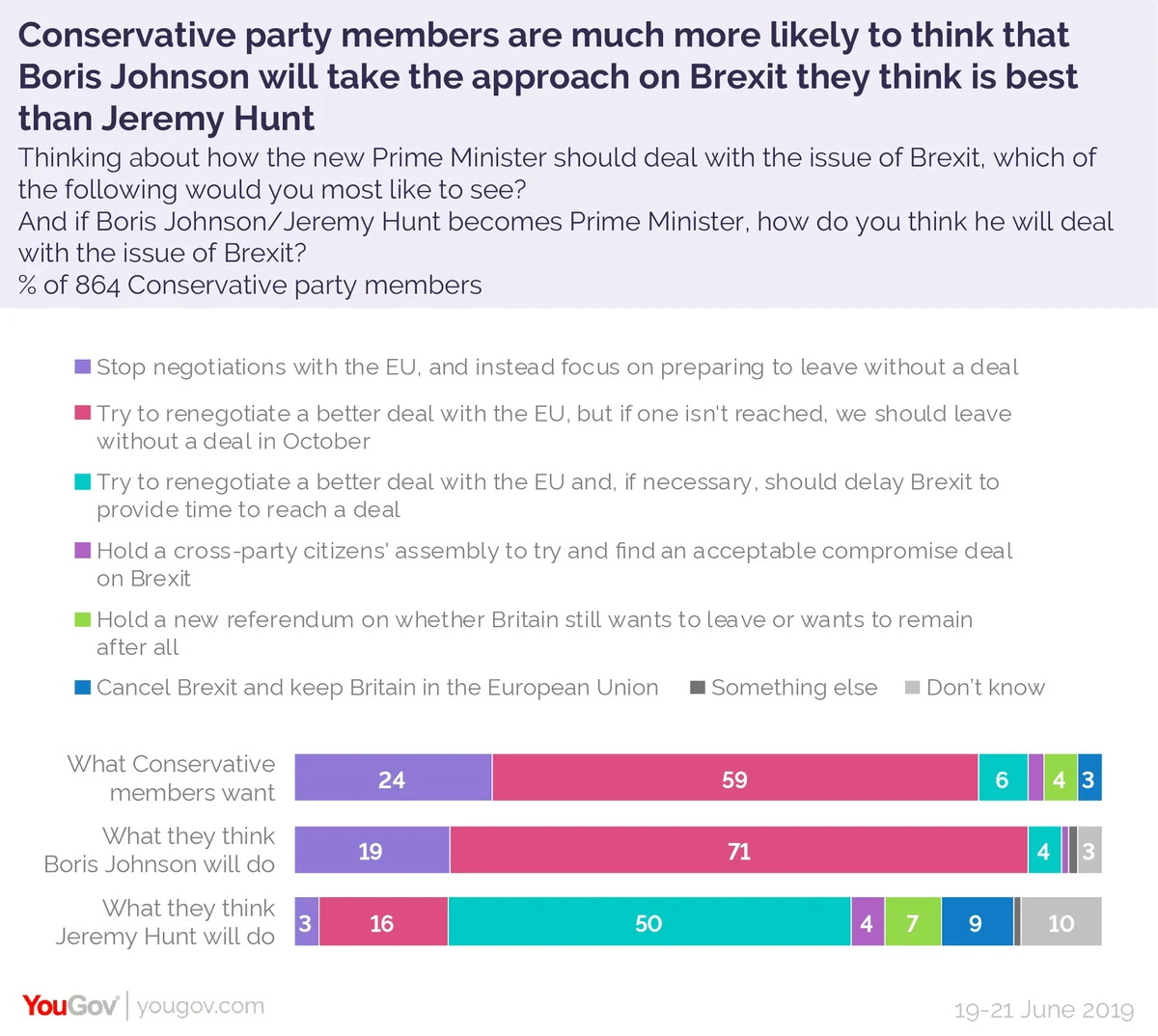 And when it comes to ensuring Britain leaves the European Union by the end of October, a recurring argument during this leadership campaign, nearly nine out of every ten (89%) party members thinks Boris Johnson is likely to achieve that ambition, compared to less than a quarter (23%) who think the same of Jeremy Hunt.
Despite the absurd lead that Boris now holds in this race, it is worth remembering that it didn't always look like we were heading to this point. Over the past 12 months the ex-foreign secretary has managed to completely turn around his fortunes, better appealing to the Conservative party membership, and securing himself this frontrunner status.
Photo: Getty