One of the unlikelier developments in a busy political year was the emergence of the humble milkshake as a tool of political protest. Where, though, do the public stand on it as a form of protest?
A guest commentary by the University of Manchester's Professor Robert Ford
Tommy Robinson was the victim of the first of a spate of weaponised beverage attacks when struck on the campaign trail in Bury on May 1st. The next day he received another in Warrington.
In short order UKIP candidate Carl Benjamin was targeted four times while electioneering, and dairy drinks became such a hazard for Nigel Farage that police in Edinburgh asked McDonald's to stop selling them while he was campaigning.
Two schools of thought emerged. Defenders declared it mere "political theatre", while opponents saw it as intolerant and intimidating.
New YouGov data shows that the public takes a pretty hard line against the practice, which they maintain regardless of the politics of the target.
We presented a representative sample of 3288 voters with arguments for and against milkshaking, and asked their views of the practice. We randomly varied the party affiliation of the candidate on the receiving end, with seven options: UKIP, Brexit Party, Conservatives, Labour, Liberal Democrats, Greens and Change UK.
Between 63% and 73% of respondents disapproved of the practice in every treatment, and between 38% and 43% favoured prosecuting shake throwers.
Those who voted Leave in 2016 take a much dimmer view of milkshaking than Remainers, regardless of the identity of the target. On average, 60% of Remain voters are opposed to the action compared to 81% of Leave voters.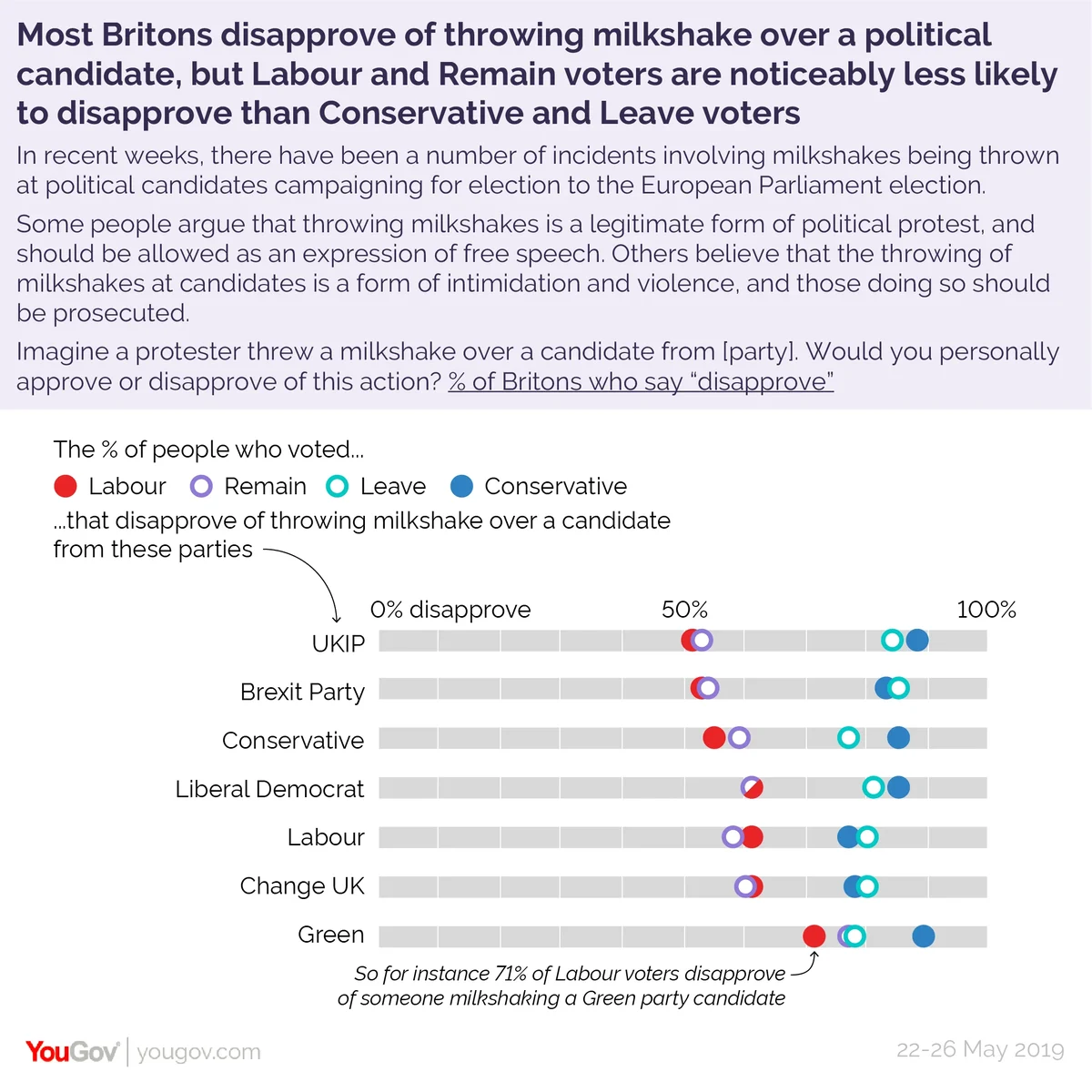 Similarly, those who voted Conservative in 2017 were much more opposed to milkshaking than those who supported Labour in the last General, at 84% and 59% retrospectively, and again this difference was largely the same regardless of who was targeted by the protest.
There were some modest exceptions to the general pattern – Leavers were particularly keen on harsh action when a Brexit party candidate was targeted, with 67% thinking the milkshaker should be prosecuted.
Labour voters are slightly less disapproving of milkshakes thrown at right wing candidates, but even then the majority (53%) still disapprove compared to just one in five (20%) who approve.
Disapproval is somewhat lower among the young and university graduates, reflecting more socially liberal attitudes. Overall, though, the consistency of attitudes is impressive. One thing which unites our divided nation is disapproval of dairy dunking as a form of political protest. Would be shakers beware: the milkshake is a political boomerang.
Photo: Getty