One benefit of daily trackers such as YouGov's BrandIndex is that you can immediately measure the impact of a crisis – comparing where the brand was prior to a problem, to perception within 24 hours, and then its status during the recovery period and beyond.
Last week millions of BlackBerry users were unable to use email, the web or BlackBerry Messenger (BBM) following a systems crash on the morning of 10 October. The blackout affected services across Europe, the Middle East and Africa, with many users taking to social networking sites to vent their anger.
It was BlackBerry rather than brand owner, RIM, that bore the brunt of negativity. Buzz for BlackBerry can be seen to react immediately to the news with a dramatic fall from +11 points on 10 October to -26 on 13 October and -52 by Monday, while RIM recorded a smaller fall from 0 to -14 over the same period.
Buzz scores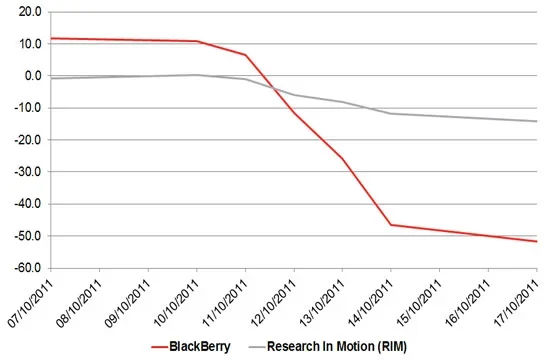 BlackBerry's Index Scores also fell (although not as dramatically), registering a significant drop of 26 points as they fell from +22 on 10 October to -4 a week later. RIM again fared better here, moving only slightly from 3 points on 10 October to +2.
Index scores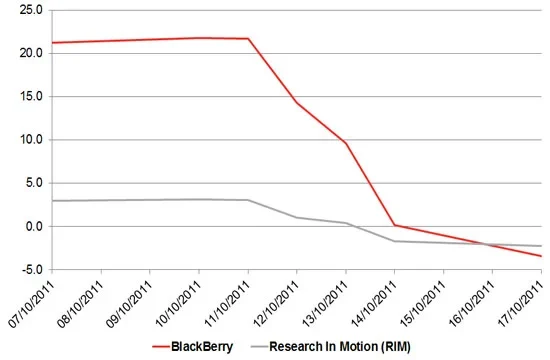 It's the second time recently that we have witnessed how RIM sees no discernible impact on overall brand perception while BlackBerry suffers.
Following the August riots, when BBM was the communication method of choice, BlackBerry's Buzz plummeted with a drop from 10 points on Monday 8 August to -8 by 11 August.
Yet, prior to last week, Blackberry had fully recovered this 18 point drop. Whether the brand's perception is capable of recovering from this latest crisis as successfully can be assessed over the next few days and weeks.