Snap YouGov poll finds the public divided 36% to 32% on the deal
With MPs set for a crunch vote in the Commons tonight on whether or not to accept Theresa May's Brexit deal, a snap YouGov poll conducted today finds that with just 17 days to go until Brexit day the public is divided on whether MPs should accept or reject the deal. Just over a third of Brits (36%) want MPs to reject the deal, while slightly fewer want MPs to accept it (32%). The remaining 32% answered "don't know".
This represents a noticeable move in favour of the deal: a YouGov poll conducted late last week found then that 41% of Britons wanted to see the deal voted down, and only 26% wanting to see it pass the Commons vote.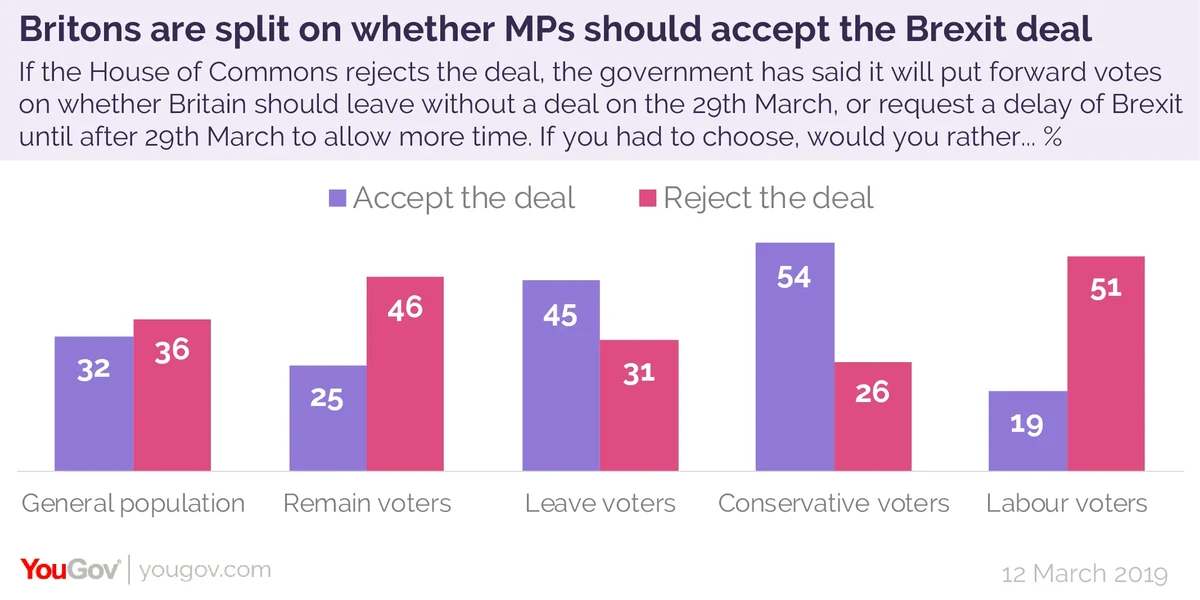 The shift has come almost exclusively among Leave voters. While last week Leave voters wanted the deal rejected by 41% to 35%, they now want to see it passed by 45% to 31%. By contrast, Remain voters want to see if rejected by 46% to 25% - essentially the same as last week when it was 48% to 24%.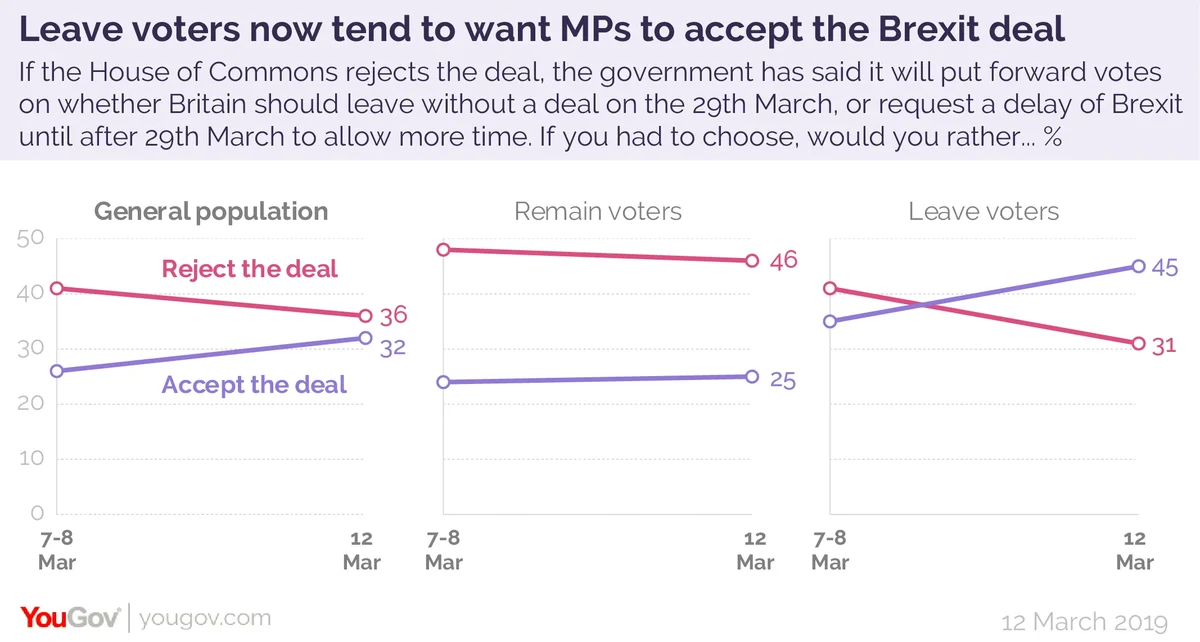 Conservative voters are even more in favour of passing the deal. A majority (54%) of those who voted Tory in 2017 want MPs to back the deal, while 26% want MPs to oppose. By contrast, Labour voters want the deal rejected by 51% to 19%. Early this morning Jeremy Corbyn accused the Prime Minister of failing to deliver the changes she had promised, and called for MPs to vote the deal down.
While the public are closely divided the parliamentary arithmetic suggests a resounding defeat for the deal in the Commons. Should this come to pass then MPs will be asked to vote tomorrow on whether to leave the EU without any deal at all. If this option is in turn voted down, then a subsequent vote on Thursday will be held on whether to delay Brexit.
A further YouGov poll, also released today, finds that in the event that the Commons does reject the deal Britons would back delay over no deal by 49% to 34% - although Remain voters would overwhelmingly want to see Brexit delayed, while Leave voters would vastly prefer to leave without any deal.
Photo: Getty