Three quarters of Brits pay little to no attention to the goings on at party conference
It's the autumn, and much of Britain's political class will move en masse to Manchester, Birmingham or one of a number of other locations playing host to one of this year's political party conferences.
Party conferences allow a chance for the party to set out its ideas and policies for the coming year, and for the membership to engage with the party's MP and staff (and in the case of some parties have a vote on deciding policy too).
The conferences are always covered heavily by Britain's political journalists, but does anyone actually care about what's going on at the party conferences?
Now new YouGov research shows that almost three quarters of Brits (72%) are barely paying attention to what is going on at the political events of the season. This includes 30% who say they pay "no attention at all".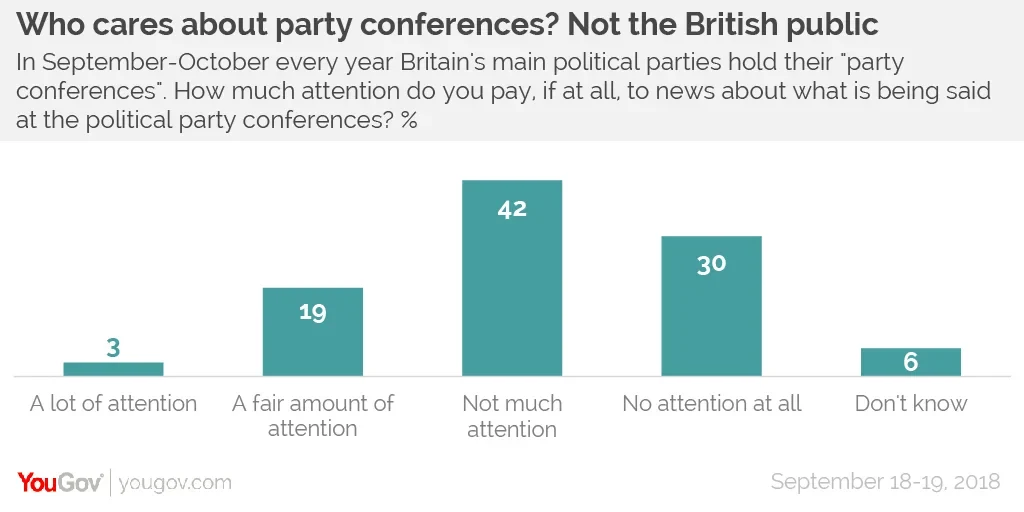 By contrast, only 3% say they are paying a lot of attention, and a further 19% pay a fair amount of attention. The remaining 6% answered "don't know".
The voting public are scarcely more interested. Around two thirds of people who voted Labour (68%) and Lib Dem (66%) in 2017 said they paid not much/no attention to the goings on, rising to 76% of Conservative voters.
Photo: Getty