New YouGov data shows that the public, and Conservative voters in particular, think May is better for the top spot
This article originally appeared in The Times
Ever since he resigned over the Chequers agreement, there has been non-stop speculation that Boris Johnson is set to launch a leadership bid. But although his weekly Telegraph articles and frequent Brexit interventions have kept him at the top of the news agenda, do Britons think the prospect of Prime Minister Boris is preferable to continued rule by Theresa May?
At present, Boris is about as (un)popular as the woman whose job he wants. Theresa May holds a net favourability rating of -26 (31% have a favourable view of the PM, compared to 57% who don't), while Boris is only marginally ahead on -22 (33% hold a positive view of him while 55% with a negative view).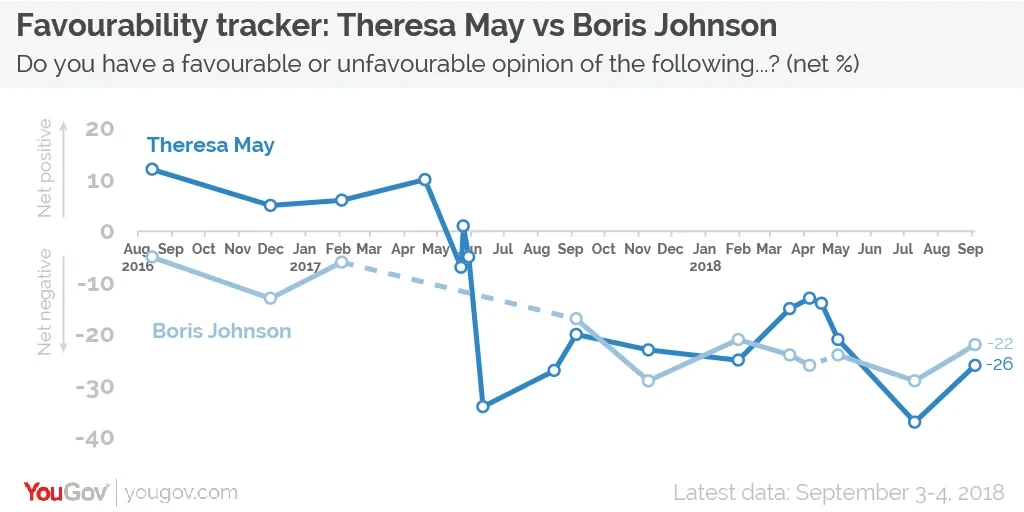 This wasn't always the case – when Theresa May first became Prime Minister she was scoring 17 points higher than Boris Johnson. But whilst Theresa May's Brexit compromises and election mishaps have lost her support amongst both Remain and Leave voters, Boris's purer position on Brexit has means that his support has held up among those who back Brexit. Amongst Leave voters Boris now scores +25, whereas Theresa May scores -2.
But while Boris is now marginally ahead in terms of favourability, that isn't the same as people thinking he would make a better Prime Minister. In order to explore attitudes on this, YouGov asked the public a separate question that examined both whether they liked Boris and Theresa May and their perceived suitability to be Prime Minister.
While the results do show that Boris is more well-liked than the Theresa May (36% vs 29%), the public are nevertheless more likely to say that May is a good Prime Minister (31%) than they are to say that they think Boris would be a good Prime Minister (24%). Amongst Conservative voters the gap grows even wider, with 69% thinking Theresa May would make a good Prime Minister compared to just 42% for Boris Johnson.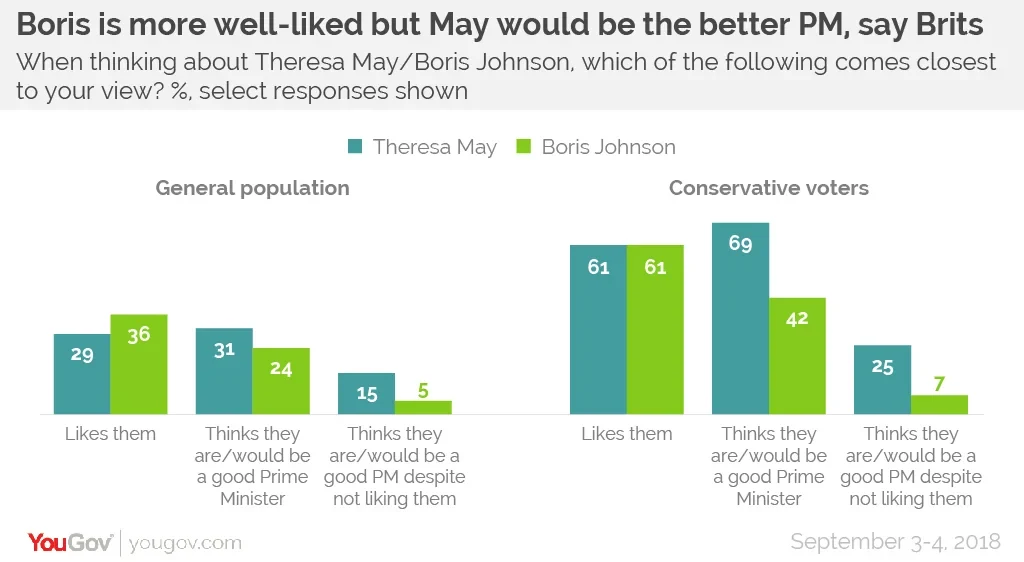 People are also noticeably more likely to say that Theresa May is (or would be) a good Prime Minister despite not liking her (15% compared to just 5% for Boris). By contrast, Britons are slightly more likely to think Boris would make a bad Prime Minister despite liking him personally (17%, compared to 13% for Theresa May).
Many inside the Conservative party now believe that once Brexit has been delivered there will need to be a change in leadership for the Conservatives to secure an election victory. This survey shows that, in the minds of the public, Boris doesn't seem to be well suited to fill that role.
Photo: Getty