Ahead of the Royal wedding, YouGov investigated how visible the Royal family have been
On Saturday, the Royals – and the public – will be out in force around Windsor as Prince Harry marries Meghan Markle.
Meeting the population is one of the main roles for the Queen, her husband, and their family and new YouGov research shows how many people have met or seen the top Royals in real life.
The Queen is the most commonly sighted Royal, with 31% of Brits saying they have either seen or met her in real life. Husband Philip is next on 22%, followed by Princess Anne – last year described as the hardest working Royal – on 17%. Prince Charles has been seen by or met 16% of Britons.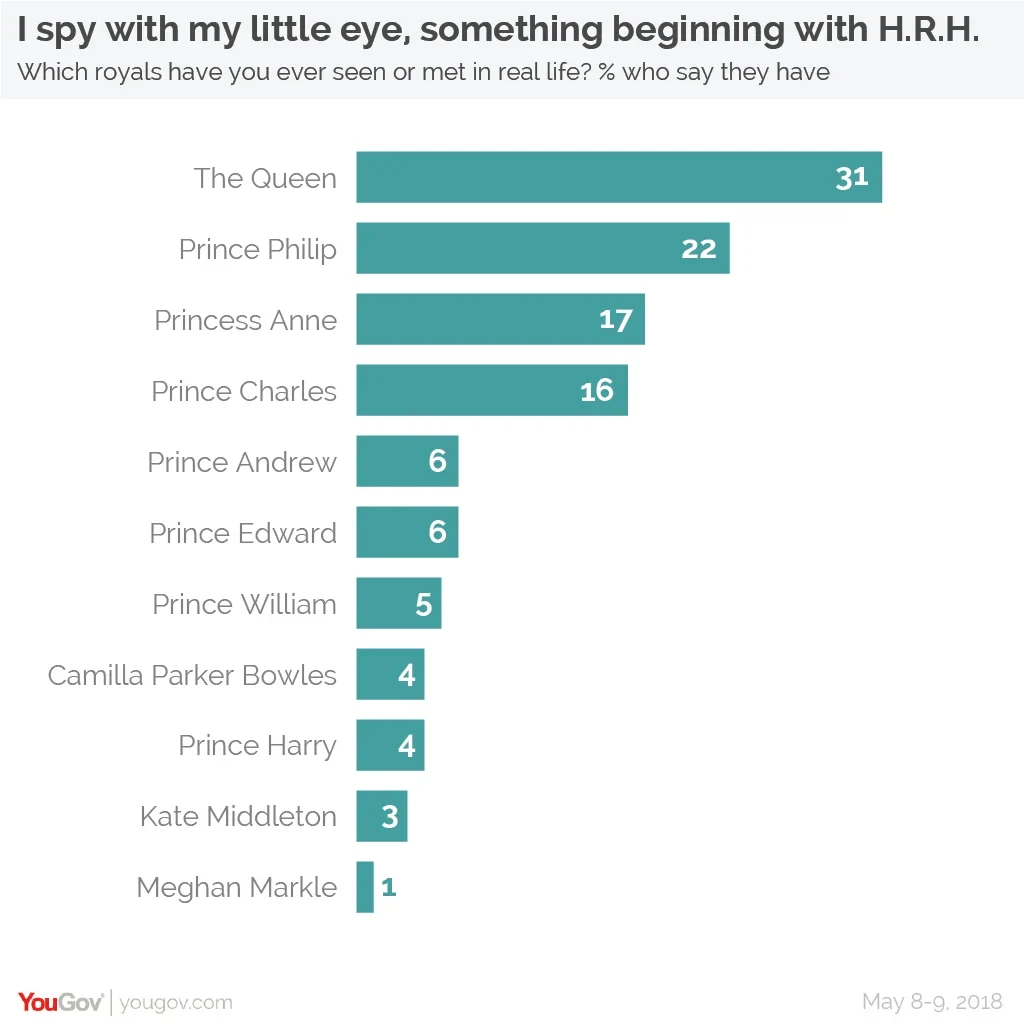 There is a notable drop-off when it comes to other members of the family. Only 6% have seen or met Princes Andrew and Edward while the younger generation – William, Kate, Harry and Meghan – have been seen by 5% or fewer.
Almost half of people aged 65+ have seen the Queen
Understandably, there are notable differences when it comes to age. In general, older people are more likely to have one of the longer-standing members of the family – presumably because they have had more of an opportunity to see them over the years. So while almost half (49%) of people aged 65 and over have seen or met the Queen, this figure falls to just one in eight (12%) of the under-25s.
However, things are more even when it comes to newer members of the family. So while 5% of 18-24 year-olds have seen or met Prince Harry, the proportion is not much different among the 65+ age group (3%). Prince William has slightly higher visibility among those aged 25-49, but the figures are all still much more closely bunched than they are for the likes of the Queen, Prince Philip, Princess Anne, and Prince Charles.
Photo: Getty