The '80s sitcom marginally beats science series Tomorrow's World for the top spot
With ITV bringing back Who Wants to Be a Millionaire in May after a four year absence, YouGov Omnibus asked Britons which other off-the-air shows they would most like to see resurrected.
The results reveal that pseudohistorical sitcom Blackadder is one that the most Brits would like to see revived, with 27% of the public wanting a return. This is marginally ahead of Tomorrow's World on 26%.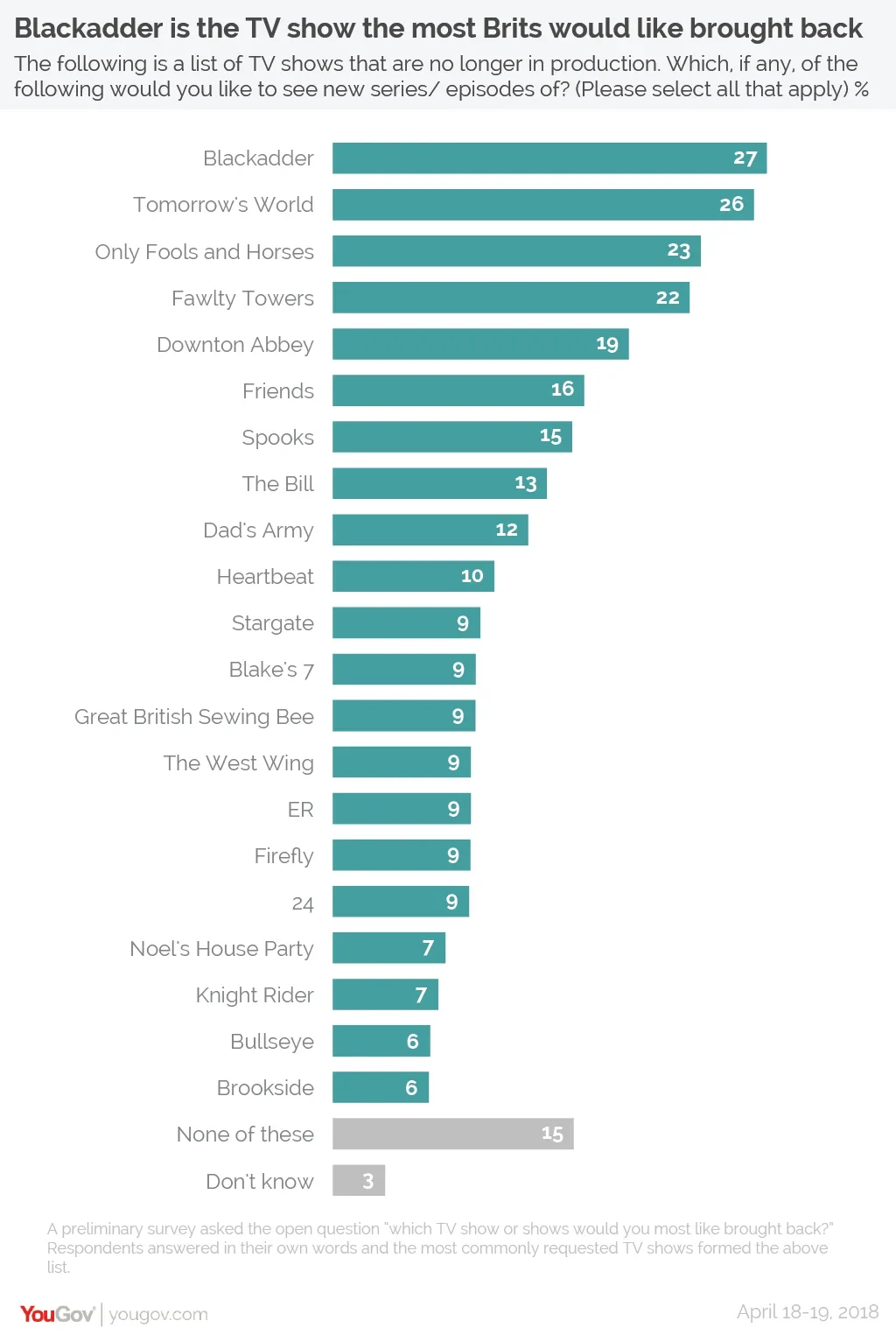 Other popular candidates for renewal include Only Fools and Horses (23%), Fawlty Towers (22%), Downton Abbey (19%) and Friends (16%).
After an initial run in the 1980s, Blackadder last graced the UK's screens in December 1999 with its millennium special Blackadder: Back and Forth. The show is relatively popular across the generations, with 21%-36% in all age groups hoping to see a return.
By contrast, clamour for Tomorrow's World's return comes from older people. The programme ran in its original format for 38 years before coming to an end in 2003, and those wanting a revival are much more likely to be aged 45 or above (34-35%, compared to just 5% of 18-24 year olds).
Men are also noticeably more likely than women to want to see both shows brought back (35% vs 20% for Blackadder and 33% vs 20% for Tomorrow's World).
By contrast, women are more keen than men to bring back Downton Abbey (26% vs 11%), Friends (19% vs 12%), the Great British Sewing Bee (14% vs 3%) and ER (13% vs 4%). (In the time since the survey was conducted the BBC have announced that the Great British Sewing Bee would be making a return to screens in 2019)
However, TV show fans should perhaps be careful what they wish for. A previous YouGov survey asked Brits whether they thought revived TV shows that they previously enjoyed were as good as the originals. It found that 45% believed they tended to be worse with 18% thinking they were as good as they had been, and only a mere 3% believed they were actually better.
Photo: BBC