At the annual Mobile World Congress last month Samsung unveiled its new phone models, the S9 and S9+.
Using YouGov brand tracking data, we can see how excitement around the launch has gathered pace and how it has recovered its reputation following its exploding device debacle in 2016.
In fact, our brand health metrics show that not only has Samsung recovered to pre-crisis levels, in some cases, it has exceeded them.
Looking specifically at the release of the new phones, Samsung's attention score (whether someone has heard something about the brand in the past two weeks) has grown by six points since the tail end of February, up from nine to 15 among the general public.
Samsung's impression score (whether someone has a positive impression of the brand) currently sits at 40 – slightly up from its pre-crisis score of 39. At one point following the exploding phone story, its score dipped by 15 points (to 25). Among current customers of Samsung, its score has now risen to 76, compared to a pre-crisis score of 73.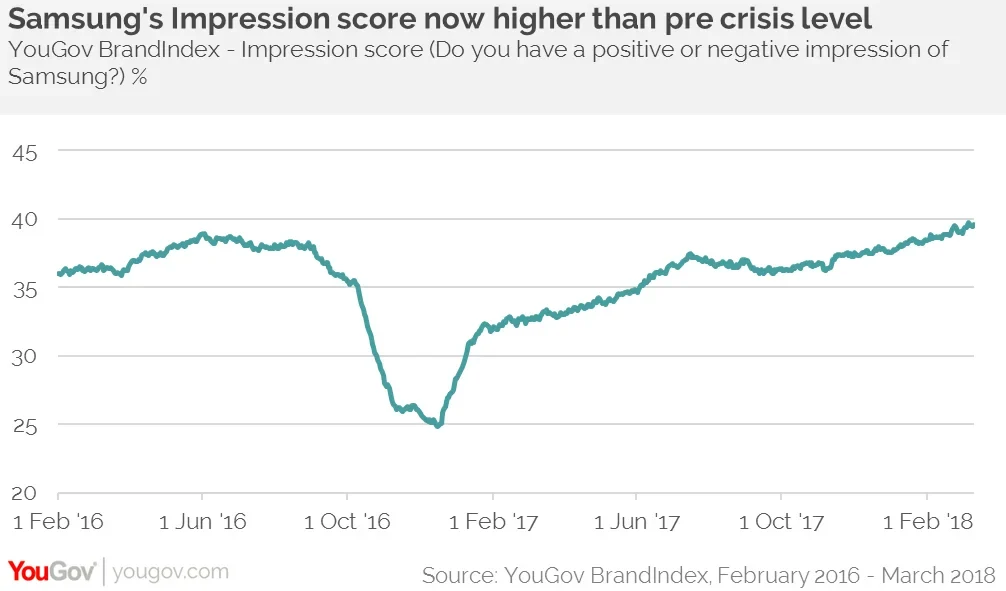 Our data consistently shows that those who actually own a Samsung model are satisfied with it.
New data from our Smartphone Mobile Internet Experience (Smix) tracker shows 78 per cent of Samsung's current customers believe they will stay with the brand when they get a new phone. Notably, users of other Android devices are considering making the move to a Samsung, including 19 per cent of current LG users, 11 per cent of Moto users and 10 per cent HTC users.
Much has been made of the price of Apple's rival iPhone X and, to a lesser extent, how much the pubic could expect to pay for Samsung's new phones.
Our data shows that the public generally believes Samsung provides greater value for money than Apple with its value score (whether you think the brand represents good value for money) standing at 19 against Apple's minus 15.
Samsung can be content that it has managed to recover from the damage its crisis caused. But notably it has also continued to be popular among current customers, and has positioned itself well in order to attract customers from other Android phone holders.
This article originally appeared in City A.M.
Image Getty