Earlier this year, Waitrose slipped below German discounter Lidl in terms of market share.
With the release of another large-scale Christmas advert – created by the same agency responsible for John Lewis' Moz the Monster campaign – the British brand will be hoping its festive campaign helps it to regain lost ground.
Waitrose has moved away from the tear-jerker theme of last year's 'Coming home' advert and instead plumped for a more warming advert filled with community spirit.
A group of villagers are snowed in and must pull together to create a Christmas meal using only Waitrose ingredients.
Our brand tracking data shows that despite major competition from its competitors, the brand's Christmas ad this year has been successful.
This year's advert is on par with last year's and is outperforming 2015's, achieving sustained improvements in its ad awareness score.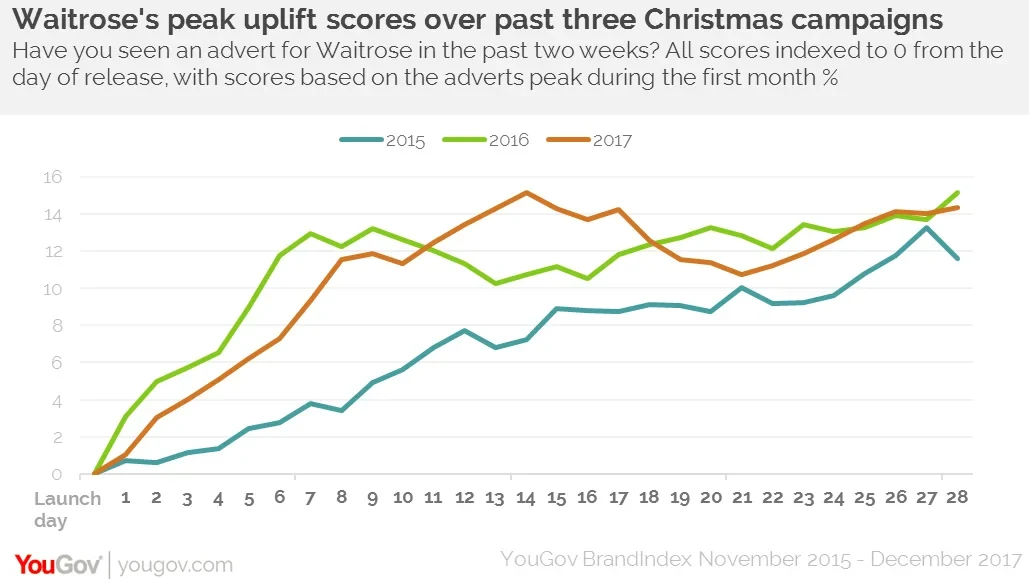 However, it could be tough to translate the campaign's success into sales.
With inflation rising and household finances under pressure consumers may explore cheaper options from other supermarket brands.
In the past, Waitrose has focused on quality over value, although it has price matched Tesco on selected items. As might be expected, Waitrose's value score (which supermarket represents good value for money) currently stands at negative 13, far lower than the likes of Lidl (42). However, when it comes to its quality score (which supermarket represents good quality) Waitrose fares much better (49 compared with Lidl's 17).
YouGov Profiles data backs up the core Waitrose shoppers approach, showing that they are more likely than the average to choose premium products and services (67 per cent vs 43 per cent), and also agree that they don't mind paying extra for good quality products (92 per cent vs 82 per cent).
The challenge for Waitrose is to maintain its appeal while its rivals' fortunes are improving and consumers are noticing price increases.
This article originally appeared in City A.M.
Image Getty