New YouGov results could offer hope for those who are priced out of the housing market, with a significant number of homeowners saying they are willing to see house prices fall locally
In recent months, the government has made several pledges to get to grips with Britain's housing problems. In mid-November Theresa May pledged to take "personal charge" of fixing the housing crisis, and at the Budget in November Philip Hammond announced a raft of new measures designed to stimulate new housebuilding and improving affordability.
With the need for large numbers of new homes after 30-40 years of underdevelopment widely acknowledged, YouGov examines the levels of support among the British public for the government attempting to build more homes and bringing house prices down.
Please note: a long-observed phenomenon surrounding housebuilding is "NIMBY"ism (or "Not In My Back Yard") – the attitude many people have that building new things like houses or railways is a good thing, so long as it doesn't happen anywhere near them. While YouGov has examined attitudes towards changes in house prices and house building at both a local and a national level, to try and take into account the likely impact of NIMBYism this article only discusses the local level results.
Reducing house prices
Overall, around half (49%) of Britons say they would back the government attempting to bring house prices down a lot in their local area, compared to over a third (36%) who would reject such a move. Unsurprisingly, homeowners and non-homeowners feel very differently about the prospect, with homeowners opposing by 51% to 35% while non-homeowners would support such a move by 68% to 14%.
There is marginally higher support for attempting to bring down house prices by a moderate amount (52% versus 31%). Again, 68% of non-homeowners would be in favour of it, but support among homeowners rises to 41% (although a plurality of 45% still don't want it to happen).
Conversely, there is strong opposition to house prices increasing. While just a quarter (24%) of homeowners back prices going up a little in their local area, six in ten (60%) oppose. Similarly, while only 17% support prices increasing by a moderate amount, two thirds (68%) are against it. Only 9% would support pushing them up a lot.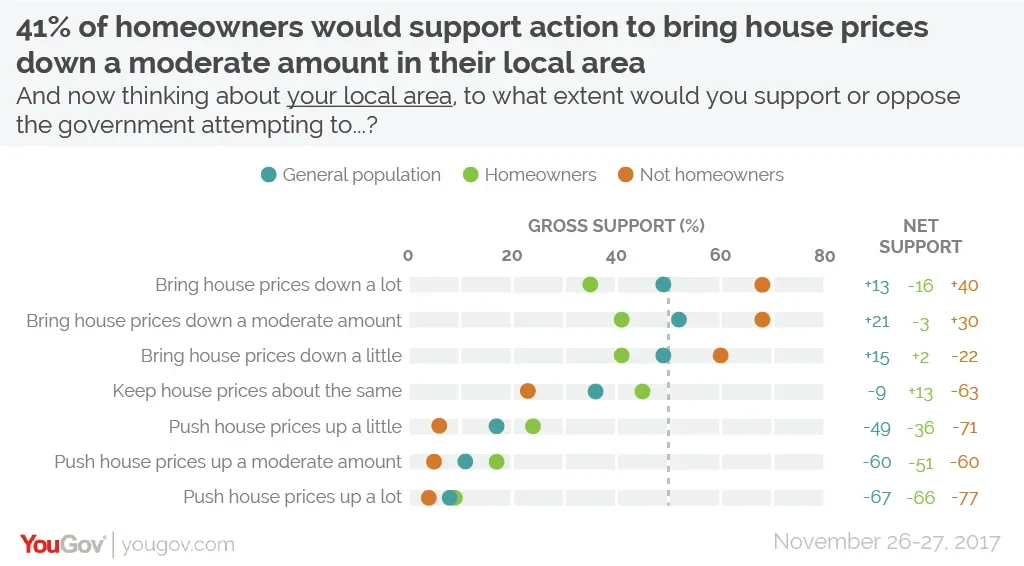 The policy homeowners are most likely to support would be maintaining house prices at their current level (45% in favour versus 38% against). However, this is offset by the fact that non-homeowners are opposed to it by 54% to 23%. Similarly, the population as a whole are against keeping house prices the same by 45% to 36%.
Building new homes
Among the population at large there is a higher level of support for building a moderate number of new homes (56%) in their local area than a large number (43%). Unlike with attitudes towards house price changes, there is far less of a difference between homeowners' and non-homeowners' opinions when it comes to the prospect of new homes being built in their local area (for instance, 55% of homeowners support moderate numbers of new homes, compared to 59% of non-homeowners). However, it is worth pointing out that homeowners are more likely than non-homeowners to specifically oppose new homes being built, whereas non-homeowners are more likely to give a "don't know" answer.