Millennials are notably less likely to want to engage in conversation than their elder peers
It's good to talk, as the BT adverts used to say. But away from the telephone many people can be less comfortable having a natter, as demonstrated by a salon chain in Cardiff introducing a "quiet chair" for customers who didn't want small talk with their short back and sides.
How do people feel about chatting to others in such public situations? New YouGov Omnibus research explores whether people want to talk to the likes of bar staff, taxi drivers, and tradesmen, among others.
It finds that the Cardiff salon may have been on to something, with a quarter of Brits (25%) not wanting to talk to their hairdresser or barber. By contrast, two thirds (68%) do prefer to chat while being crimped, although men are noticeably less sure than women (at 62% vs 72%).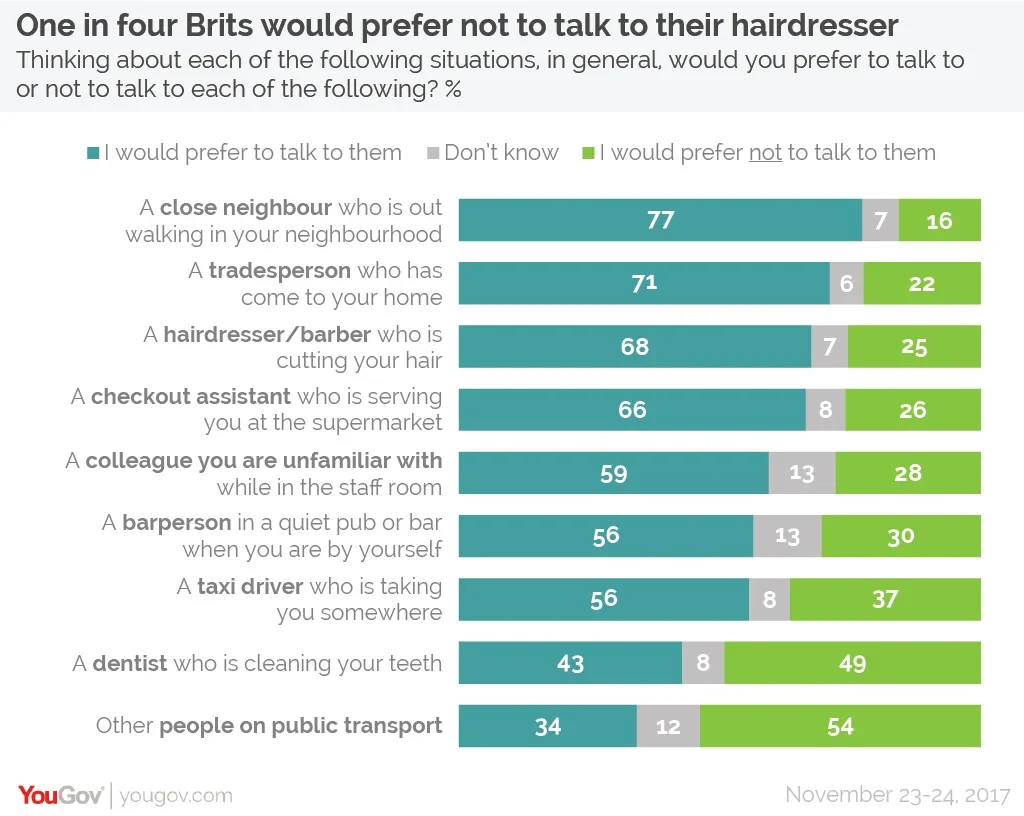 Overall, the results show that Brits prefer to be talkative. In only one scenario do we prefer to be antisocial: while travelling on public transport. Slightly more than half (54%) of Brits do not want to talk to fellow passengers, with only a third (34%) being happy to have chats.
In news that will surprise few who have ventured on to the capital's transport system, Londoners are the least likely to want to talk to other passengers. Fully two-thirds (67%) of people in the capital say they would prefer not to talk to other people on public transport (this figure was 47-56% in the other areas of Britain).
Around half of Brits (49%) also prefer not to have to talk to a dentist who is cleaning their teeth – although in this situation there may well be other considerations at play that prevent free-flowing conversation...
In each of the other scenarios non-talkers are in the minority: 37% prefer not to talk to their taxi driver, likewise 30% for a barperson while alone in a quiet bar, 28% an unfamiliar colleague, 26% a checkout assistant, 22% a tradesperson in their home and only 16% wouldn't want to talk to a close neighbour.
The silent generation?
A key trend revealed by the results is the reluctance of millennials to talk to other people. Across all nine scenarios, Brits aged 18-34 are noticeably more likely to say that they would prefer not to talk, with the biggest generational gaps on public transport and tradespeople.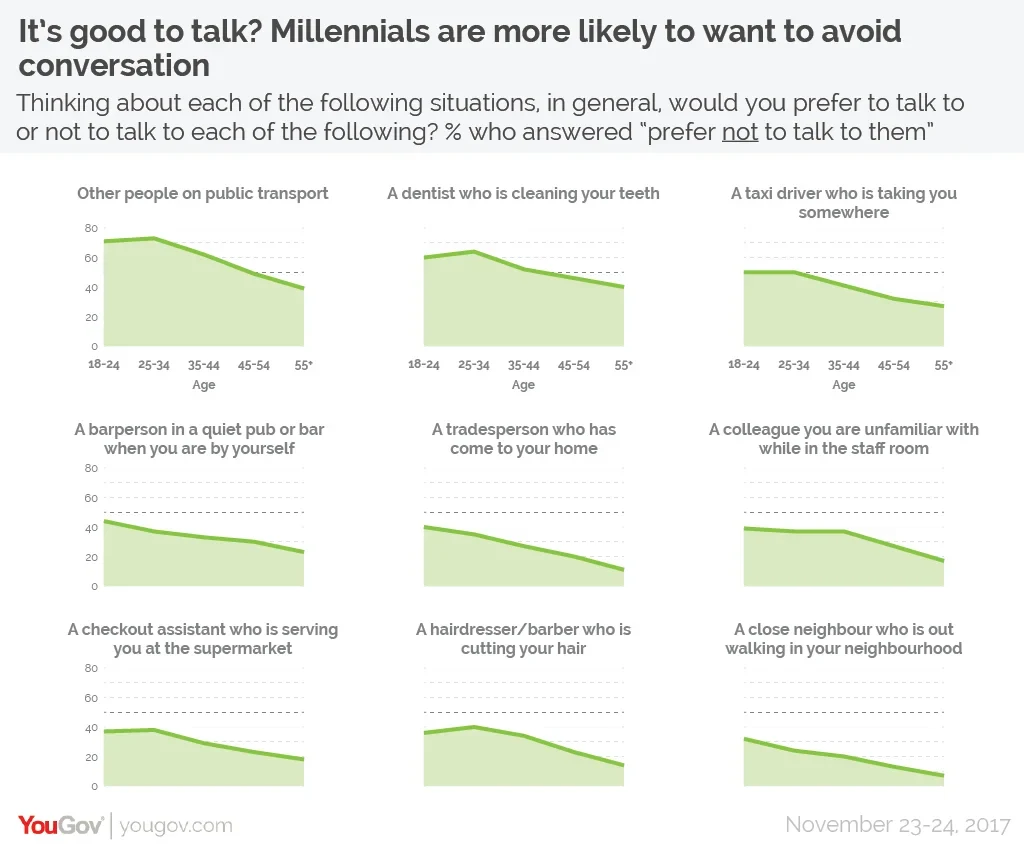 As ever, these results alone cannot say whether millennials are uniquely antisocial or if it is simply that all generations have become more talkative as they have grown older. But if this is in fact a unique characteristic of Britain's young generations then we may start seeing "quiet chairs" in more hairdressers before too long.
Photo: Getty