Three in ten Brits aged 20+ say that their twenties have been their best years to date
Many young people are told by their elders to make sure they enjoy themselves as they are living the best years of their lives.
Now YouGov Omnibus research among 2,000 adults aged 20+ backs up this wisdom, with 30% saying their twenties have been the best years of their life so far, as do 16% for their thirties and 12% for their teenage years.
A further 11% say their childhood (from age 3 to 12) was the best time of their life. Only 17% believe their forties or later have been their best years, while a final 13% can't decide.
Mathematically the results inevitably skew towards younger ages being the best years of people's lives as people in their twenties only have their childhood, teenage years and twenties to choose from, whereas older Brits' answers will be spread out over more years. Yet it remains the case that as Britons get older their twenties and thirties are still the most commonly given best decade of their lives.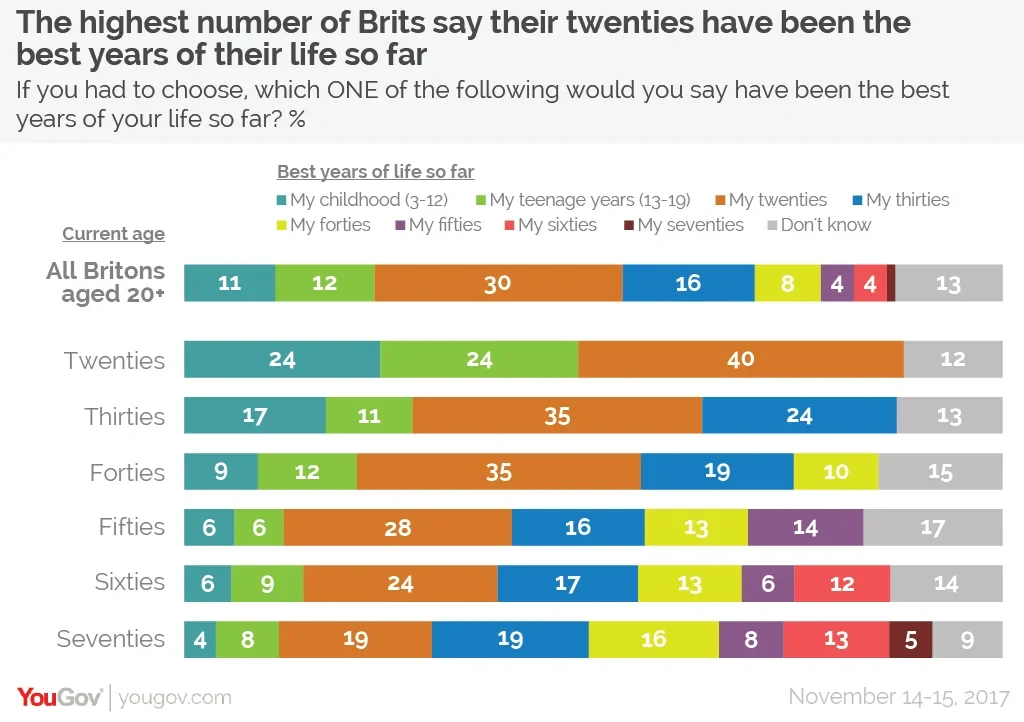 While our twenties may be the best time of our lives, older people are still enjoying themselves
While few over-40s say that their current years are the best of their lives so far, those who are long past their twenties should not worry that life does not have anything good left in store. Other recent YouGov research among retired people aged 65 and older shows that 90% of people are enjoying their retirement, with two-thirds (66%) enjoying it more than their last decade in work.
Photo: Getty
See the full results for best years here and retirement enjoyment here