Last month, Toys 'R' Us announced that it would be filing for bankruptcy protection in the US and Canada after asking for court permission to restructure debts of over $3.6 billion.
As one of the largest filings of its kind by a specialty retailer, the struggles the business is having may well be disquieting for similar industry players, as well as the wider global business.
But what does this mean for the UK arm of the business? Our brand tracking data explores how consumer perception is beginning to stutter – especially in light of the news from the US.
The toy provider's toils have resonated with British consumers. YouGov brand tracking data indicates that Toys 'R' Us' Buzz score (whether someone has heard something positive or negative about the brand in the past two weeks) has tailed off significantly. It dropped from +2 to -19 among all respondents after the brand's bankruptcy was announced in mid-September.
The news had an impact on people's perception of the retailer. Toys R Us' Impression Score (whether or not someone has a positive impression of the brand) dropped notably over the same time period, falling from +20 to +8.
While the drop in these score among the general public is not good news for Toys 'R' Us, arguably a more pressing concern is the steeper drop among its potential customers base. Looking specifically at those with children in the house, there was a greater fall in the brand's Buzz score declining from +5 to -22 in the past few weeks.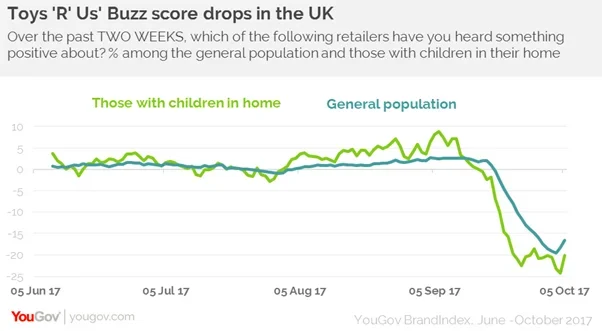 However, the negative headlines do not seem to have dented how likely parents are to consider using Toys 'R' Us. The company's Purchase Consideration has remained solidly positive over the past month.
Naturally, with online competitors such as Amazon making inroads into the toy market, there is a challenge to remain relevant to modern-day parents, who may no longer feel the need to take a trip to a retail park. A crucial Christmas period now lies ahead.