The profile of gambling and bookmakers has increased in recent years. While betting shops remain a constant on the high street, TV ads and sports sponsorships have made the industry more visible while apps and websites make it easier for consumers to have a flutter.
YouGov Profiles data allows us to explore the mindset of those who gamble at least once a week with a bookmaker – either online or in shop. The data shows that while there are some clear distinctions between more traditional in-store bettors and those who gamble digitally, there are also a number of shared characteristics.
As one would imagine those that use a traditional instore bookmaker are likely to be older (55+), while those that use apps or websites to bet are most likely to fall into the 25-39 age bracket. In both instances men are the primary audience.
While they are notably more likely than the population at large to think of themselves as "mathematical" (29% vs 19%), they are less likely than the average to cite "emotional intelligence" as a strength (23% vs 32%). Furthermore, they can be more closed with their emotions, with almost six in ten (58%) saying they like to keep their feelings to themselves compared to just over half (51%) of the population at large.
YouGov Profiles data confirms their love of sport. Over half (54%) of regular gamblers label themselves as being 'sports mad', compared to just one in six (17%) of the general public. A further 30% of those who bet at least once a week follow sports closely (as against 19% of the population as a whole).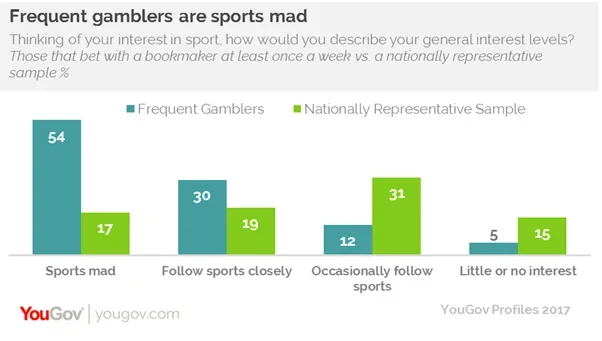 In odds we trust
YouGov's data suggests that regular gamblers are a trusting group. Not only are they more likely than the public at large to trust newspapers to print the truth (36% vs 26%), but they are also far more likely than the population as a whole to trust the advertising they see on posters or billboards (46% vs 32%).
Many regular gamblers take a different view to work than the general public. They are more likely to say that money is their main motivation for working in their particular career (27% vs 18%) and they are also more likely to wish they didn't have to go to work each day (65% vs 54%). When it comes to money, they don't mind taking risks (38% vs 20%) and are also more inclined to look for profitable ways to invest their cash (53% vs 45%).
The entertainment habits of those who bet at least once a week betray their love of sports and hint to bookmakers that they are the ripest audience for in-play gambling. Compared to people in general, they prefer to watch television programmes live (55% vs 42%) and they are also more likely to enjoy going to the pub (78% vs 61%).
Appealing to regular bettors in such a competitive field is tough and there is pressure for bookmakers to differentiate themselves from their rivals. The data shows that television is a good place to advertise to frequent gamblers, with over a quarter (26%) of this group say they often enjoy watching the adverts on TV (compared to 18% of the public). Naturally in this area, respective age and online usage plays a huge part in how ads are targeted.
This article originally appeared in EGR
Image: Getty