They are also more likely to have been to Amsterdam than Nottingham
New research from YouGov Omnibus surveyed more than 8,000 Brits on which of 22 British cities and 11 foreign cities they had ever visited. In order to ensure a regional spread, the 22 British cities were chosen from two of the largest cities in each region of England, plus London, as well as two each from Scotland and Wales and finally Belfast in Northern Ireland.
Unsurprisingly, London was the city from the list that Britons are most likely to have visited, with 86% having found themselves in the capital at some point. After that came the two cities that most often vie for the status of Britain's second city: Birmingham and Manchester. In this instance, Birmingham just edges it, with 64% of Brits having visited the city compared to 62% for Manchester.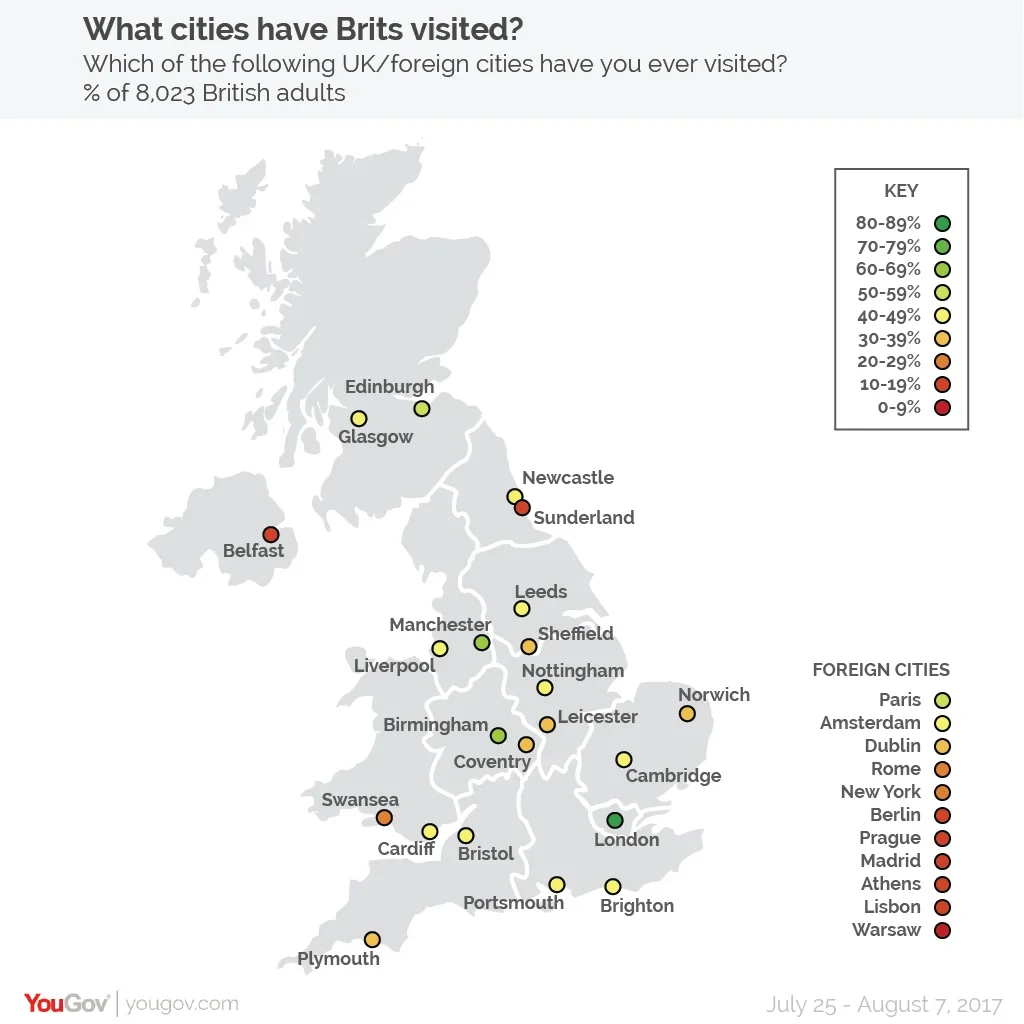 In fourth place was the Edinburgh, the last British city on the survey that the majority of Brits have visited, at 55%. However, the survey reveals that Brits are actually slightly more likely to have visited the French capital than the Scottish capital, with 57% saying they have been to Paris.
Paris was the most likely of the 11 foreign cities Brits were to say they had visited. In second place was the Dutch capital of Amsterdam, which 42% of Brits say they have visited, making the city more likely to have been frequented than Nottingham (41%). Other most-visited foreign cities from our list included Dublin (33%), Rome (28%) and New York (27%).
Men, older people and the middle classes are more likely to get around
Certain groups within society are more likely to have visited any given city than others. Unsurprisingly, the most pronounced difference is between age groups: older people are significantly more likely to have visited almost any given city. This is doubtless because their longer lifespans have allowed them a greater number of opportunities to travel in Britain.
The research also reveals that women are less likely to have visited every single one of the British cities (except London) than men – although they are more likely to have visited Paris and Rome. Age again plays a key role here, with the difference between genders much more pronounced among older age groups and near-equality between 18-24 year old men and women. This likely reflects the increased societal opportunities open to younger women that were not available to their elder peers. (Please note, however, this age and gender difference was only observed for visiting the British cities, not the foreign ones).
Likewise, middle class people (i.e. those in the ABC1 social category) were more likely to have visited every single city in the survey than their working class counterparts (those in the C2DE category). This could be because they have more disposable income for travel, or because they are more likely to be in occupations that send them across the country for work.
Photo: Getty Images