We've all heard about the 'beautiful people' – celebrities that are everywhere, always heavily styled and looking pristine as they make millions pushing products and brands. But there is another group of 'beautiful people' who are less starry celebs and more down to earth consumers.
The Beautiful People report explores the mindset of those high street VIPs that place a premium on physically attractiveness and looking young. YouGov's data shows that the highest instances of "beautiful people" are young (18-34) adults, single women, and those who live in London.
As one would expect, they are much more likely than the general population to put effort into their physical appearance. Three quarters (75%) of this group like to think of themselves as well-dressed (compared to 59% of the general population), around half (49%) won't leave the house without looking their best, while almost as many (47%) keep up to date with the latest fashion trends.
They are also heavily into beauty regimes. Over two thirds (69%) use products to make themselves look better, while six in ten (61%) use them to make themselves feel better.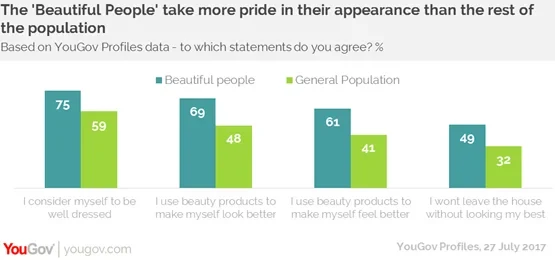 Targeting the 'beautiful people'
But while some may look on this group as shallow, to brands they represent deep pockets. However, maintaining their loyalty can be difficult. Three quarters (75%) of 'beautiful people' say that while they have favourite brands, they would abandon them for another if it there is an attractive offer. Yet approaching two in three (64%) splash out on products they don't need from time to time, suggesting a somewhat scattergun approach to buying that offers an opportunity to marketers to get them to try out new things.
They are more likely than the general population to have recently been on Snapchat, Instagram, Twitter and Pinterest, and a majority (58%) state that they couldn't get through the day without mobile communication. Added to this, half (50%) of 'beautiful people' believe it's important to present themselves well on social media.
This group also strives to be like their showbiz and entertainment idols, being more likely than the general population to enjoy watching campaigns that feature their favourite celebrities (36% vs 25%). They are particularly fond of Justin Bieber, Calvin Harris, Taylor Swift and Ellie Goulding.
For brands looking to attract and retain 'beautiful people' as customers, being current and on trend is a must. While they have favourite products and labels, value often beats against loyalty as they seek ways to look good for less.
This article originally appeared in Professional Beauty
Image: Getty