With the summer holiday season in full swing, there are still many people out there debating whether to go away at all. Some may well end up deciding to book a last-minute getaway.
New analysis of YouGov Profiles data explores the defining characteristics of those who wait for last minute holiday deals instead of planning their breaks in advance.
Our data shows that compared to the average member of the public, last-minute-bookers are more likely to have £500-£749 personal disposable income per month (compared to 8% of the public that has this amount).They are also more likely to be parents, and aged 35-44.
One thing to note is that although many assume that last minute bookers leave it late with an one eye on getting a deal, those that do leave it late don't think solely with their bank balance.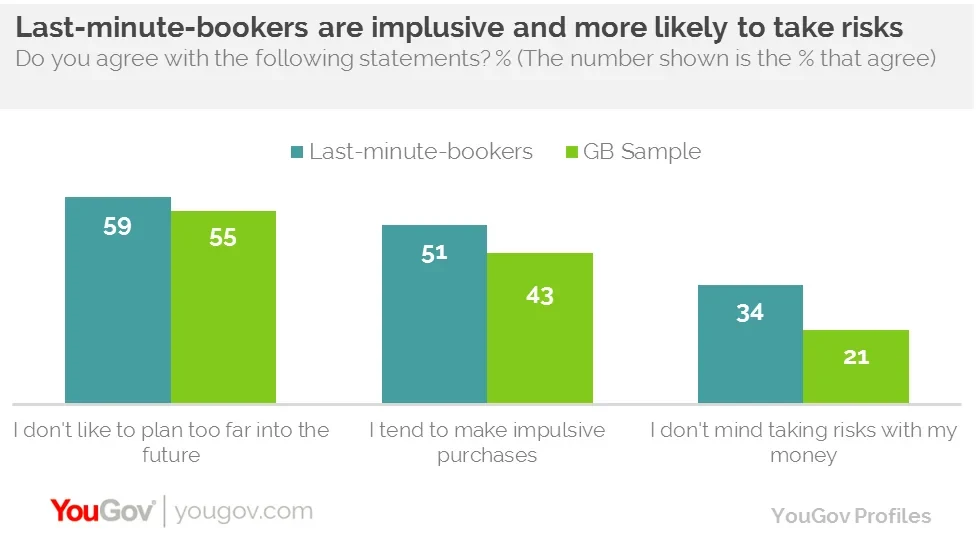 Instead, spontaneity seems to be at the core of their decisions. Last minute bookers are more likely than the general population to say they don't mind taking risks with their money (34% vs 21%) and they are also more likely to make impulsive purchases (51% vs 43%). Furthermore, almost six in ten (59%) of those who leave it late say they don't like to plan too far into the future.
However, their lack of long-term planning is not a sign that they aren't enthusiastic about going on holiday. Indeed, they are more passionate about travel than people in general (62% vs 52%).
The data suggests that simply reading an article about a destination can turn a last-minute-booker's head. Over four in ten (42%) of this group say that newspaper and magazine travel articles influence their choice of holiday.
For those companies looking to appeal to last-minute-bookers, it is important to know that when it comes to actually sorting out the holiday, their behaviour mirrors that of those who plan in advance. Just over six in ten (61%) book accommodation and transport independently (the same proportion as the general public), while three in ten (30%) used a package booking (against 27% of the public).
The lesson for travel companies is that, while a good value proposition is important, playing on the emotions of the potential booker by tempting them into visiting a destination that they can't miss is essential.
This article originally appeared in Travel Weekly
Image Getty