A new YouGov survey reveals which double acts are the most one-sided
This has been a great year for Ant and Dec. January saw the presenter pair pick up three awards at the National Television Awards (including best TV presenter for the 16th year in a row), followed shortly by each receiving an OBE from Prince Charles for services to broadcasting and entertainment.
Having first appeared together on British TV in 1989 as PJ and Duncan on Byker Grove, the pair have been a mainstay of British television for decades. Whilst the duo seem inseparable and are often treated as if they were a single entity (see the NTA award for best TV presenter, singular), YouGov can reveal that the public does prefer one over the other – and it's Dec.
For those who are familiar with the duo, 24% say they prefer Dec compared to 17% who prefer Ant. Dec is particularly more popular with the ladies – whilst men like the pair about equally (17% for Ant and 20% for Dec), for women the difference increases to 27% for Dec and just 17% for Ant.
They are far from the most one-sided double act though.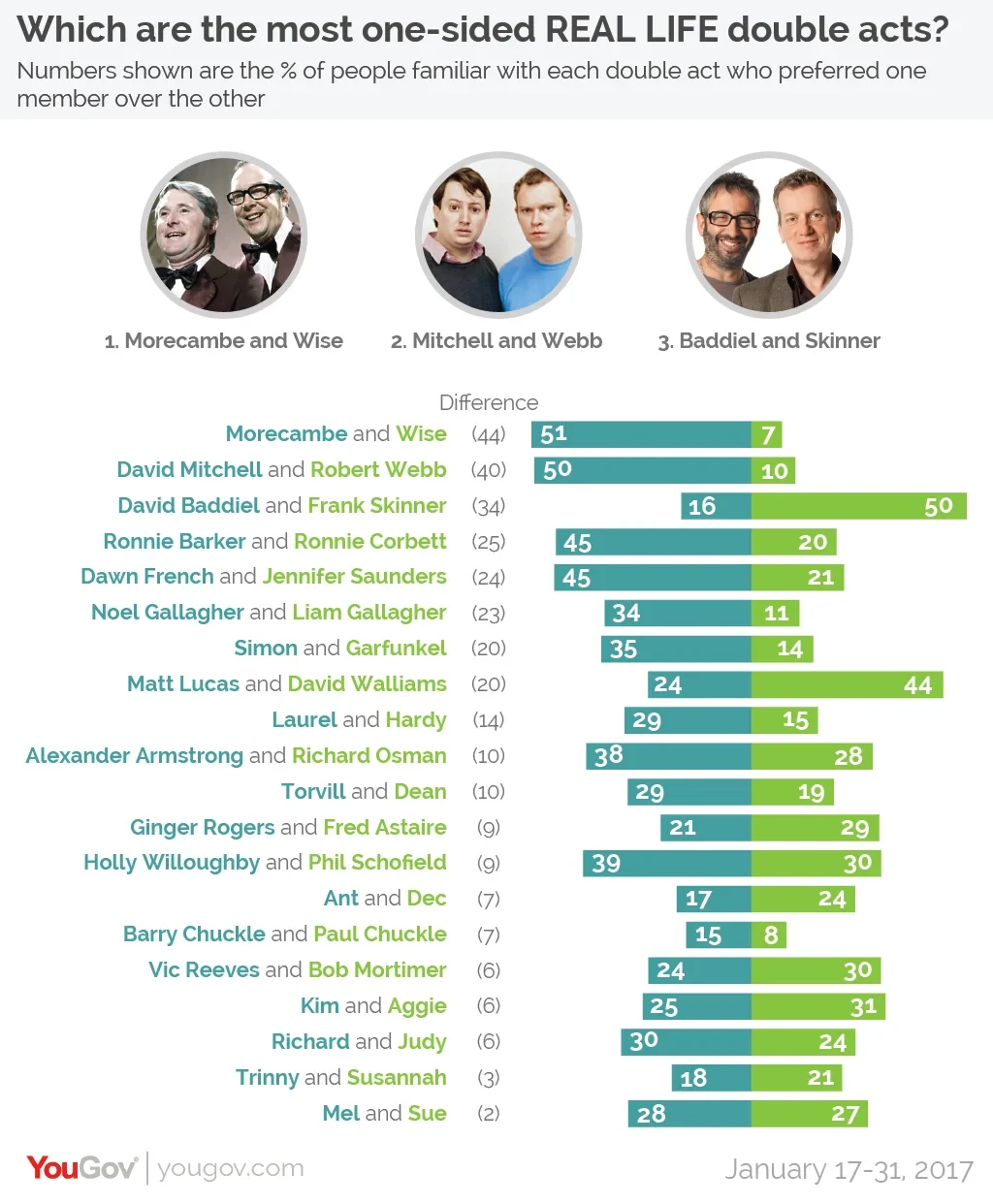 Comedy duo Morecambe and Wise are the most mismatched double act we surveyed, with 51% of those familiar with the pair preferring Eric Morecambe whilst just 7% prefer Ernie Wise.
The split becomes even more distinct when you look at those old enough to have seen the duo in their prime. For people aged 55 or over (among whom Morecambe and Wise have a 99% recognition rate), more than three quarters (77%) prefer Morecambe whilst the number preferring Wise remains at 7%.
Former Oasis front man Liam Gallagher, who this week launched a foul-mouthed tirade against his brother Noel on Twitter, will be even angrier to find out the extent to which the public prefer his brother. Of people familiar with the pair, 34% said they preferred Noel, compared to just 11% for Liam.
The results also show that comedians Dawn French and Jennifer Saunders – who it was reported this week turned down a seven figure sum to be presenters on the Channel 4 incarnation of Great British Bake Off – are a far more one-sided double act than Mel Giedroyc and Sue Perkins who they would have replaced. Whilst baker-botherers Mel Giedroyc and Sue Perkins were separated by just a single percentage point, with Mel preferred by 28% of people compared to Sue's 27%, Dawn French was by the far more popular member of French and Saunders, being preferred by 45% of people compared to Saunders's 21%.
Scooby Doo: I'm too big for you (Shaggy)
Cowardly crime fighters Scooby Doo and Shaggy are the most mismatched of our fictional double acts. Great Dane Scooby will feel justified in treating himself to a Scooby Snack, with two thirds (67%) of those familiar with the pair preferring him compared to just 16% for his human companion.
The duo are currently featuring in TV ads for Halifax – given Shaggy's unpopularity, the building society might want to consider jettisoning him in favour of Scooby's nephew Scrappy Doo.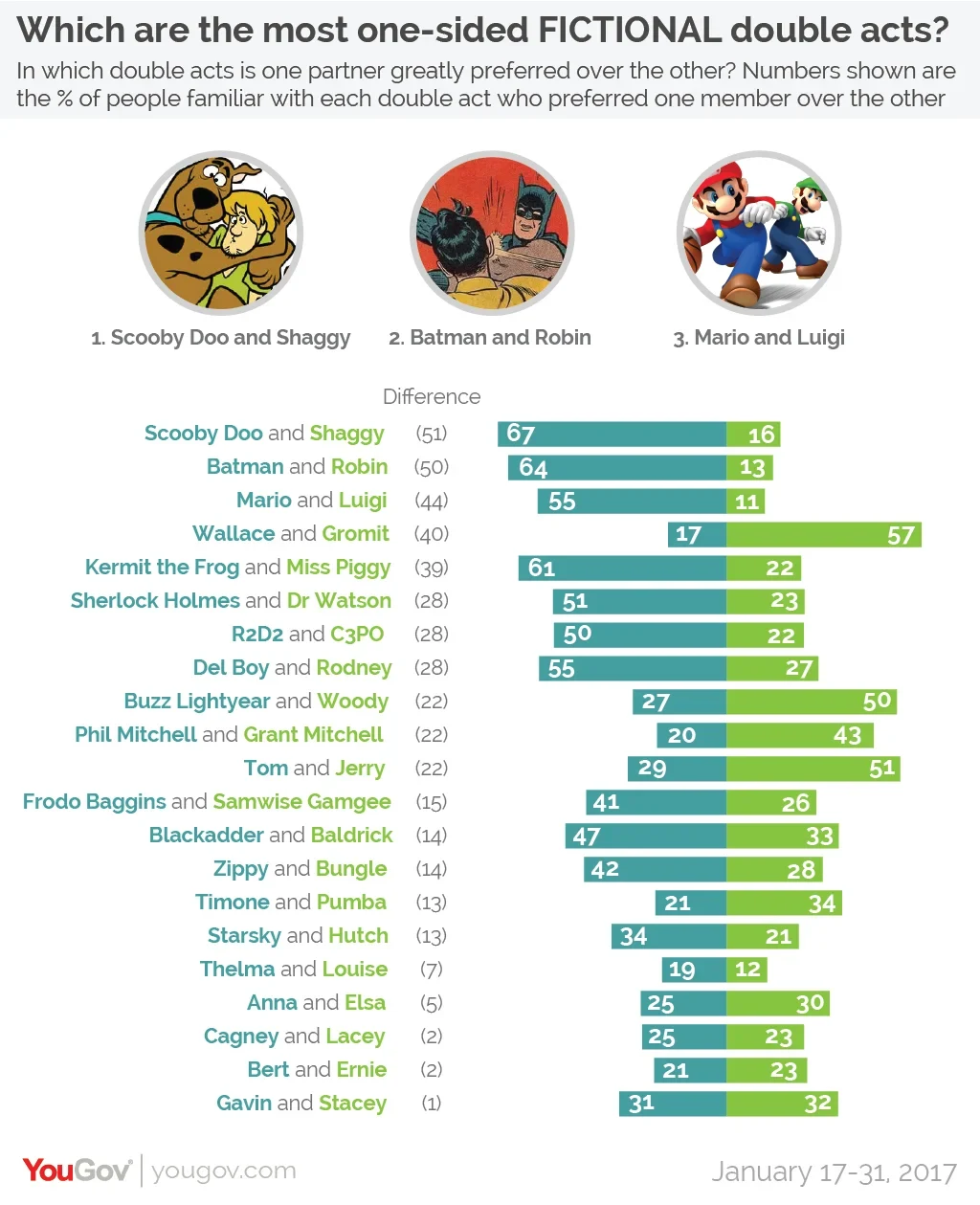 In news that will surprise no-one, the survey also finds that Batman is significantly more popular than sidekick Robin. With 64% of people preferring the Caped Crusader and just 13% the Boy Wonder, the pair are the second most mismatched fictional double act surveyed.
TV's most iconic brotherhood – Eastenders' Mitchell brothers – is also distinctly one sided. Despite having featured in the show for just ten and a half years compared to Phil's 24 years, Grant is twice as popular as his older brother, with 43% of people preferring him compared to 20% for Phil. This constitutes sweet justice for Grant after dastardly Phil entered into an affair with Grant's then-wife Sharon.
At the other end of the scale, gay icons and Muppets bedfellows Bert and Ernie are one of the most evenly matched fictional double acts. The pair are separated by just a 2% gap, with 23% of people preferring troublemaker Ernie compared to the 21% who favour the grumpy Bert.
Photo: PA