With English identity on the rise, the final installment in YouGov's series on nationality looks at what it takes to be English
English national identity can often seem indistinguisable from British identity in general. England has no national Parliament, no national anthem, its national day is not observed as a holiday – it is only really in the field of sport that England is highly visible as a nation in its own right.
This may not remain the case forever, though, with YouGov research carried out towards the end of last year for the former Labour MP John Denham, now at the University of Winchester's Centre for English Identity and Politics, finding that national identity is shifting slowly from Britishness to Englishness.
At 38%, the largest proportion of English people consider themselves to be equally English and British. They are followed closely by the slightly more than a third (35%) who regard themselves to be more English (including 19% who said they were "English not British").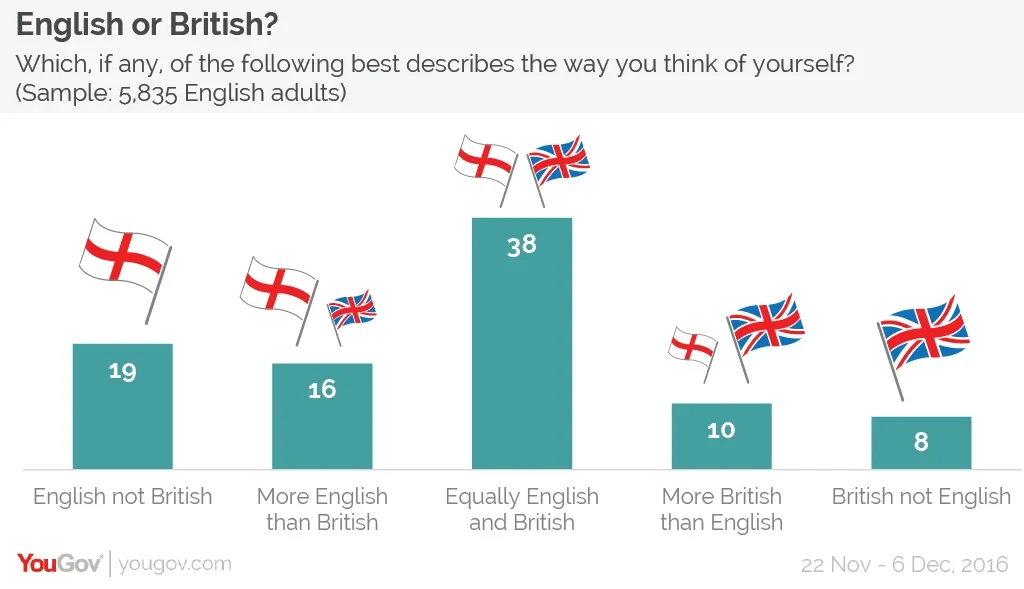 Meanwhile just 18% said they were more British (including only 8% said they were "British not English"), representing a 5% decrease in the number of people holding a more British identity since the same time last year.
People from the Midlands are the most likely to consider themselves more English, whilst Londoners are the most likely to consider themselves more British (although even in London people are still more likely to consider themselves more-English).
Labour and Lib Dem voters are much less likely to hold a more-English identity than those who voted for the Conservatives or UKIP. This concerns Denham, who repeatedly warned the Labour party whilst he was still an MP that it was alienating English voters. Speaking about the results in The Guardian, he said:
"Voters who most strongly identify as English are much more likely to reject Labour as a party and key Labour messages, like support for the EU ... Without a change in Labour's appeal, rising English identity may make attracting key groups of voters even harder."
He is an Englishman
With English nationality becoming more prominent, it begs the question: who is English? Now the final installment in a series of YouGov surveys on nationality can reveal what makes a person English, according to the English themselves.
Englishness is clearly a birthright, with the majority believing that where or to whom a person is born defines whether a person is English or not.
At 81%, the most commonly held source of English nationality is being born in England. Almost as popular, at 80%, is having two English parents - this drops to 54% for having one English parent.
The majority of English people will also consider someone who grew up in England to be and Englishman.