Britons think Theresa May's vision of Brexit would be good for the country and believe no deal is better than a bad one
On Tuesday Theresa May set out the sort of Brexit she wants to achieve in Britain's negotiations with the remainder of the EU. The targets she set out lay somewhere in between a hard Brexit on WTO terms and a soft Brexit that included single market membership (both of which our previous polling suggested would be unpopular with the public). Instead May said she would take Britain out of the single market and customs union, but try to agree a new free trade and customs deal with the EU.
Our initial polling, conducted on Tuesday night and Wednesday, suggests the announcement went down well. All of the key negotiating points we asked about met with majority support. Most were uncontroversial and supported by both Remain and Leave voters: control of immigration, an open border with Ireland, guaranteeing the rights of existing EU immigrants and continuing to work with the EU on security matters all received over 70% support.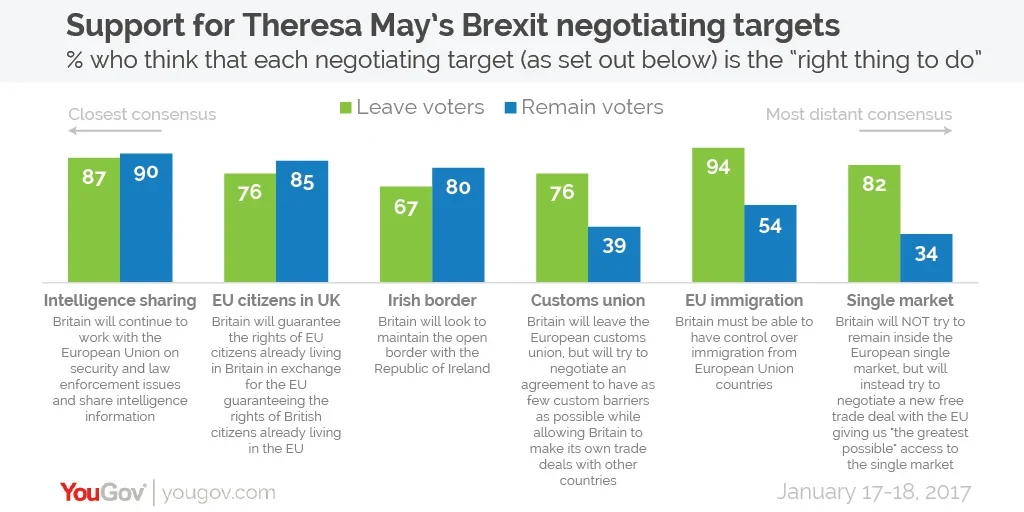 The two more divisive issues were the exact trading relationship between Britain and the EU. A majority of people supported Britain leaving the single market (57%) and the customs union (56%), but there was a contrast in opinion between Leave and Remain voters. A vast majority of Leave voters approved of both, Remain voters were opposed to leaving the single market and evenly split over the customs union.
However, a negotiation like this is more than just the sum of its parts. People won't judge Brexit on the minutiae of the deal (unless they actually work in exporting goods to Europe, most people do not - quite reasonably - spend much time trying to understand the precise details of our EU trade relationship). People will judge Brexit on the overall package, on whether it feels like a good deal for Britain or not. By that measure, Theresa May's announcement was a success - by 55% to 19% people think the Brexit she described would be good for Britain, 62% think it would respect the referendum result and by 53% to 26% people say that they would be happy with the outcome.
While the British people support the sort of Brexit deal that Theresa May is asking for they don't necessarily think it is the sort of arrangement that other EU countries will agree to, or the sort that May will end up bringing back from Brussels. By 47% to 38% the public do say they have confidence in Theresa May to negotiate the sort of deal she described, but they do not expect the other member states of the EU to agree to them. Only 20% of people think that the EU will agree to the Brexit deal she wants, 56% think they will not.
And what happens then? Asked about May's statement that "no deal is better than a bad deal" 48% of the public agree, compared to 17% who would rather have a bad deal than no deal at all. 55% of people said that May should be prepared to walk away. It is a different question whether the public would actually be so sanguine about May coming back from negotiations empty handed. Our previous polls have suggested that less than a third of people think it would be good for Britain to leave the EU without any new trade deal.
Theresa May has passed her first Brexit test: she has managed to define a form of Brexit that the majority of the country can get behind. Getting the rest of Europe to agree to those proposals may be a more difficult challenge.
Photo: PA