In late November, streaming service Spotify launched a global advertising campaign under the banner 'Thanks 2016: It's been weird.'
The campaign reflects on a turbulent 2016 by gently poking fun at the dubious streaming history of some of its users.
One such example was the ad that featured on one of its UK billboards: "Dear 3,749 people who streamed "It's the End of the World as We Know It" the day of the Brexit vote, Hang in there."
The campaign is a global one, but the copy on each billboard focuses on the country it appears in.
According to YouGov brand tracking data, the campaign has been successful so far. After launching the adverts in late November, Spotify's Ad Awareness score increased by five points among all respondents.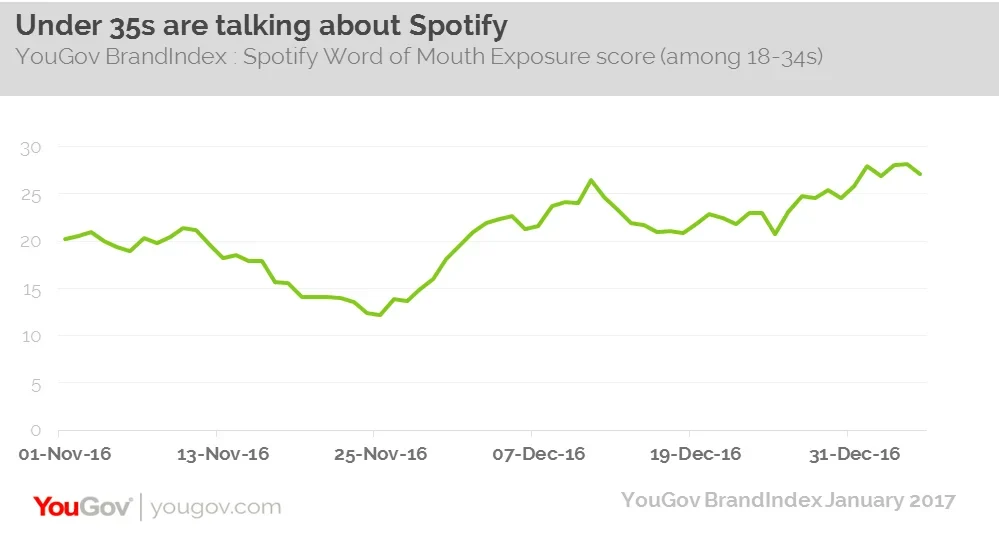 Following a dip over the Christmas period, its score rose again.Another positive for Spotify is that among those aged under-35, its Word Of Mouth Exposure score (which measures whether someone has talked to a friend or family member about the brand in the previous two weeks) has increased by 16 points since the campaign launched. During this time, Spotify also advertised a special offer for those signing up to its premium service, which will also have boosted this score.
YouGov Profiles data shows that one reason why the campaign has been effective is that it has been very well targeted.
Looking specifically at those that would consider signing up to Spotify, our data indicates that this group is more likely than the public at large to notice adverts on public transport (66% vs. 55%).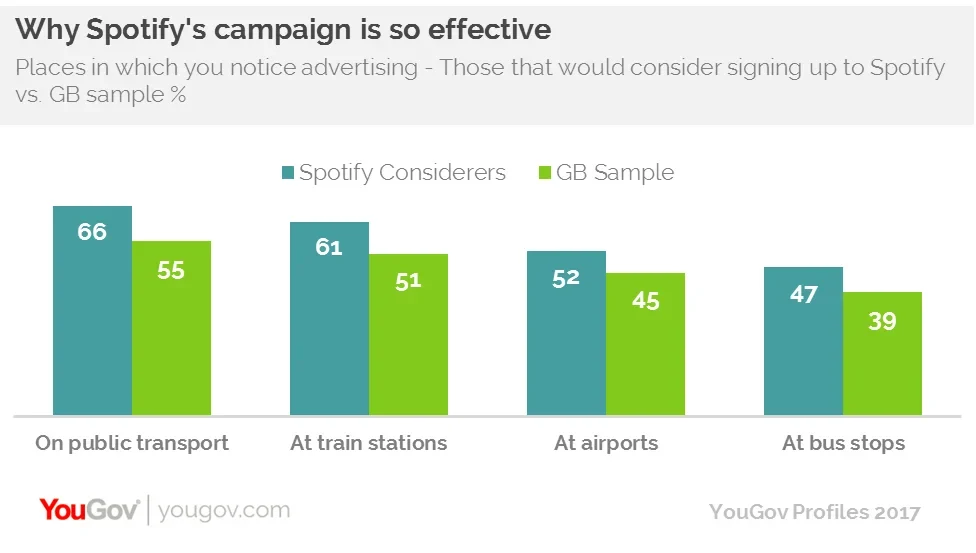 They are also more likely to notice ads at transport hubs (such as train stations, airports and at bus stops). They are also more inclined than the population in general to say that billboards help them become more aware of new products and services.
Spotify of course continues to battle Apple Music for overall supremacy in the music streaming market, but this foray into the advertising world on a global scale underlines its ambitions.
This article originally appeared in City A.M.