Voters from across the partisan divide expect that Santa will vote Green at the next election
Last week Marama Fox, an MP in New Zealand and co-leader of the Maori Party, surprised her fellow MPs by performing a rendition of Santa Baby during a session at the House of Representatives. To the delight of her colleagues, Fox's adaptation implored Santa to "sign up to the Maori Party tonight".
Father Christmas is unlikely to take the representative up on her offer, being that he lives and works in a completely different hemisphere (and is fictional). But, should Santa Claus deign to get involved in party politics, who might he vote for? For a spot of festive fun, we put this question to the public.
As it turns out, people are most likely to believe that Father Christmas would be a Green voter. Once you have excluded those who either don't know (27%) or think he wouldn't vote at all (33%), about 30% of people who think Santa would vote say that he would vote Green, representing a 7% increase on 2013 when this survey was last conducted.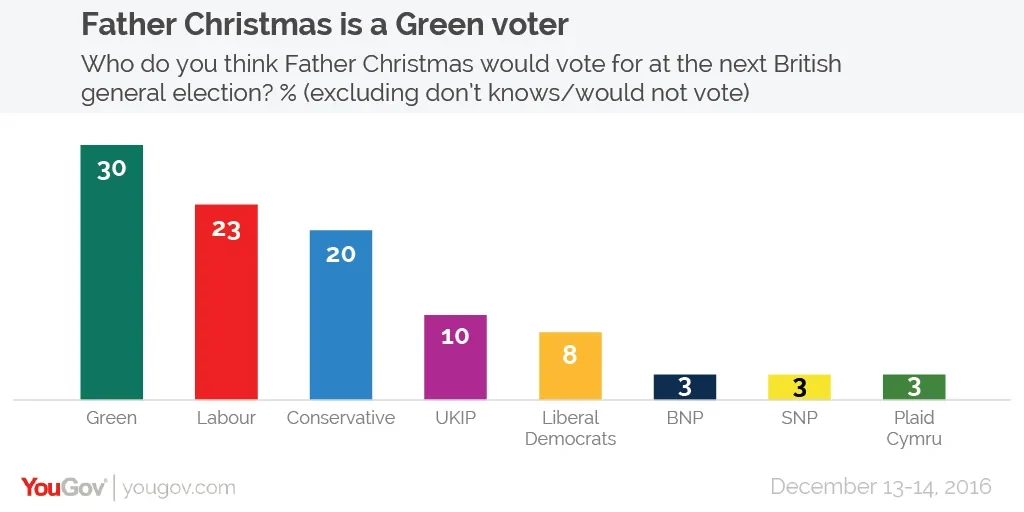 Despite Saint Nick's passing facial resemblance to Jeremy Corbyn, the proportion of people who think that Santa is a Labour voter has fallen four points to 23%. One in five expect that Santa would be a Conservative voter, 10% a UKIP voter and 8% a Liberal Democrat voter.
Political perceptions on Santa tend to follow party lines. Between 41% and 50% of those who voted Conservative, Labour or UKIP in 2015 all believed that Santa would vote for their party. However, the second most popular answer for each of these voting groups was Green, with as many as 31% of Labour voters giving this answer.
Curiously, just 13% of Liberal Democrat voters believe that Santa would vote as they did, whilst 42% believe he would vote Green instead.
Santa as a Green voter certainly makes sense. The ice sheet that makes up the North Pole, where his home and workplace are both based, is rapidly shrinking which doubtless has him concerned about climate change. He also makes exclusive use of eco-friendly transportation.
EU referendum and US presidential election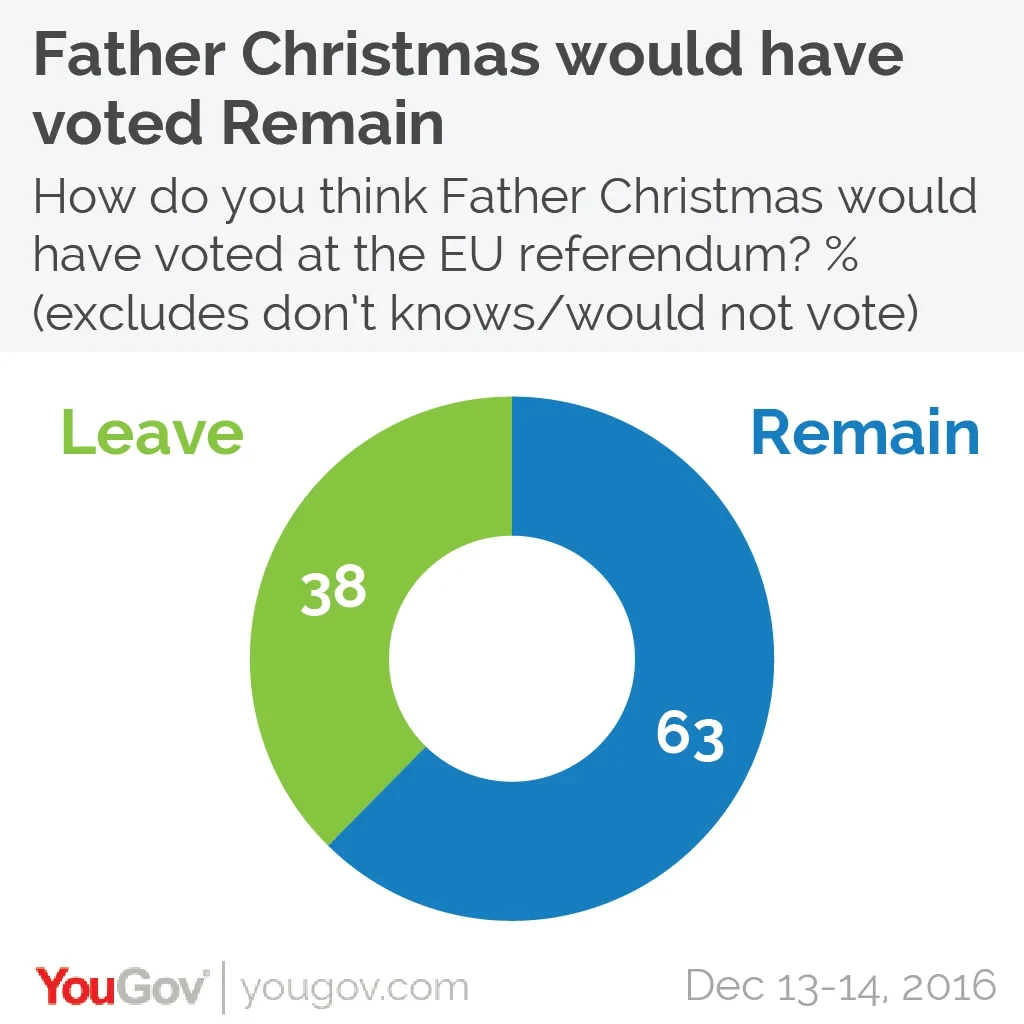 Additionally, people believe that Father Christmas is much more likely to be a Remainer than a Leaver. As before, if we exclude those who either don't know (24%) or think he wouldn't vote at all (28%), almost two thirds of people (63%) who think that Santa would have voted in the referendum think he would have backed Remain, compared to 38% who thought he would Leave.
Presumably this is an acknowledgement of the importance of 'freedom of movement' in enabling Santa to perform his Yuletide activities.
Finally, we also asked who Father Christmas would have voted for in the recent US presidential election. Surprisingly, Brits are more likely to expect that Santa would have voted for a third party candidate rather than for either of the main two candidates.
Again, excluding those who don't know (24%) or think he would not vote (31%), as many as 42% of people who think that Santa would have voted in the presidential election think he would have backed a third-party candidate, compared to 40% for Hillary Clinton and 18% for Donald Trump. Whilst unfortunately we are unable to say which third-party candidate people had in mind, the fact that Brits are so convinced Santa is a Green voter does suggest that they could be thinking of Green candidate Jill Stein.
Photo: iStockphoto