With a new report raising questions about the integration of immigrants into British society, YouGov's authoritarian populism study finds significant numbers of people in Britain and across Europe say that immigration has meant they no longer feel at home
With the defeat of Italian constitutional referendum yesterday, Italy seems to be the latest country swept up in the resurgence of populism in the West. As part of YouGov's ongoing research into authoritarian populism (AP), people from 12 European countries have been asked how far they agreed with a series of positive and negative statements, one of which was:
"There are so many foreigners living round here, it doesn't feel like home any more".
The European migration crisis has stoked anti-immigration sentiment across Europe, and populist political groups have been capitalising on this. The extent to which many people in some of Europe's most important countries agree with this statement highlights the wellspring of support such groups might be able to tap into.
In Italy more than half of people (52%) agree with the statement, making them the nationality most likely to do so. French and German people are also highly likely to agree with this statement, at 47% and 44% respectively.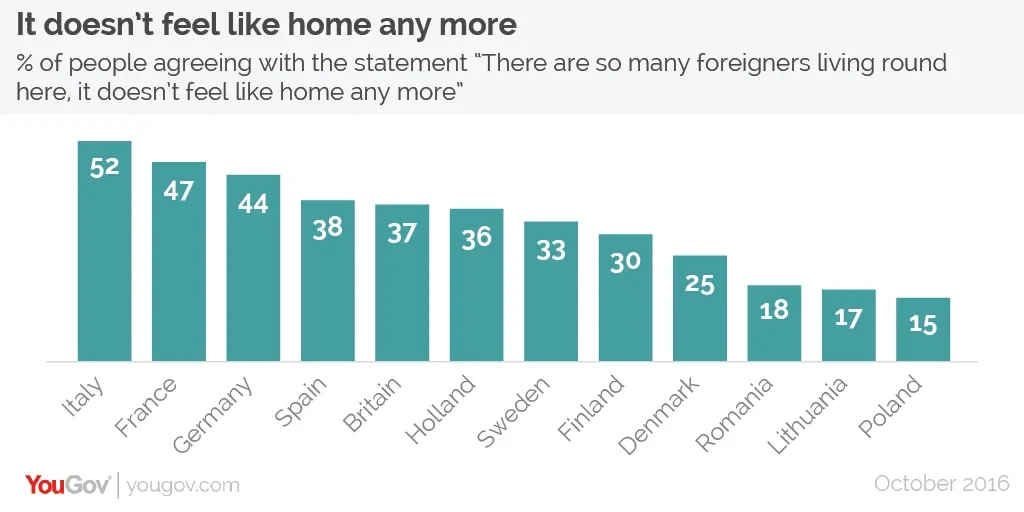 Here in Britain – where a new report has raised questions on how far migrants are integrating into British society – 37% of people agree with the statement. This is the fifth highest rate among the 12 countries, although more British people actually disagree with the statement (39%) than agree.
Agreement with this statement was one of the strongest correlations for whether or not a person holds authoritarian populist views.
In Italy, for instance, as many as 70% of people who hold AP views agreed with the statement. This figure was only surpassed in Germany, where more than three quarters (76%) of people who hold AP views agree with this view.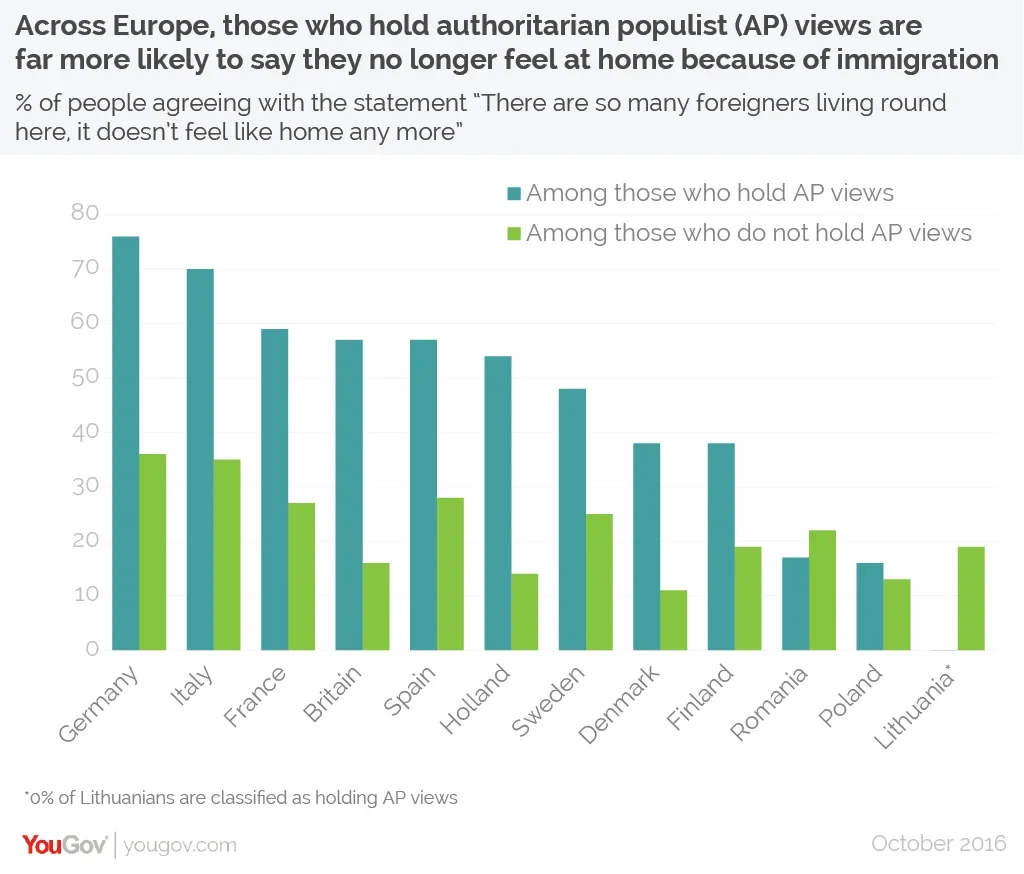 Agreement is unsurprisingly much lower in those countries that have experienced far lower levels of immigration – Romania, Poland and Lithuania.
Joe Twyman, YouGov's Head of Political and Social Research and one of the authors of the Authoritarian Populist study, said:
"Building on YouGov's previous research, this data shows clearly how the perceptions individuals have of immigration correlate strongly with whether or not they can be classified, by our measure, as Authoritarian Populists. The recent report into segregation and social exclusion by Dame Louise Casey highlights how such considerations can have an important impact for Britain. These results show the same could to be true for many other countries in Europe."
Photo: PA
Find out more about YouGov's Authoritarian Populism study here
Methodological Note
To identify the Authoritarian Populist groupings Exploratory Factor Analysis was used on a series of variables associated with the theoretical foundations of Authoritarian Populism (anti-human rights, anti-EU, anti-immigrant, pro-strong foreign policy) with an alpha scale check that gives you a reliability coefficient.
Inevitably, the interpretation and grouping of results of this type is as much an art as a science, so the results involve the analyst's own judgement. Unsurprisingly, the analysis by country produces slightly different patterns in each country, demonstrating the varying political landscapes.
The YouGov 12-Nation Authoritarian Populism Study was conducted in September 2016 and forms part of an ongoing body of work on authoritarian populism. Full results will be published soon. This survey has been produced for the annual YouGov-Cambridge Forum, a joint conference held by YouGov and the Cambridge Department of Politics and International Studies.
The sample sizes from each country are as follows: Britain 1,711; France 1,002; Germany, 1,046; Sweden, 1,008; Denmark, 1,008; Finland, 1,006; Poland, 1,016; Italy, 1,012; Spain, 1,010; Romania, 1,012; Lithuania, 1,015; Holland, 1,015.