First ever UKIP members' poll finds Steven Woolfe was leading the field, even if Nigel Farage was standing
In the latest twist in the ongoing saga that is the UKIP leadership election series, favourite-to-win candidate Steven Woolfe has announced that he will be quitting the party. The MEP, who recently accused fellow UKIP MEP Mike Hookem of striking him in the face, said in The Telegraph that the party is "ungovernable", and lacks "direction, purpose and any semblance of professional organisation".
Woolfe had also been the UKIP heir apparent in the first of this autumn's UKIP leadership elections, but failed to submit his paperwork on time to be eligible to stand.
Now, in the first ever survey of UKIP party members by any polling company, YouGov can reveal that Steven Woolfe was the favourite candidate of party members – even if he'd had to compete with Nigel Farage.*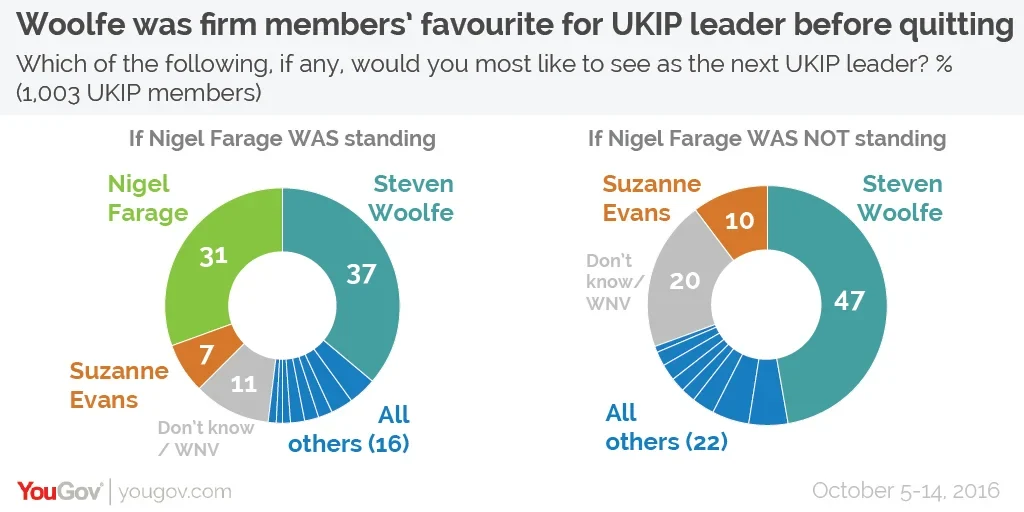 Asked who they would most like to see as UKIP leader in a field that included Nigel Farage, Woolfe led the party's most famous figurehead by six points, at 37% to Farage's 31%. The next closest candidate was Suzanne Evans, on just 7%.
If, as seems to be the case at the moment, Nigel Farage were not standing then Woolfe's popularity increases further. In a Farage-less field, Woolfe is the preferred candidate of 47% of UKIP members, far ahead of second-placed Suzanne Evans on 10%.
The results of the survey are weighted to be representative by age, gender, region, and past leadership vote, using the same methodology as our Labour leadership polling which predicted the result to the closest percent.
Joe Twyman, YouGov's Head of Political and Social Research, said:
"YouGov's data illustrates clearly the difficulty that Ukip now faces in replacing Nigel Farage. The party has the potential to build on the momentum gained from victory in the EU referendum coupled with lasting scepticism towards the more established political parties. To do so, however, will require an effect leader and with Diane James and now Stephen Wolfe gone the question the party must answer is: can anybody fullfil that role?"
*Fieldwork for the survey was 5th-14th October, and thus does not include some candidates – like Raheem Kassam – who had not declared their intention to stand prior to the commencement of fieldwork.
Photo: PA