Labour is struggling to hold on to its former voters who wanted Brexit, according to the last YouGov/Times survey before the Labour leadership election result is announced
The last YouGov/Times voting intention survey before the result of the Labour leadership contest is revealed shows the Conservatives maintaining their commanding lead over the Labour party. This week's results see the Conservatives move up one point to 39%, whilst Labour move down one point to 30%.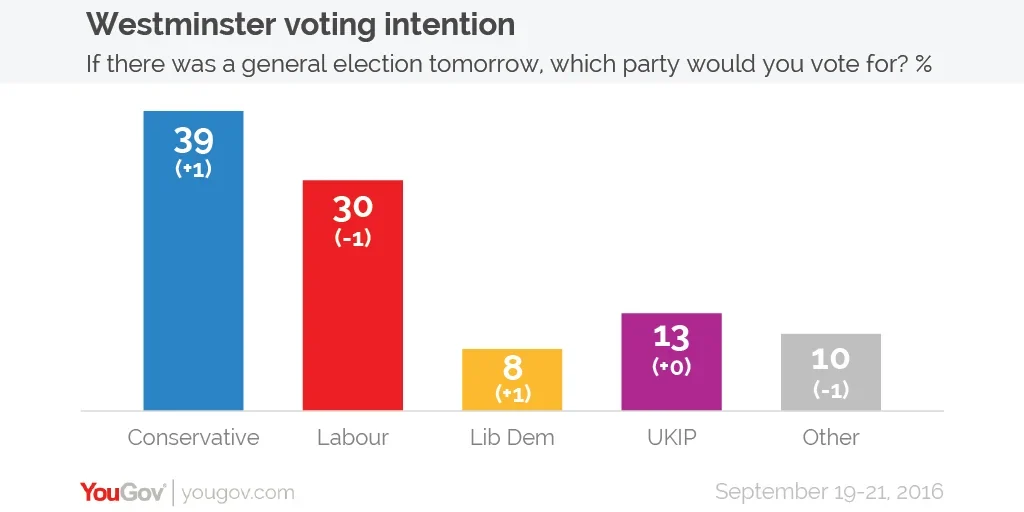 Elsewhere, the Liberal Democrats are up one point to 8%, whilst votes for UKIP and other parties remain static on 13% and 10% respectively.
Asked whether they would at least consider voting for the Labour party at the next election, 35% of voters say that they would consider voting Labour (41% for the Conservatives), whilst 53% say they would not consider voting for them (48% for the Conservatives).
Looking at why former Labour voters are now reluctant to vote Labour again lays the problem clearly at Jeremy Corbyn's door. More than seven in ten (71%) of the 2015 Labour voters who said that they wouldn't consider voting Labour again said it was because they don't think that Corbyn would make a good Prime Minister. A majority also said that they doubted Labour would be able to form a competent government, and that the party doesn't represent their views.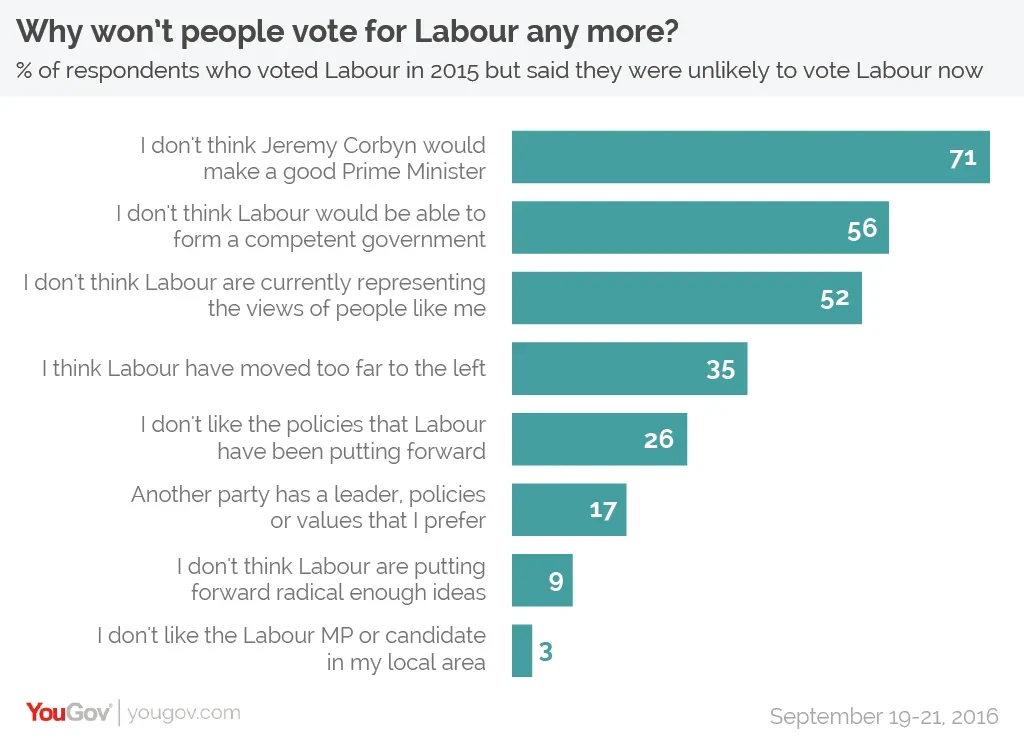 The survey highlights the Labour struggle to attract or even retain Leave voters. Whilst the Conservative lead among all voters is nine points, this increases to 35 points among Leave voters. More than half of people who voted for Labour in 2015 and subsequently voted Leave at the EU referendum now say that they will vote for another party or don't know who they will vote.
Labour voters for the most part have come to accept the result of the EU referendum. Despite Owen Smith's leadership campaign pledge to hold a second referendum on EU membership, only 33% of those intending to vote Labour say that they think Labour should campaign to overturn the referendum result. Nearly half (47%) say that Labour should accept Brexit but seek to maintain a close relationship with the EU after we leave.
Photo: PA