New research looks at voters who supported the Lib Dems in 2010 and abandoned them in 2015. Can they ever be wooed back?
On the eve of leader Tim Farron's party conference speech a new YouGov/Newsnight study reveals the extent of the challenge ahead for the Liberal Democrats, if they ever want to return to being a party of government.
To better understand what is going on YouGov surveyed 1698 British respondents, but we also went back into the databanks to identify those people who voted Lib Dem in 2010 but don't support them anymore. It is this group that will, at least in part, be crucial to the fightback – if that that is ever going to happen.
The good news for the Lib Dems is that nearly three quarters of this group would consider voting for the party, either now or at some point in the future.
The problem that they have, however, is that a sizeable chunk of these lost voters say they do not know what the party stands for anymore. Seven out of 10 are uncertain what they stand for, with a third (32%) saying they are very uncertain.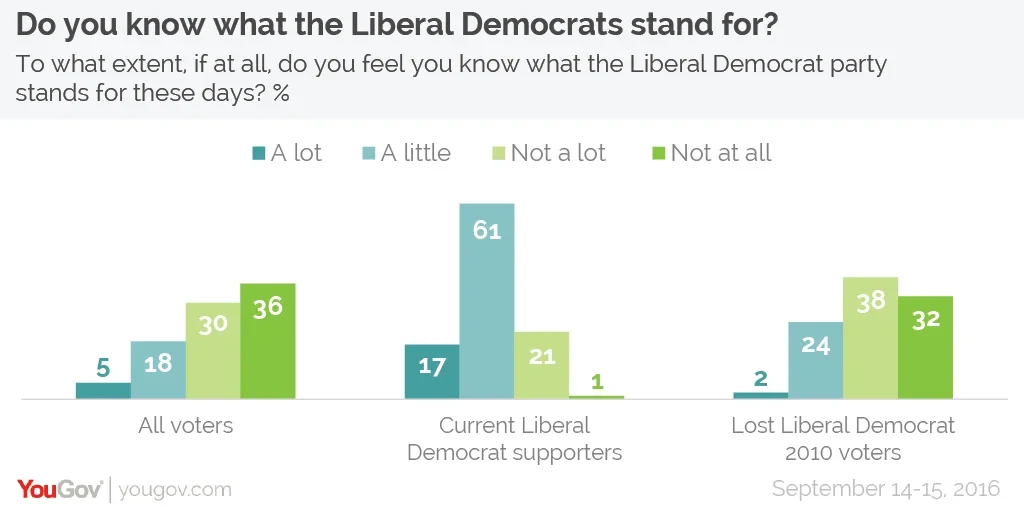 The same group is divided over whether the coalition was a good idea, and whether the Lib Dems actually made a difference while they were in it. In contrast the overwhelming majority (85%) of current Lib Dem voters felt they made the government better.
To compound the party's difficulty, there is no real consensus at present on what the Lib Dems should actually aim to be in the future. Among both the general public and the lost Lib Dem voters being 'a serious, responsible party that can play a productive role in government' is the most popular option, but fewer than a quarter of each group actually choose that. Among current supporters that role is effectively in a tie statistically with 'concentrating on championing Britain's membership of the EU and opposing Brexit' and 'Concentrating on opposing the government and holding them to account in Parliament'.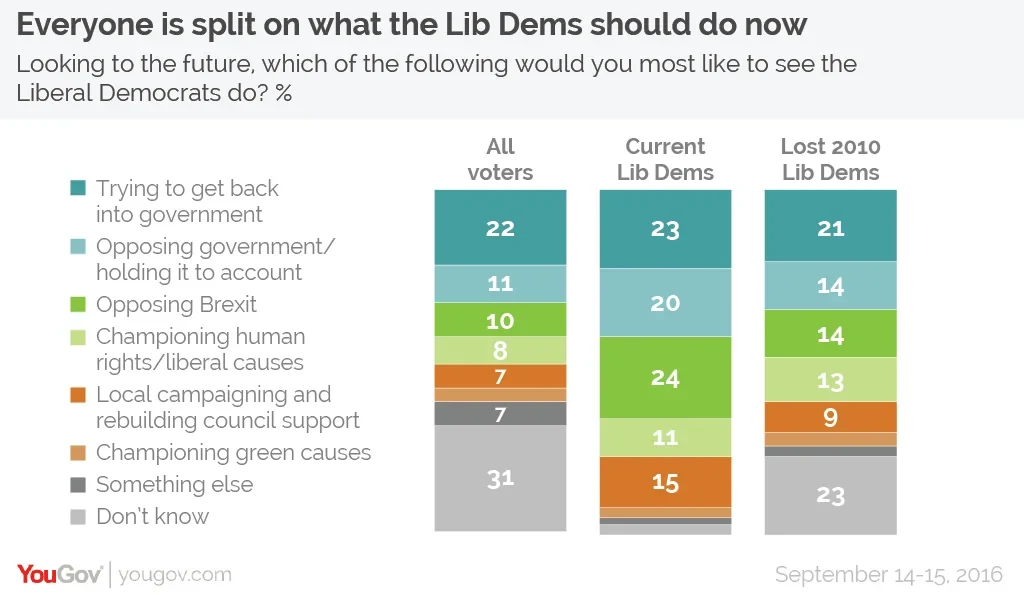 The situation for the party does not improve when you look at YouGov's most recent data for Tim Farron as leader. I went back to the data we ran a couple of weeks ago on the party leader ratings. Overall Tim Farron's rating is -13, which is not too bad. But that is simply the number saying he is doing well minus the number saying he is doing badly, and in doing so it hides a more important number. The full results show just under two thirds (65%) of British adults do not know if he's doing well or badly, and that figure has risen since April.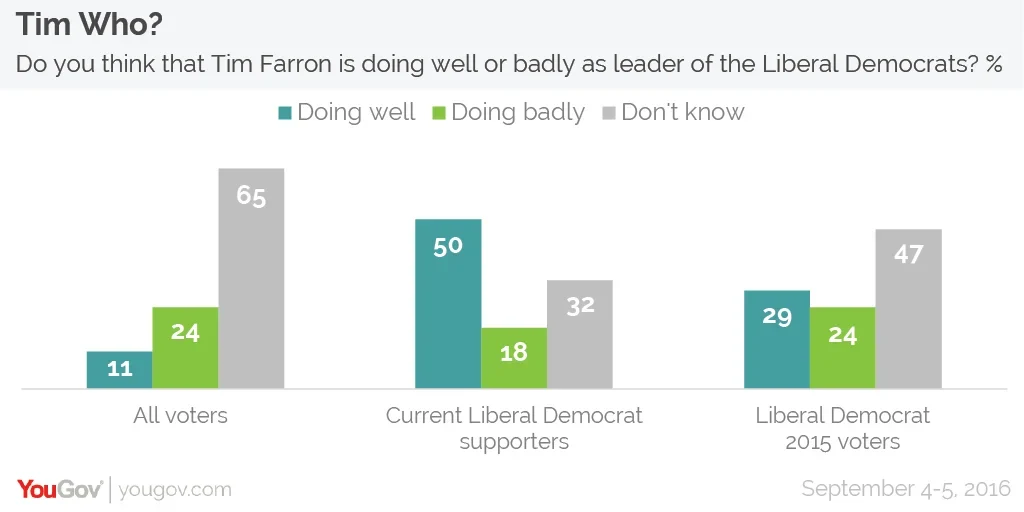 Furthermore, just under half (47%) of the lost Lib Dems and just under a third (32%) of the party's current supporters similarly don't know – and that figure has risen since April.
In an era of social media and 24 hour news, the Lib Dems will want their leader to be recognised and his position on a whole variety of issues to be known. He needs to be at the forefront of the fightback, but in that context these results are not good news.
This study shows just how far the Lib Dems have still to go in terms of deciding and defining their purpose and message - and even then how much they will struggle to be heard.
Photo: PA