With the SNP set to relaunch their campaign for independence, 50% of Scots oppose a second referendum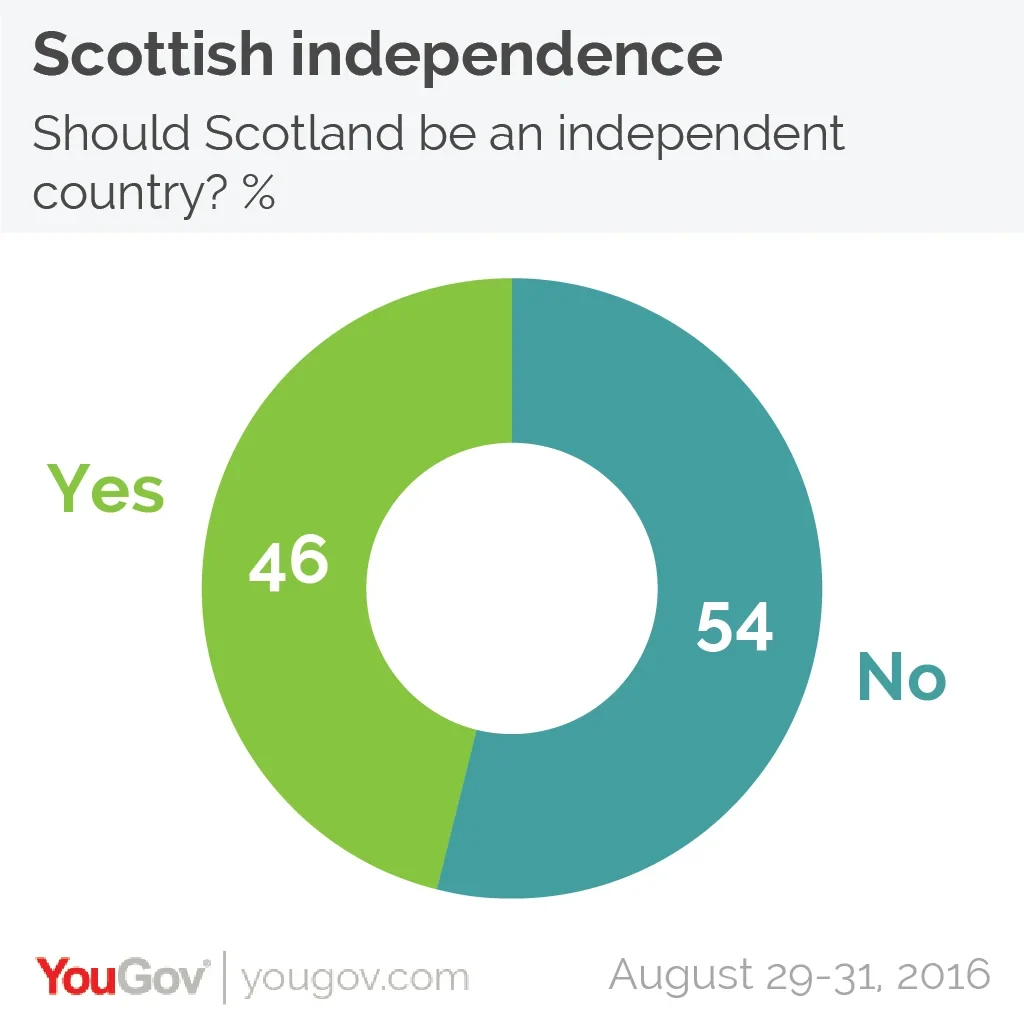 The SNP finally looks set to launch their new drive for Scottish independence, with Nicola Sturgeon expected to make the announcement at a party away day later on today. She will argue that the changed landscape of the country following the result of the EU referendum legitimises a second vote.
The appetite for a second referendum will disappoint the SNP, however, with YouGov's latest Scotland survey finding just 37% of Scots backing a second independence referendum and 50% opposed. Should they be successful in forcing another vote, the results would be almost identical to last time, with 54% of Scots voting against independence and 46% in favour.
The survey also looks at Holyrood voting intention for the first time since the Scottish Parliament elections in May, which provides better news for the SNP. At 52%, the party can boast a five point improvement on the 2016 Holyrood elections. The Conservative party has firmly secured its position as the second place party in Scotland, now standing five points ahead of the Labour party. Labour has suffered a seven point decline on its vote share in the 2016 elections, polling at just 16%, whilst the Conservatives are down one point at 21%.*

The survey sees Ruth Davidson named the most popular party leader in Scotland, overtaking Nicola Sturgeon for the first time. Overall, 46% of Scots think that Davidson is doing well, compared to 25% who think she is doing badly, giving her a net score of +21 compared to Sturgeon's +20. Kezia Dugdale, by contrast, is seen as doing badly with a net score of -17.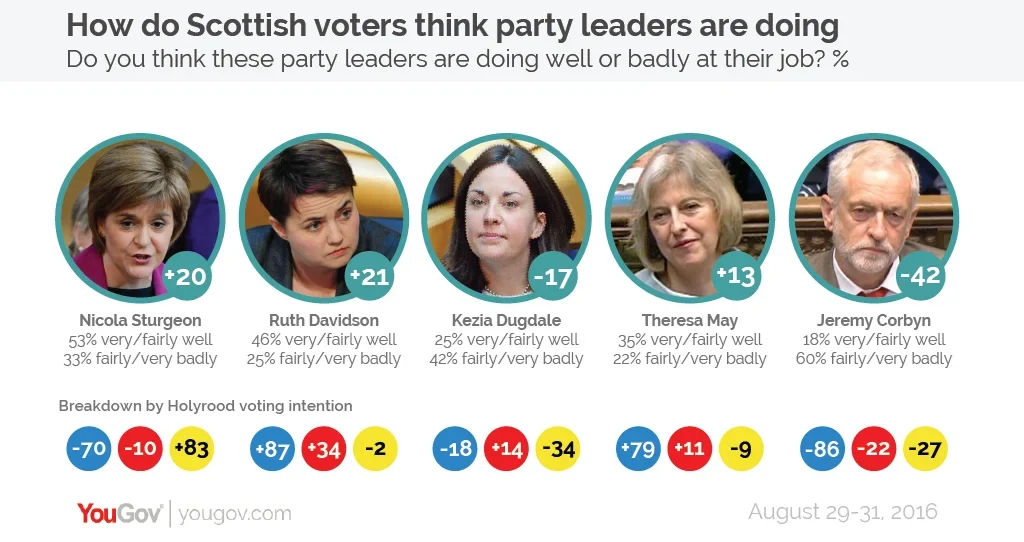 These numbers are poor for Scottish Labour, but they are nothing compared to what Scottish voters think of the UK Labour party leader. Six in ten Scottish voters think that Jeremy Corbyn is doing a bad job (the majority of whom think he is doing very badly), whilst just 18% think he is doing well, giving him an abysmal net score of -42. New Prime Minister Theresa May, by contrast, has a net score of +13, although twice as many voters are reserving judgement on her for the moment.
Despite Corbyn's poor ratings, Owen Smith doesn't seem to have captured the imagination of Scottish Labour voters either. Asked who they would vote for in the Labour leadership election if they could, the two candidates are tied neck and neck at 35%.
*These figures refer to the constituency vote
Photo: PA