The public are still absorbing the EU referendum result but it is clear that consumer confidence has dived significantly in the month after the Brexit vote
Four weeks after the referendum to leave the European Union, UK consumer confidence has fallen to its lowest level in three years.
Our latest figures with Cebr show that July's Consumer Confidence Index stands at 106.6 – its lowest level since July 2013 when it was 105.8. The Index has fallen by 4.7 points in the last month, which represents the joint highest month-on-month decrease since the summer of 2010.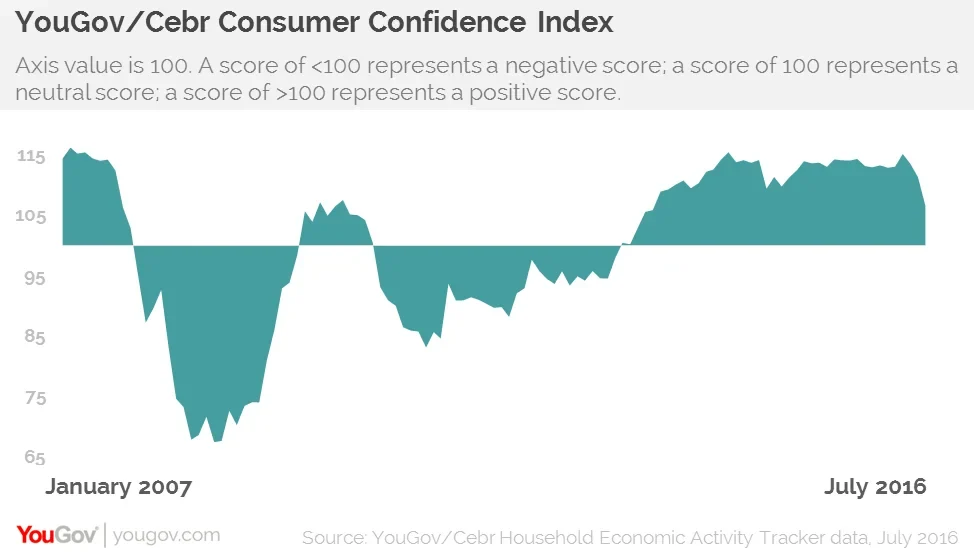 Having a full month of data after the vote means we can analyse exactly which areas have been hit hardest in the wake of the referendum. Seven of the eight measures that comprise the Index have declined in the past four weeks. Two areas in particular have suffered serious drops in confidence – household finances and property prices. In both these areas we have noted a particularly sharp decline in optimism for the coming year.
The steep drop in household financial expectations over the next 12 months point to a contraction of consumer spending that could have a notable knock-on effect in retail spending. However, the bigger issue could be house values. If homeowners' fears over their property prices are realised then there could be a very serious impact to both the housing sector and the economy in general.
The Brexit vote has had a very real impact on consumers and the effects of this could start to be felt in the real economy in the next couple of months. While a lot of the potential shocks have not yet materialised, that is not to say they won't hit home at some point. If data from the real economy starts to point to a downturn then this brittle consumer confidence could easily break.
Image from PA