British people tend to say David Cameron has not really done anything wrong in terms of his tax and investments – but are strongly in favour of making politicians publish their tax returns
In the days following David Cameron's eventual decision to publish his tax affairs – after an embarrassing week of conflicting press briefings on his involvement in a tax avoiding investment firm – he has had anything but an easy time. He faced calls to resign at the weekend, and many criticised the way he received inheritence, which appeared to make clever use of tax thresholds. George Osborne and Jeremy Corbyn have now also published their tax returns, in what may set a new precedent for party leaders and the government elite.
Public opinion has been frequently cited since the Panama Papers put David Cameron in the spotlight, together with our polling last week which showed the Prime Minister's approval rating is now lower than Jeremy Corbyn's.
As we said at the time, however, Mr Cameron's slip in approval is largely due to the EU referendum – and new YouGov research reveals he may come away relatively unscathed from the tax avoidance furore.
Almost half of British people (45%) say the Prime Minister hasn't really done anything wrong in terms of his tax and investments, while just over a third (35%) say he has. Labour voters are unsurprisingly quicker to criticise, but still a sizeable minority (28%) say he hasn't done anything wrong. Although not overwhelmingly supportive, these should be seen as positive numbers given the heightened atmosphere and level of public distrust.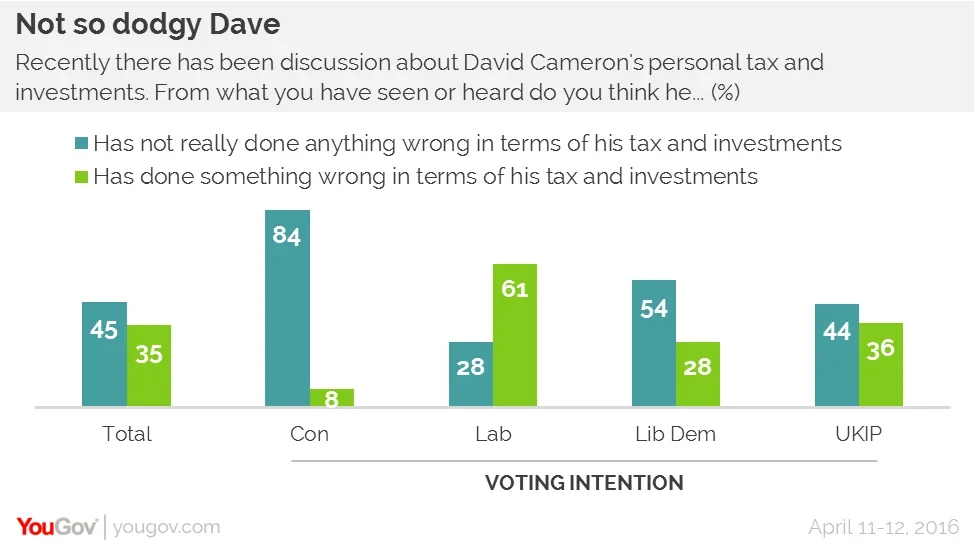 Although Labour is three points ahead in voting intention, polls this far out from an election are more likely to reflect criticism of the current government than support for the opposition – and it is worth noting Labour had leads of up to nine points in April 2011 under Ed Miliband.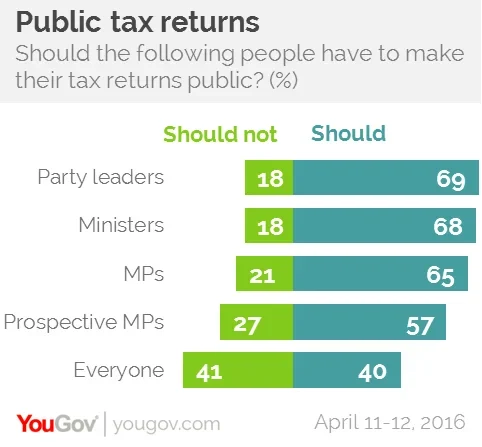 Research last week did find David Cameron significantly less trusted on tax avoidance than Jeremy Corbyn, and Cameron's lead over Corbyn on who would make the best Prime Minister has narrowed from 26 points to seven points. The Labour leader is also now seen as a potentially better Prime Minister than George Osborne, whose lead has reversed from 12 points to -13 points.
Meanwhile there is strong support for party leaders and ministers publishing their tax returns (69% and 68% respectively say they should), which may make it difficult for this bout of transparency to be forgotten. Most people also say all MPs (65%) and prospective MPs (57%) should have to publish their tax records, and 40% even say everyone should have to.
Images
Just as David Cameron may have evaded permanent damage from the Panama affair, there is no real evidence that the Conservative Party brand has been significantly damaged by the news. Compared to YouGov research from October 2015, actually fewer people now say the Tories are close to rich people (88% compared to 80%), although this remains a serious weakness for the party.
Where the Tory brand has been damaged has little to do with tax evasion – fewer now say they party is close to people with families (down from 37% to 25%), and they are also now seen as further away from the middle class (down from 72% to 61%). In fact the Conservatives seem now to be perceived as further away from every group.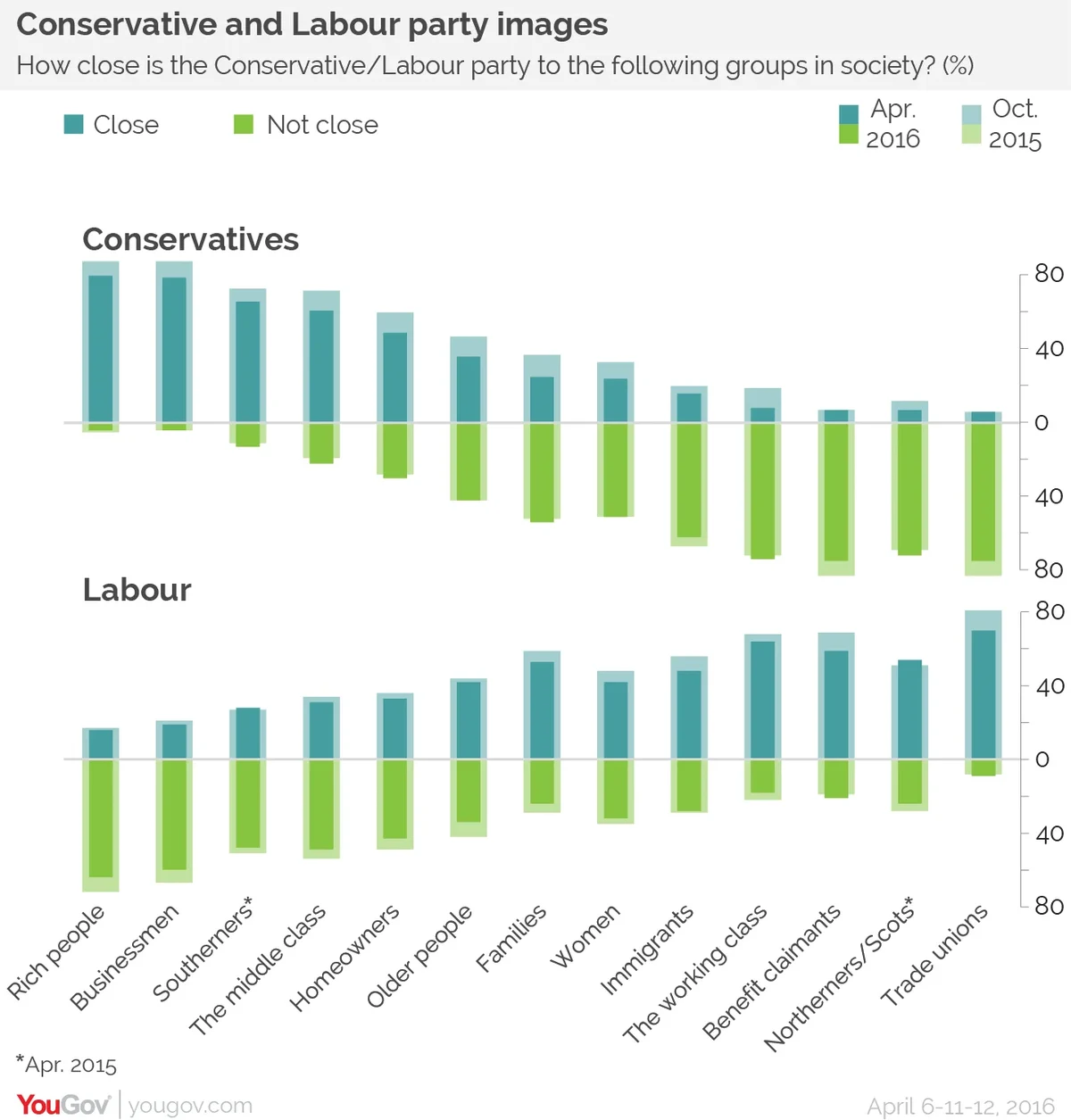 Labour seems to have improved – very slighly, and depending on your perspective – in a few important areas. Compared to just after Jeremy Corbyn's election they are seen as further away from benefit claimants (69% said they were close in October 2015, while 59% say they are now) and trade unions (81% down to 70%). And compared to just before Ed Miliband's resignation they are seen as slightly closer to people from the North and Scotland (net +23 to net +30).
PA image