The number of British adults owning a wearable device increased by 750,000 in the past three months, with a subtle rebalancing going on in the sector with increasing numbers for smartwatches.
YouGov's quarterly wearables tracking study shows that over the past three months the number of people owning a wearable grew from approximately 2,850,000 to 3,600,000. This period includes, Black Friday, Christmas and the January sales and suggest that the sector enjoyed a successful quarter, cementing its position in the consumer technology market.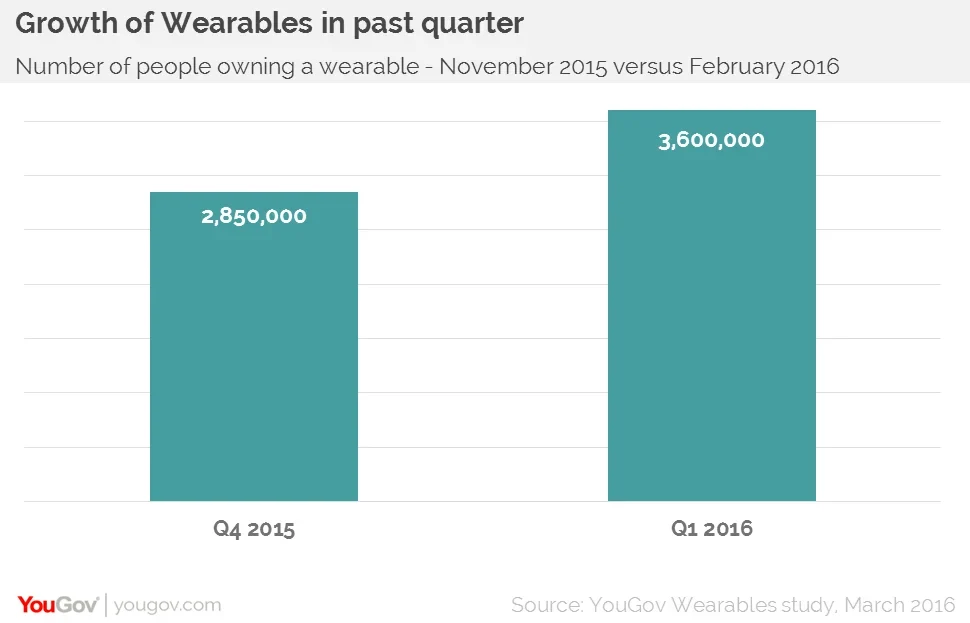 YouGov's figures show that over the past year there has been a slight rebalancing of the sector, with smartwatches gaining market share. Since February 2015, fitness devices' market share has decreased from 79% to 71%. At the same time smartwatches have increased their share from 14% to 25%.
However, while sales of smartwatches have proportionally out-paced those of fitness devices in actual terms fitness devices are still proving more popular. YouGov estimates that in the past year smartwatch ownership has increased from around 340,000 to 720,000 while the number of people with fitness devices have gone up from about 1,900,000 to 2,500,000. There are also other wearables devices such as smartwear (e.g. smart accessories) that account for other wearable sales.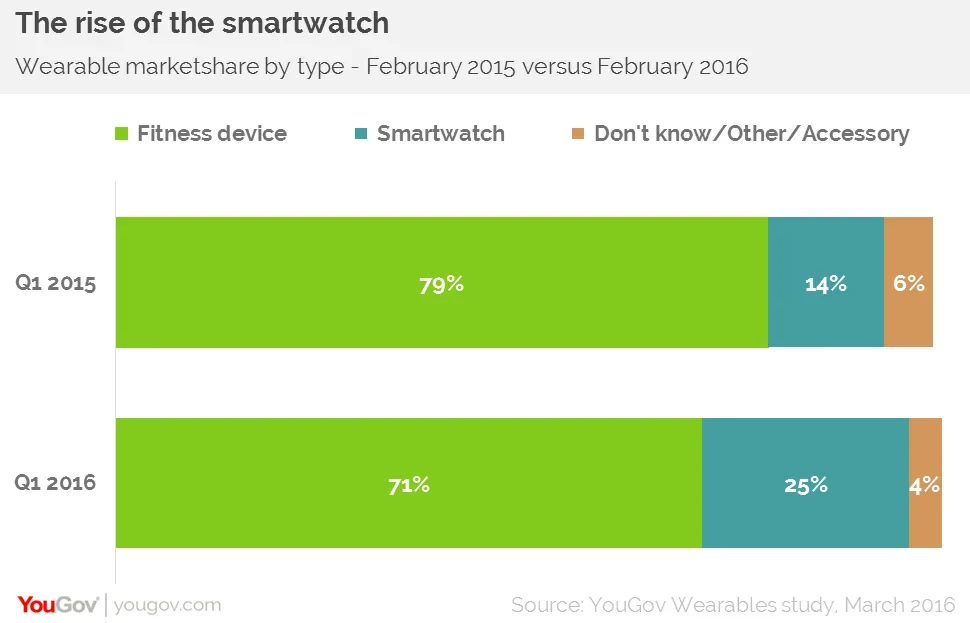 One of the main reasons for the explosion in smartwatch ownership is the launch of the Apple watch. This time last year, Apple had yet to launch its device but in the quarter following launch it picked up 26% of the smartwatch market. In the nine months since this has expanded further and YouGov's most recent wave of research shows Apple now has 42% of the smartwatch market. Fitbit holds a similarly dominant position with 57% of the fitness device market.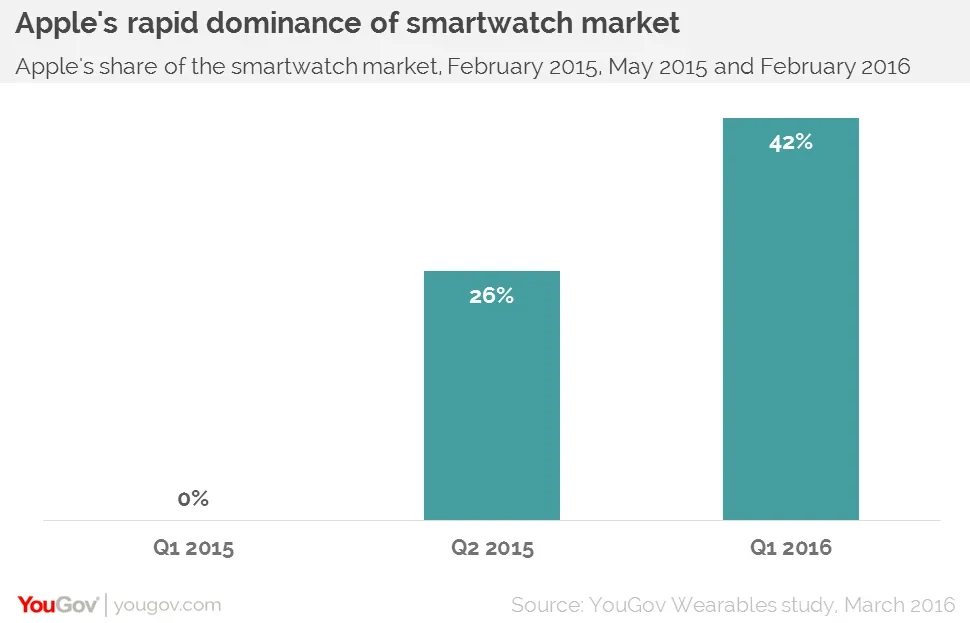 Russell Feldman, Director of Digital, Media and Technology at YouGov: "The wearables market continues to grow and it continues to move towards the mass market. A large part of this comes from Apple, which has created strong beach head for smartwatches within the sector over the past year, putting a lot of marketing heft behind the launch. With Apple holding an event on 21 March there are rumours that the announcement of the second generation Apple watch is imminent. This would be likely to drive further growth in the smartwatch category.
"However, the sector has not yet reached a critical mass where it goes from being niche to mainstream. This could come down to how long it takes Apple's competitors to get in on the act. With tablets, it took three years for other manufacturers to challenge the iPad's dominance to any great extent and we could see similar things with wearables. If it does, we could see rapid growth in the sector with the majority coming from smartwatches."
More information about YouGov's Digital, Media and Technology research
Image from PA