YouGov Profiles data from over 37,000 football fans reveals that Liverpool and Manchester United have the lowest concentration of support in their local area – while Swansea and Stoke top the list for localism
It's a constant dig at football fans who live outside of their teams' area that they could support someone closer to home. And now we know which teams' supporters are most likely to deserve the criticism. By analysing the Profiles data of over 37,000 football fans on the YouGov panel we've found the percentage of each Premier League team's supporters who live in each region of Britain – revealing that only 29% of Liverpool and Manchester United fans live in the North West.
Britain's regional boundaries often arbitrarily cut through a teams' support base. This is particularly true in London, where Tottenham's near-by supporters could live in London or Essex and Hertfordshire in East England, or Crystal Palace's supporters could live in London or the South East. So we've combined the two regions where each teams' support is highest to arrive at a ranking of localism.
Swansea and Stoke have the highest concentration of local support, with 76% and 74% of their fans living in Wales or the West Midlands respectively.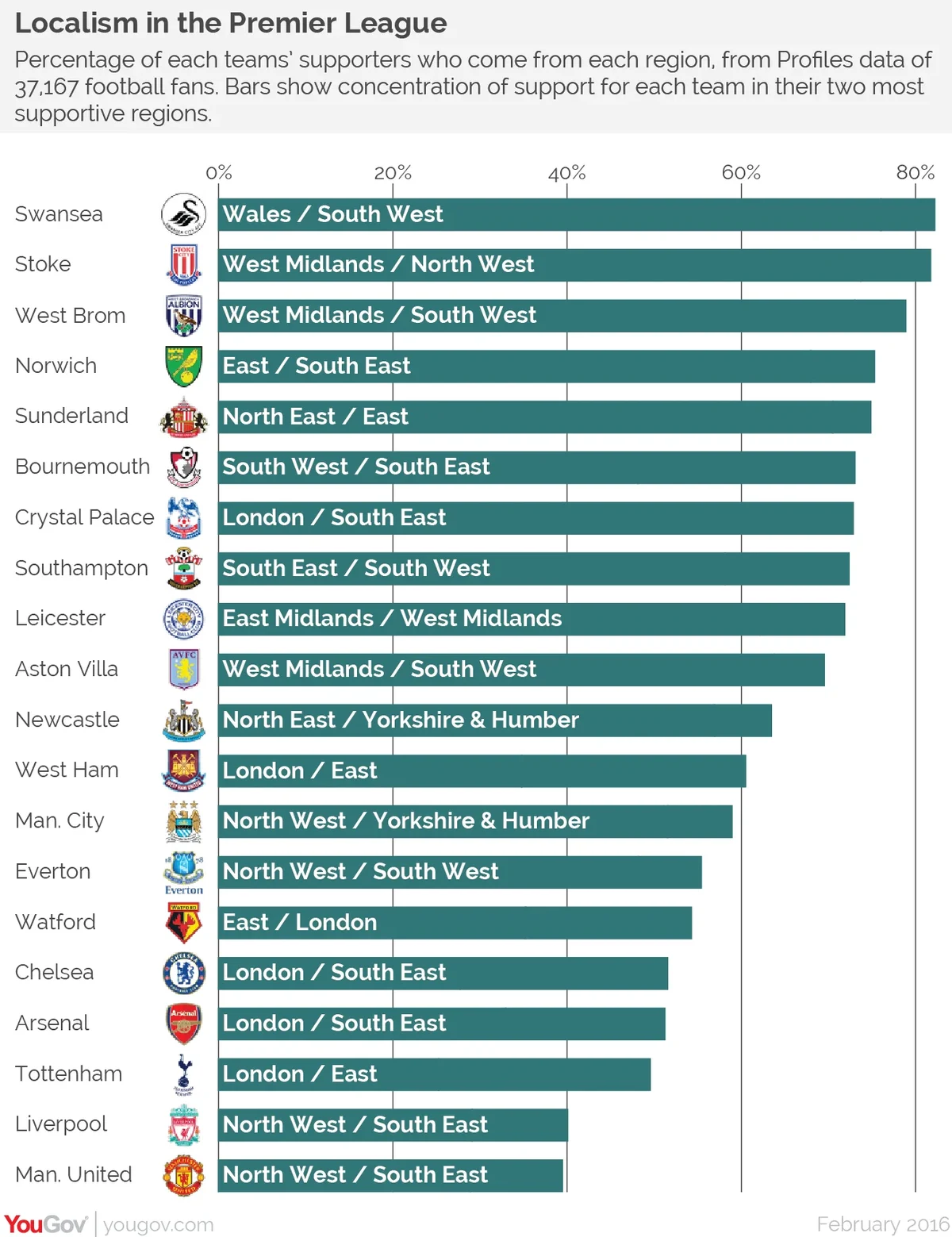 Out of the London teams, Crystal Palace has the highest level of local support, with 40% living in London itself and 33% living in the South East – compared to West Ham, whose supporters are 35% from London and 26% from the East England. Tottenham Hotspur fall slightly behind Arsenal for London's least local team. 33% of Arsenal fans live in London while 18% live in the South East; 25% of Spurs fans live in London while 24% live in the East.
Manchester City, only recently famed for glory, is almost twice as local a team as rivals Manchester United (52% and 29% coming from the North West respectively). And both Liverpool teams display a similar disparity in local support, with 48% of Everton fans coming from the region compared to only 29% of Liverpool's.
PA image