The new Sports Venue Catering report from YouGov reveals that those that have eaten at a sports venue in the past year felt they were being ripped off by overpriced and poor quality food.
YouGov's study shows that on their last visit to a sporting event, around a third (32%) bought food from the venue, compared to the 60% that either ate at home beforehand or brought food with them.
However, among those who bought food at the venue almost seven in ten (69%) agreed that 'the food was overpriced', while over half (56%) disagreed that is was 'good value for money'.
The report shows that sports venue food has a poor reputation. Approaching half (46%) of people buying food at a venue expected the value for money to be poor, and then found that it was. Over two thirds (64%) of this group thought they would only be able to buy fast food and a similar proportion (63%) expected the food to be unhealthy.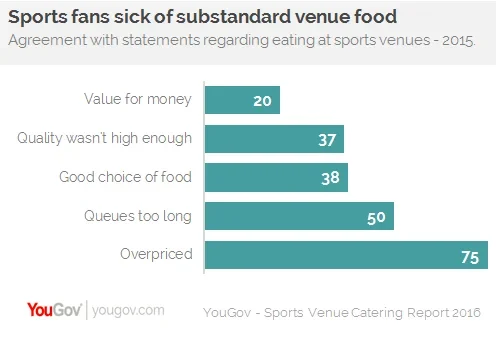 Sport venues are held in particular contempt when compared to other places people buy food with almost six in ten (59%) think that food in sports venues is worse value for money compared to food ought elsewhere. For many people, eating at the venue is done out of necessity almost a quarter (23%) saying the food wasn't what they wanted but they had to get something to eat.
While seven in ten (72%) believe that 'it is expensive enough to get into a match/event in the first place without being pressure or made to spend more', YouGov's reports suggests there is significant room for growth in the market. However, consumers are split about what they want out of it. Half agree that 'sports venues should still to basic food they do well,' compared to the 37% that say 'the food at sports venues is old fashioned – they need to sell food that people like today.'
James McCoy, Research Director at YouGov Reports said: "Whilst for many, a pie or burger may be a traditional aspect of a typical match day experience, our report highlights not only consumer dissatisfaction with the price of food on offer, but the failure of those venues to adapt to changing tastes and demands."
Find out more about this report