Sadiq Khan has increased his lead over Zac Goldsmith by five points since November – and housing is seen as the top priority for London
Conservative London Mayoral candidate Zac Goldsmith came under fire this week for calling his Muslim Labour opponent Sadiq Khan "radical" on Tory election leaflets, then digging himself further in by accusing Khan of 'playing the race card' when objecting to the wording. During an interview on Channel 4 News Jon Snow later told Goldsmith: "You're not an unintelligent man. You know that the words 'radical' and 'Muslim' can go together and speak 'ISIS'."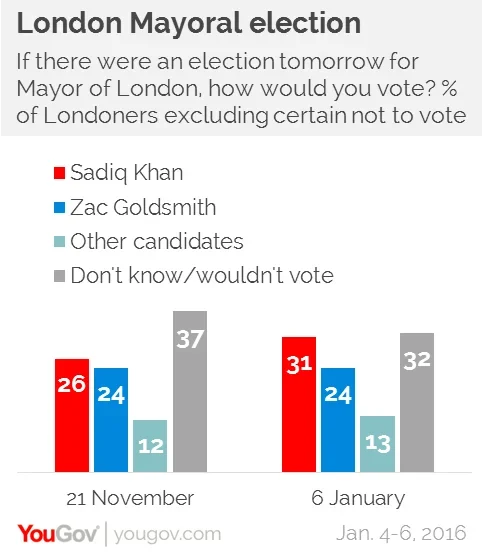 New YouGov research for LBC Radio reveals Khan has increased his lead over Goldsmith by five points since November.
Khan is up to 31% from 26% in November, bringing his lead up to seven from two in November. Zac Goldsmith (24%) is unchanged since November – Khan's increased share has come from those previously saying they would not vote or did not know who they would vote for.
Asked who they would prefer in a head-to-head between Khan and Goldsmith, Labour's candidate (55%) has a lead of 10 over ther Tories' (45%).
Sadiq Khan has focused his campaign on housing, pledging to turn the election in May into a "referendum on London's housing crisis". Housing is seen as the top priority for the Mayor and city government in the administration of London, with 61% of Londoners choosing the issue compared to 46% for transport and 35% for policing.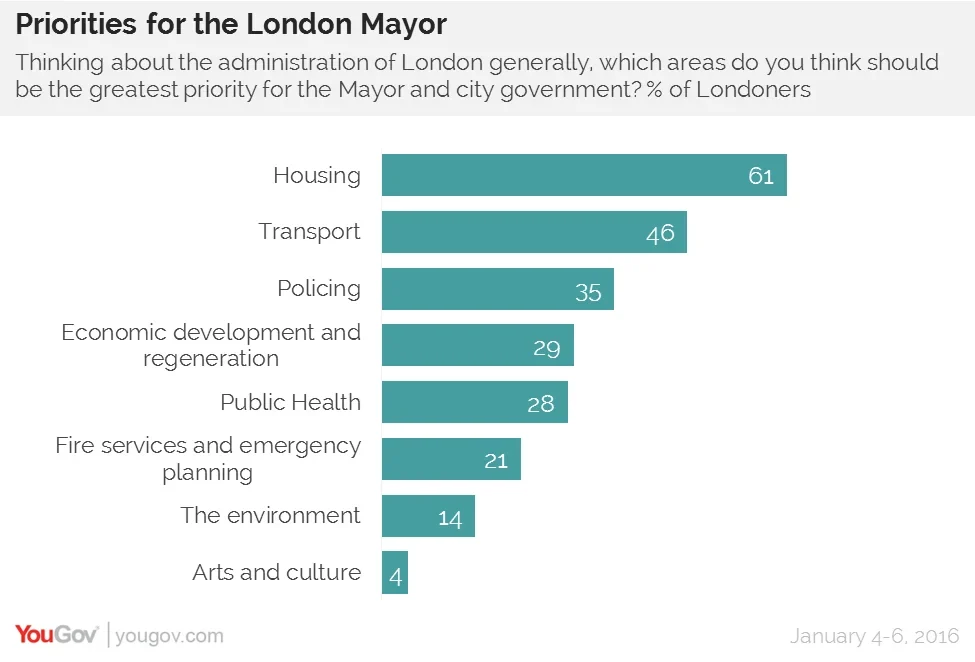 Conservative voters also say housing should be the Mayor's top priority, although by a smaller margin (54% to 51% for transport and 47% for policing).
Housing is seen as a far higher priority for Londoners with regards to the country as a whole – when thinking about the issues facing the country they place it second (46%) behind immigration (56%). However when YouGov last asked this question to the British public as a whole on May 25, only 21% said housing was one of the most important issues facing the country.
Current voting intention for Labour in London is 44% – the same as Labour's actual share of the vote in May 2015 – while the Conservatives are on 37%, two points higher than their election result in London.
PA image