British people tend to say Saudi Arabia should not be an ally of the UK – and rank its human rights record alongside Syria's
The recent execution of 47 people including prominent Shia cleric Sheikh Nimr al-Nimr, for opposition to Saudi Arabia's Sunni rulers – which lead to the suspension of diplomatic relations between majority-Shia Iran and Saudi Arabia – renewed the challenge to British-Saudi relations this week. The Foreign Office called the executions "dissapointing" but the government's minister for the Middle East defended our alliance, saying "it is more effective to work with other countries to improve and reform their systems, rather than criticise from the sidelines." Lib Dem and Labour politicians pressured the government to withdraw its support for Saudi Arabia as head of a key UN human rights panel, and Tim Farron called the UK-Saudi relationship 'sycophantic'.
New YouGov research provided the public with a list of ten countries, and asked people to assess those countries' record on human rights and whether Britain should be an enemy or an ally of that country. The results confirm a highly critical attitude to Saudi Arabia.
Saudi Arabia ranks slightly below Russia, the target of continued British economic sanctions and media criticism, when people are asked to say if our attitude should be that of an ally or friendly, or that of an enemy or unfriendly. For Russia 42% say we should act like an ally/friendly and 38% say we should be an enemy/unfriendly; for Saudi Arabia 37% lean towards ally, 39% towards enemy.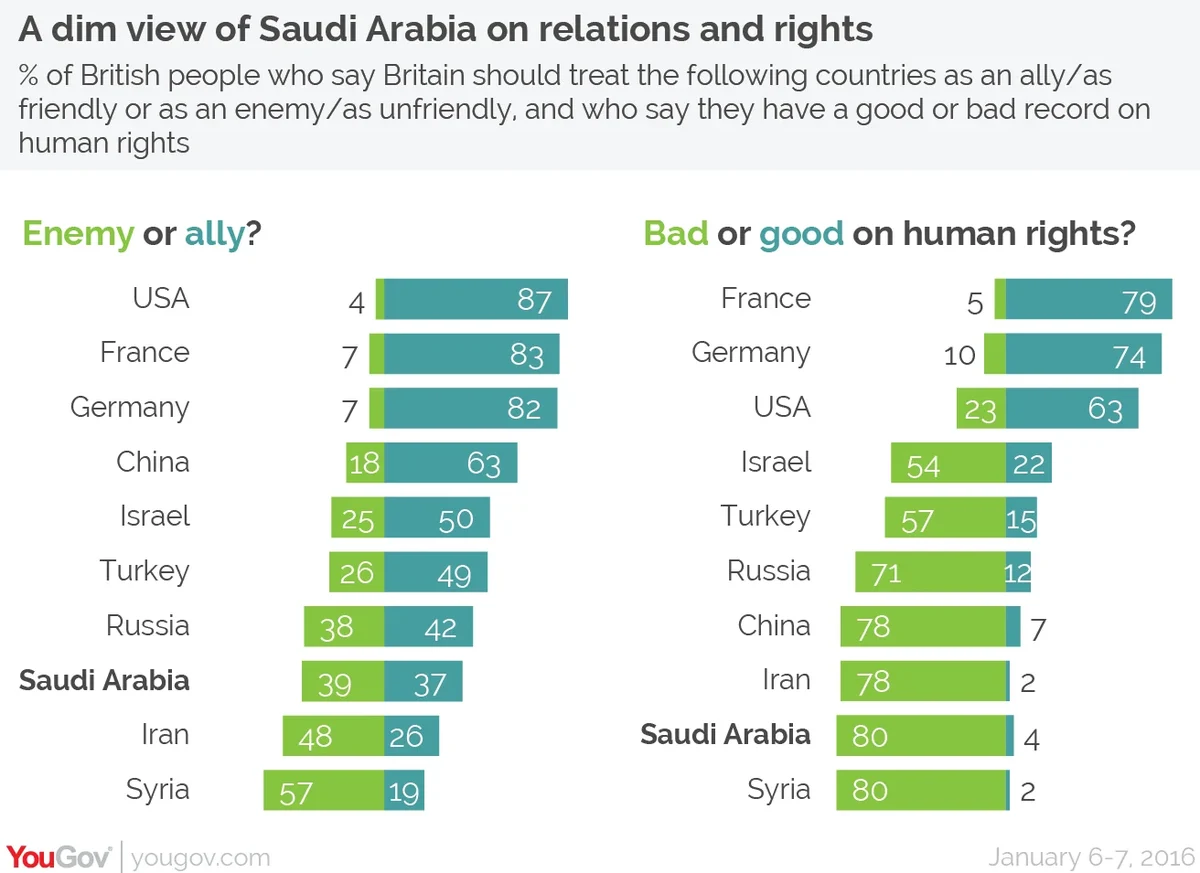 This is however a better reccomendation than for our relations with Iran, whom only 26% say we should be friendly with and 48% say we should be unfriendly with. A majority (57%) err on the side of enemy when asked about Syria, while 26% err on the side of ally.
Iran is also seen as a greater threat to the UK than Saudi Arabia, with 19% and 10% respectively saying they pose one of the greatest threats. 86% choose ISIS, 26% choose Syria and 24% choose Russia.
On human rights, Saudi Arabia almost ties with Syria, the worst-regarded country. 80% say both have a bad record, while 4% say Saudi Arabia has a good record and 2% say the same of Syria.
The Saudi execution of Sheikh Nimr al-Nimr is widely seen as part of the ongoing dispute between Sunni and Shiite branches of Islam, however some analysts believe the move represented an effort by the Saudi royal family to appease powerful Sunni clerics who are angered by the kingdom's cooperation with the US in the fight against ISIS. It's this relationship, between the Wahhabi clergy (Wahhabism being the same extreme interpretation of Islam subscribed to by ISIS), who provide Islamic legitimacy to the country, and the Saudi royal family, who repay it with control over parts of the state and religious infrastructure, that concerns critics of UK-Saudi relations the most.
PA image