Topline confidence has fallen for the second successive month
This is the first time there have been back-to-back falls since the spring of 2012
Declines in each of the four workplace measures see confidence dip
But all household finance and home ownership measures improve
Consumer confidence has declined so far this month, falling from 113.1 in November to 112.9 in December. This month's score is the lowest the Index has been since February 2015 when it stood at 112.5.
While consumer confidence has been steady this year it has dropped in both November and December. It is the first time it has dropped for two consecutive months since the spring of 2012.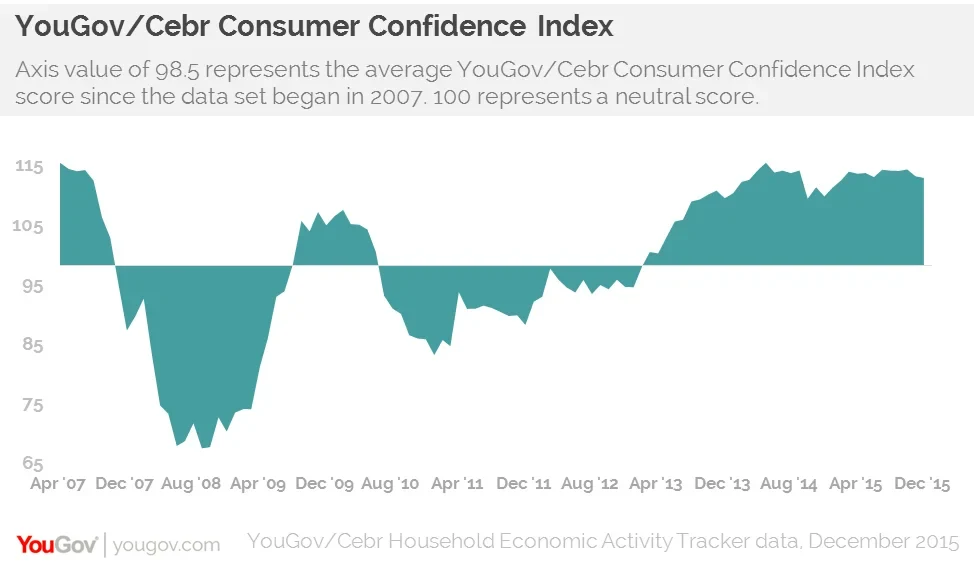 The overall decline comes despite consumers having more confidence in their household finances and value of their property, over both the past 30 days and the next 12 months. This is because these improvements were outweighed by declines in how people felt about their job security and levels of activity in their workplace both over the previous month and the year ahead.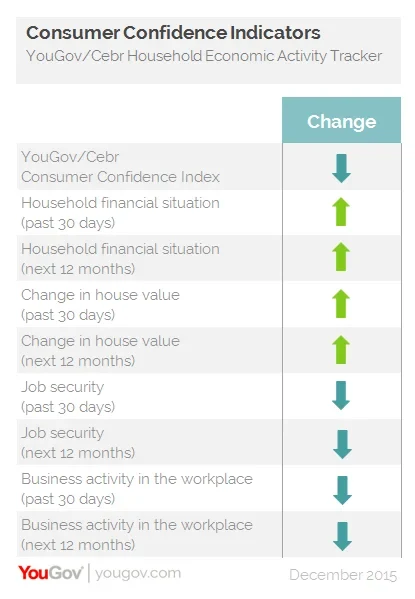 Stephen Harmston, Head of YouGov Reports: "After six months of relatively static levels of confidence we have seen a notable drop off throughout November and December to the extent we are back to where we were at the start of the year. Back-to-back falls have not been seen since the spring of 2012 following the "omnishambles" Budget. For all the talk of a strong recovery many consumers are more pensive than positive about what is going on in their workplaces as we go into the New Year."
Scott Corfe, Associate Director at the Centre for Economics and Business Research: "There is a clear divide between how people feel about the domestic parts of their personal economic situations – such as property values and household finances – and the workplace aspects – such as job security and perceived levels of business activity. The improvements on the domestic side of this equation have almost compensated for the declines in the workplace over the past month. However, with the Federal Reserve's interest rate rise in the US increasing the likelihood of the Bank of England doing the same here, things could change on this front over the first few months of 2016."
See more information about the Household Economic Activity Tracker
More information about YouGov Reports
Image from PA