Two thirds of British people say Donald Trump's call for a ban on Muslims entering the US is an inappropriate policy for America – but a quarter approve, including a majority of UKIP voters
Donald Trump, the current frontrunner in the Republican Party presidential nomination, called yesterday for "a total and complete shutdown of Muslims entering the United States while we figure out what the hell is going on". He said the ban would not apply to people living in the country, for example Muslims serving in the US military would "come home", but his campaign manager said it would apply to Muslim tourists as well as Muslims seeking immigration visas. The announcement caused outrage around the world. The Pentagon said it would "bolster Isil's narrative", and after Mr Trump said parts of London were "so radicalised the police are afraid for their lives" Boris Johnson said this was ridiculous, while David Cameron said Mr Trump's comments were "divisive, unhelpful and quite simply worrying".
New YouGov research reveals that a strong majority of British people view Donald Trump's call for a ban on Muslims entering America as inappropriate for the US – 65%, or just under two thirds.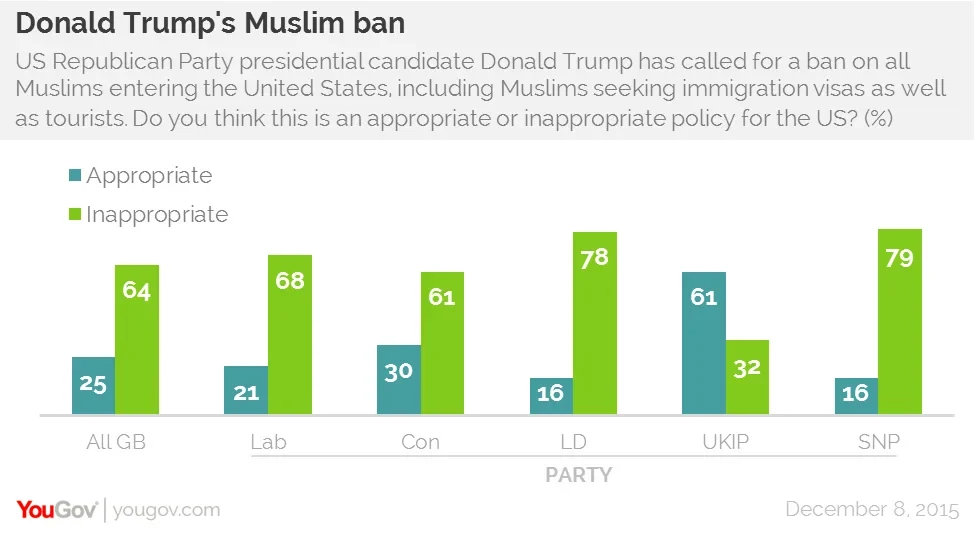 However one in four (25%) British people say the remarks are appropriate for the US. 13% even say they are 'very' appropriate while 12% say they are 'quite' appropriate. In the North of England the percentage saying the remarks are appropriate for the US rises to 34%, and among UKIP voters it rises to fully 61%, with 32% calling them inappropriate.
Donald Trump has led the Republican presidential candidate race for some time now in YouGov's polling, chosen as the preferred nomination by 37% of self-identified Republican voters when the question was last asked on November 23. His call for a Muslim ban has led rivals to condemn him, however, with former vice-president Dick Cheney saying the idea "goes against everything we stand for and believe in".
PA image