In new polling for The Times Support for RAF air strikes on ISIS in Syria has fallen from 59% to 48% – as Labour voters shift into opposition to military intervention
On the eve of a Commons vote on British air strikes against ISIS militants in Syria which has thrown Labour into disarray, new YouGov research for The Times reveals that support for air strikes in Syria has fallen to its lowest level since September 2014. Net support at that point, motivated partly by the beheading of American journalist Steven Sotloff and British Aid worker David Haines, stood at around +24. Now net +17 support air strikes, but not a majority (48% approve, 31% disapprove).
Jeremy Corbyn bowed to pressure to offer a free vote on bombing Syria this week after a shadow cabinet rebellion. Previous results have shown that Labour voters were mostly in favour of strikes, unlike the party membership which strongly opposes going to war. As things stand, Jeremy Corbyn plans to present the case against military intervention tomorrow, before shadow defence secretary Hillary Benn tries to convince Labour MPs to support the government.
But many of those who voted Labour in May have now changed their minds, moving from majority support (52% approved of RAF air strikes on ISIS in Syria on November 17 while 26% opposed) into opposition (35% now approve, 42% disapprove).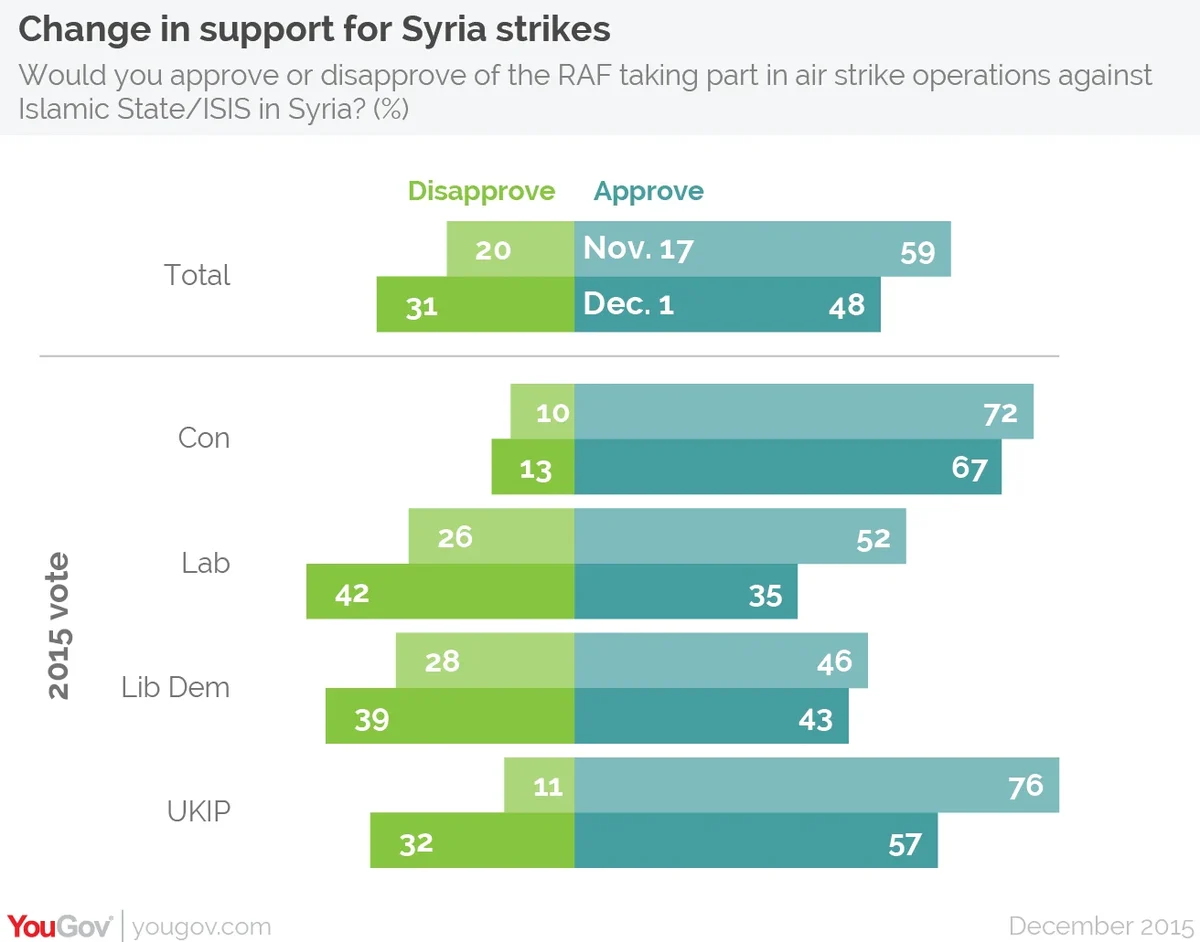 The government's motion looks set to pass tomorrow, with research suggesting 360 MPs, including 50 from the Labour benches, are in favour while 170 are against. Jeremy Corbyn has urged MPs to "think again" and "bear in mind what the public think and what the implications are for this country".
Jeremy Corbyn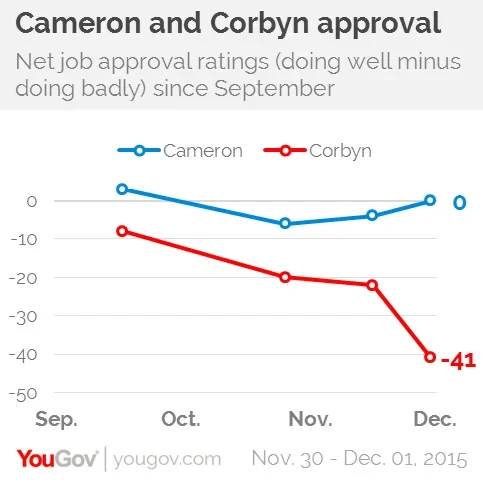 Many have been critical of Jeremy Corbyn for prioritising the views of Labour members over those who voted Labour in 2015, and for writing to MPs setting out his opposition to bombing Syria before the shadow cabinet had finalised its stance. This has had a serious impact on his approval rating, which has almost halved since November 17. 30% then said he was doing well as Labour leader while 52% said he was doing badly - now only 24% say he is doing well and 65% say he is doing badly.
Ed Miliband's lowest rating was -56, however he enjoyed better ratings than Jeremy Corbyn currently does for 15 months after the 2010 Labour leadership election. Mr Corbyn now has a net negative approval rating even among those who voted Labour in 2015 (-6, down from +27 in November).
Meanwhile David Cameron has a neutral rating among the general public with 47% saying he is doing well and 47% saying he is doing badly, and our most recent voting intention figures have the Conservatives on 41% to Labour's 30%. This lead of 11 is a four point improvement on the general election result.

UKIP, which is putting up a strong fight for the long-standing Labour stronghold of Oldham at Thursday's by-election, has increased its share of the vote by three points since the general election. Labour has a majority of more than 14,000 in the seat, after a 45-year incumbency, however reports suggest many voters there are unsettled by Labour's divisions and do not identify with the new Labour leader.
See Peter Kellner's analysis in the Times