A clear majority of British people support RAF air strikes on Syria – and across all of Europe people say their country should being doing more to combat ISIS within Iraq and Syria
David Cameron will set out his strategy for countering ISIS in Syria today when he faces the foreign affairs select committee. The committee has a Conservative majority, however it has urged the Prime Minister not to press ahead with allied bombing in Syria without a coherent international strategy. Convincing the committee he has the definitive support of MPs will be crucial to his success – as will proving that the public is on his side. There are indications that after an oral statement to MPs today they will 'have the weekend' to make a decision, meaning a Commons vote on Britain's military involvement in Syria – in which Labour MPs may have a free vote – could happen as early as next week.
New research for the YouGov-Cambridge symposium on Syria and the EU confirms strong and continued public support for RAF air strikes on ISIS in Syria.
Public support, now at 59% to 20% in opposition, has been steady throughout 2015, even in the wake of the Paris attacks – suggesting the public have settled on a position, with support unlikely to deteriorate in the near future.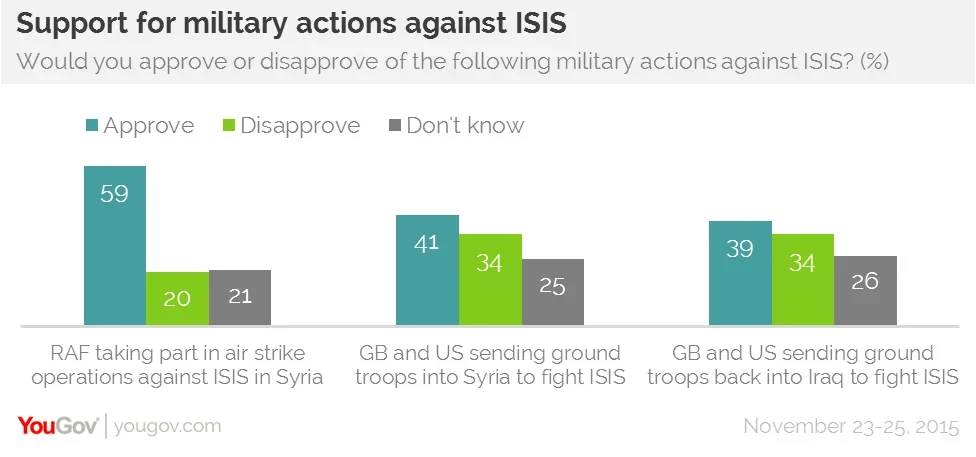 Former Foreign Secretary William Hague said yesterday that the UK should not rule out deploying ground troops in Syria and Iraq in the fight against ISIS: "That should be Syrians, Iraqis or other Arabs, but it would be a mistake for Britain or other western nations to rule out some of our own forces operating there if that can make the crucial difference to the outcome".
British people have tended to favour sending British and US troops back into Iraq since September. Support is only slight (in our latest poll only outnumbering opposition by 5%), however it has grown substantially since 2014, when those in opposition outnumbered those in support by an average of 27%.
Support for sending British and US ground troops into Syria is roughly the same as for Iraq – in the latest poll 41% support while 34% oppose.
Europe
YouGov research across seven countries also finds a strong sense of urgency in Europe. Very few (at most 21%, in Finland, but as low as 12% in France) say their country is already doing all they usefully can to combat ISIS. And in all of the countries surveyed people tend to say their security services do need more access to the public's communications data in order to effectively combat terrorism.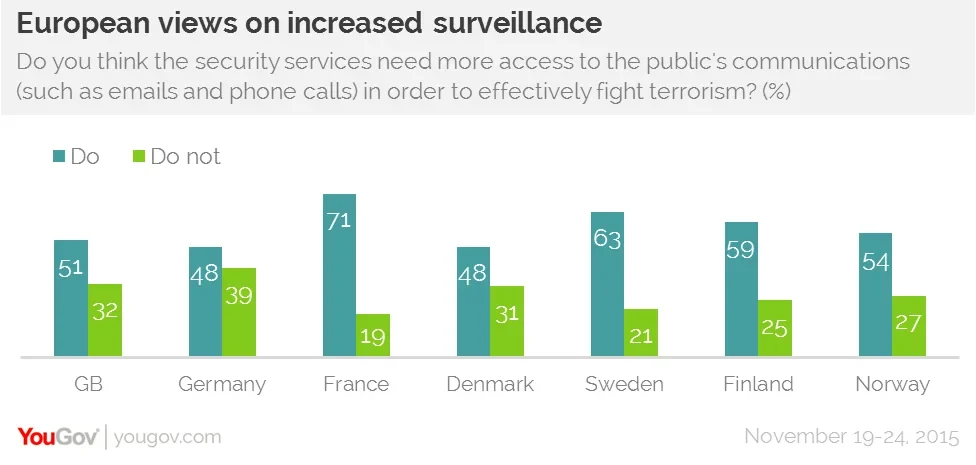 Even in Germany, notorious for its privacy concerns, support for increased access to communications outweighs opposition (by 48%-39%). In France as many as 71% say the security services need greater surveillance powers to fight terrorism.
In YouGov polling conducted after the Paris attacks 75% of French people were in favour of intensifying their air strike operations against ISIS in Syria, and 47% were in favour of sending French troops into Syria to fight ISIS on the ground (28% were in opposition). Research by YouGov for the TV show Akte (Sat 1) in Germany also conducted after the Paris attacks found that 48% were in favour of German air strikes on ISIS in Syria, while 35% were opposed.
PA image