YouGov's Making Money in Music 2015 report reveals that as streaming services become ubiquitous and physical sales decline, live music is increasingly becoming the way music artists make money from their profession.
Over a third (36%) of adults have attended at least one live music event in the past year, whilst over 40% have bought some form of merchandise at a gig. The median spend on a ticket was £82 whilst £21 was the average spend on merchandise at the last gig attended. Mixed genre rock and pop festivals are the most widely attended. However, over seven in ten (72%) believe ticket prices for most events to be too high.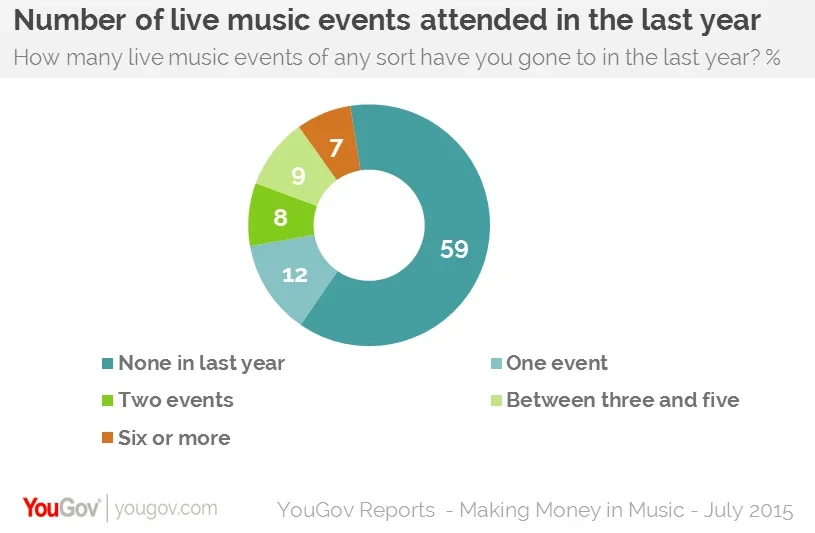 There is something of a gap between what the public believe to be fair, and what they would ideally like themselves. A third (32%) believe that free streaming of music is as damaging to artists financially as music piracy (62% say music piracy is not fair). However, 20% think that the music industry exploits fans so piracy is fair, whilst 20% say that they believe all music should be free to download and share. Over a tenth (12%) say they would be more likely to download music illegally if they think the artist or band in question is rich.
Although half (50%) prefer to own music, compared to 12% who prefer to access for free and 17% who like to access but with some ownership, this is under threat due to the trend for younger consumers to be less concerned about owning. A quarter of 25-34 year olds prefer to access for free for example.
James McCoy, Research Director at YouGov Reports said: "The music industry now seems to be characterised by a series of conundrums: people are sympathetic towards artists that are the victims of piracy and streaming services, yet they want to consume more content and explore more new music than ever before, but don't want to pay for it.
"This means that live music and tours, along with merchandising, become the last vestige of the artist looking to make money from music. It is no wonder therefore, that music stars young and old seem to be in a state of perpetual touring. However, increasingly music fans think the overall gig experience to be too expensive. So will promotors and event organisers ever be forced to lower prices? While the demand for the most famous artists remains, it would appear unlikely."
Image PA