Almost a quarter (24%) of British people would be prepared to pay part of the cost of a visit to their GP, the latest wave of the YouGov /Simplyhealth Everyday Health Tracker reveals.
There is a slight difference in willingness to pay between social groups. 26% of ABC1s would be willing to self-fund part or all of the cost of a GP, while 20% of C2DEs would be.
While people already pay for certain everyday services, such as the dentist and optician, the study shows that with the NHS facing well documented financial pressures, a majority (56%) believe the NHS 'can't do everything' when it comes to covering all areas of healthcare.
YouGov's research shows that more people are willing to pay for other services. Half (50%) are happy to pay towards chiropody services, 45% for home support and rehabilitation and over a third (36%) would contribute to counselling or talking therapies.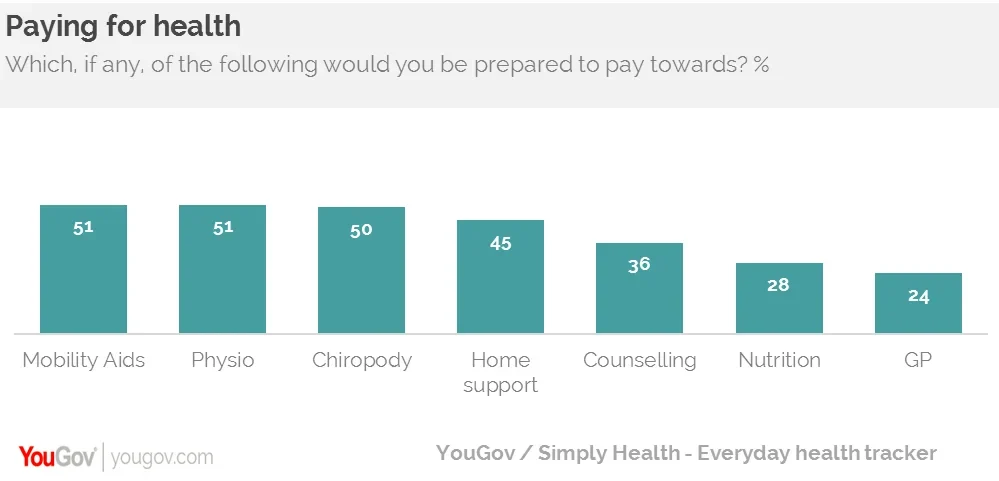 Tom Rees, Associates Director YouGov Reports commented on the findings, saying: "The debate around GP waiting times and seven-day service is one that continues to divide opinion. For many, the NHS should be free at the point of service, and paying for GPs is simply not an option.
For others, it seems as though they would be willing to share some of the financial burden. With the financial pressures facing the health service it may only be a matter of time before radical approaches have to be considered. Whether these would be politically viable is another matter.''
Image PA