YouGov Profiles data reveals the huge diversity of cuisine preferences in each region of London
London is the second most decorated city in Europe for Michelin stars behind Paris, and is scores ahead of the cities in third and fourth place. In terms of diversity it may even be the best – every area of London has its own second language, creating particular pockets of cuisine as restaurants accommodate the locals and become renowned for their specialties.
New research from YouGov Profiles reveals the food tastes of residents of each of London's five regions. By analysing the profile data of YouGov members living in each borough, combined to create regional groupings, the huge diversity of Londoner's world cuisine preference is demonstrated in the graphic below.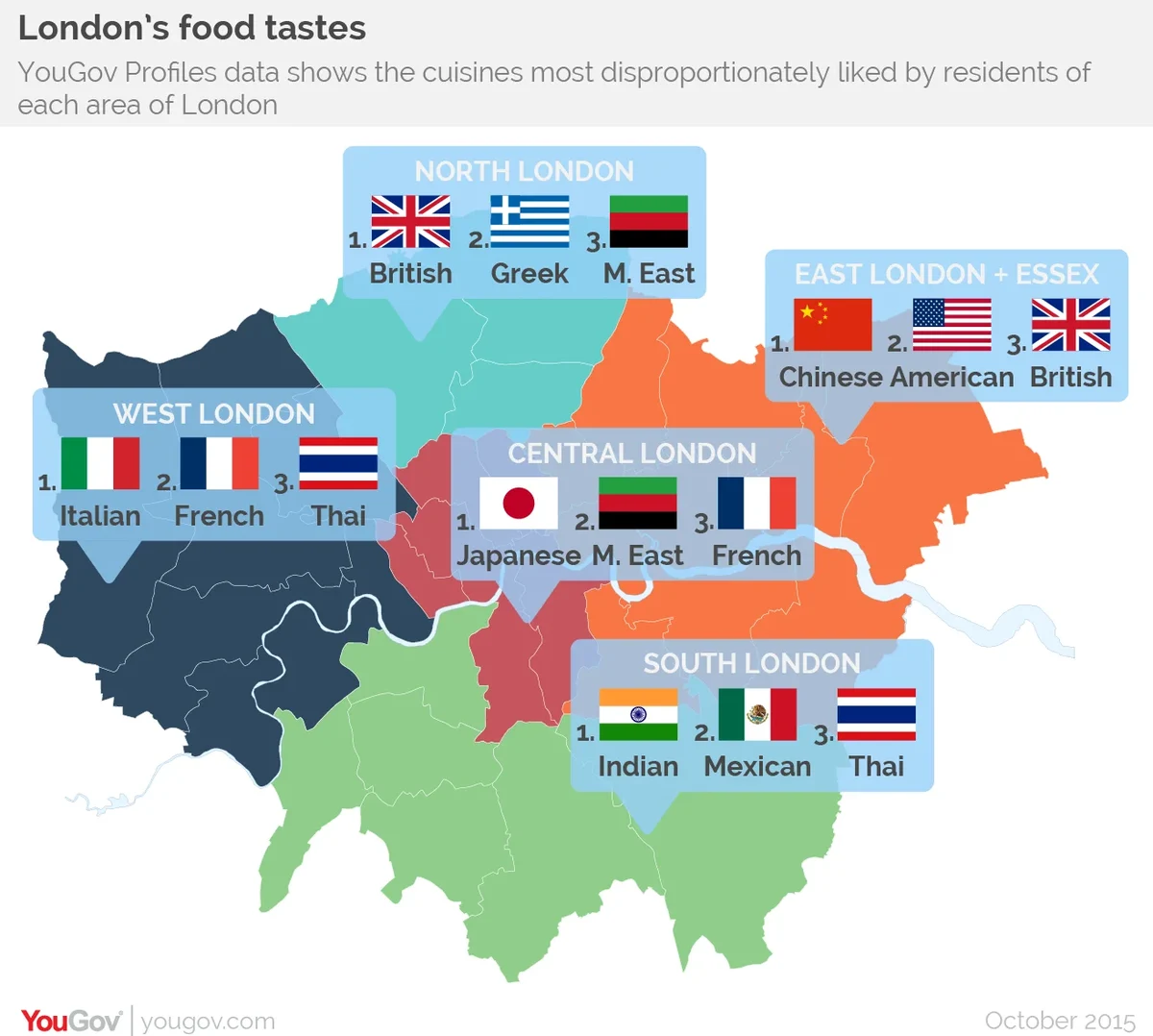 The cuisines that are most disproportionately liked by residents of each region map on to demographic truths about those areas. West London, with its higher income residents, prefer the world's most prestigious and classic cuisines – Italian and French top the list. In the cosmopolitan centre, Japanese and Middle Eastern are the model cuisines.
North London, with its large Greek and Turkish communities, prefer Greek, British and Middle Eastern, while in East London and Essex – a huge area spanning the large Indian areas closer to the centre, Chinese populations in Greenwich and the predominantly white parts of Essex – the cuisines that come out as both popular and particularly liked are Chinese, American and British.
East London also has a large Eastern European population, particularly in the borough of Newham but also in Barking and Dagenham. Setting aside overall popularity and cutting the data by the cuisines most distinct to the area, Eastern European food ranks in the top three for East London.
There are large Indian populations throughout London, from the Bengali area of Tower Hamlets all the way to the Gujurati area of Wembley, but South London has a large Tamil (South Indian) community that is rarely found in the rest of the city – restaurants in Tooting have become renowned for them. Indian is the most disproportionately liked cuisine in South London, ahead of Mexican and Thai.