How does Volkswagen's current situation compare to Toyota's crisis in 2010?
Periodically big brands have to face major reputational crises. As our data around the current scandal engulfing Volkswagen shows, it doesn't take long for the public's perception of an organisation to fall away so rapidly in so many different areas.
A quick glance at how some of the brand's key perception measures have fared since the emissions story broke shows the impact the scandal is already having on the public's attitude to Volkswagen.
Its Buzz score – measuring whether people have heard positive or negative news about the brand in the past two weeks – has declined over 70 points in the past seven days, taking it from neutral territory deeply into the negative.
Since the scandal broke its Impression score – gauging whether people feel positively or negatively about Volkswagen – has fallen by more than 60 points. Its Reputation score has declined by almost 40 points and its Quality score has fallen off by 25 points.
Most seriously, its overall brand health (shown in the Index score) has fallen greatly – going from a very strong, positive number to a negative figure in one week. Experience tells us that once this metric begins a concerted move south, a brand is in trouble as it points to it being more than a headline-generated storm in a teacup and instead being a real problem that is having a notable impact on all areas of its public perception.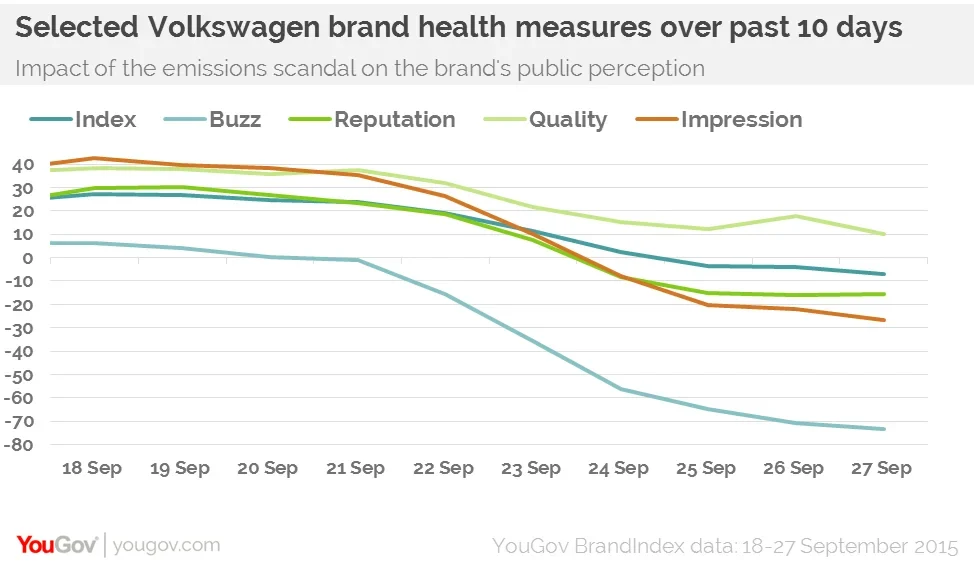 Two key things for Volkswagen will be how quickly its decline can be arrested and how long it will take the brand to recover its standing. To add some context to the current crisis, I have looked at data covering the last time a major car brand was rocked by a scandal – in 2010 when Toyota recalled cars after they were found to have faulty brakes.
The same metrics tell the same story we are currently seeing with Volkswagen, albeit with one key difference. Its Buzz score started to decline a few days before the rest of its brand heath measures implying that it was only felt by the public after a few days of concerted bad press. With Volkswagen, it has all hit at the same time.
Even after five months, Toyota's Reputation, Quality, Impression and Buzz scores had not regained the ground they lost during the recall saga.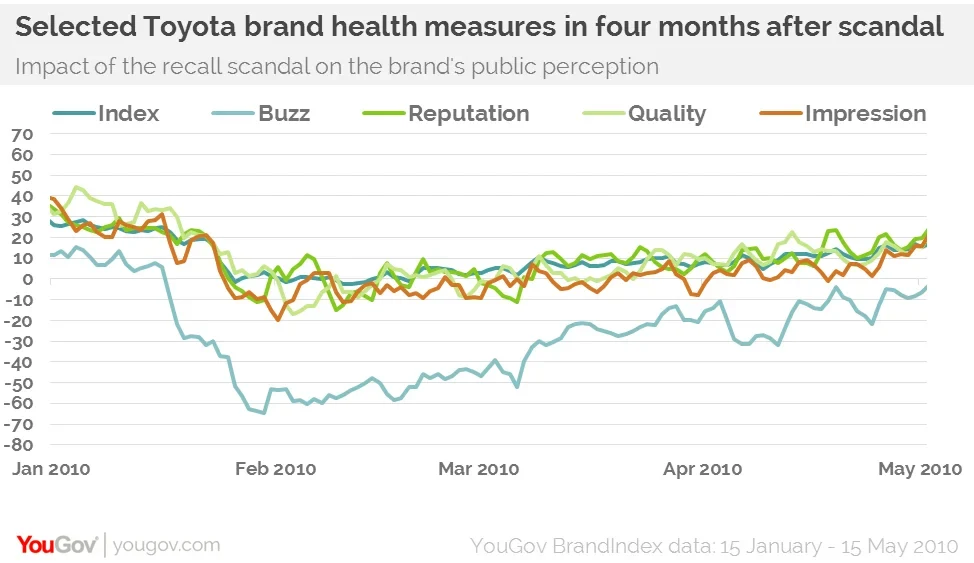 Comparing Toyota's and Volkswagen's Index scores over the first few days of their respective crises suggests that Volkswagen has fallen farther faster in terms of public sentiment.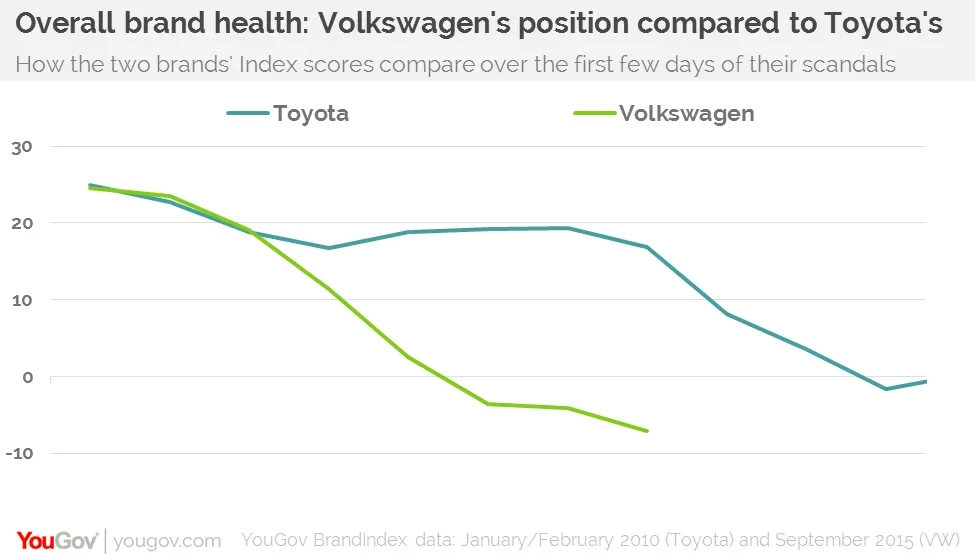 While the first few days of Volkswagen's brand health slide followed the same trajectory as Toyota's, it has subsequently collapsed further and is still falling. This is because while Toyota's problem was one of safety, in many ways Volkswagen's situation is more serious as from a corporate perspective there is little worse than deliberately misleading customers, the authorities and the public.
The coming days will tell us exactly how bad this is going to get for Volkswagen. This is not just a crisis based around negative coverage that will dissipate within a week or two. Its brand is suffering in too many areas for it to be simply nipped in the bud. It is likely things will get worse for Volkswagen. But the question now facing the automotive industry is not when the crisis will end but will anyone else get dragged in?
See more information about BrandIndex here
Image from PA