The top ten Labour shadow cabinet ministers have an average recognition rate of 34% – while their Conservative counterparts are much more recognised
The new Labour leadership has refreshed the opposition frontbench with a team of predominantly left-wing MPs, in a bid to move the party on from the Blair/Brown years and bring previously sidelined voices to the fore. Cabinet Blairites Jim Murphy, Stephen Twigg and Liam Byrne have lost their jobs, and other high-profile former shadow ministers – Yvette Cooper, Liz Kendall, Chris Leslie, Chuka Umunna and Tristram Hunt – have refused to serve in Jeremy Corbyn's top team.
The new additions have had fewer opportunities to make their voices heard and we can expect them to have a greater media presence in the future, but the image of experience is important in voting behaviour and the new shadow cabinet has a significantly lower recognition rate than their Conservative counterparts – even among their own supporters.
The average recognition rate for ten of the top government cabinet positions is 50%, while Labour's is only 34%. The average identification rate among those who voted Conservative in 2015 for their team is 52%, but Labour voter's have a rate of only 37% for their new frontbenchers.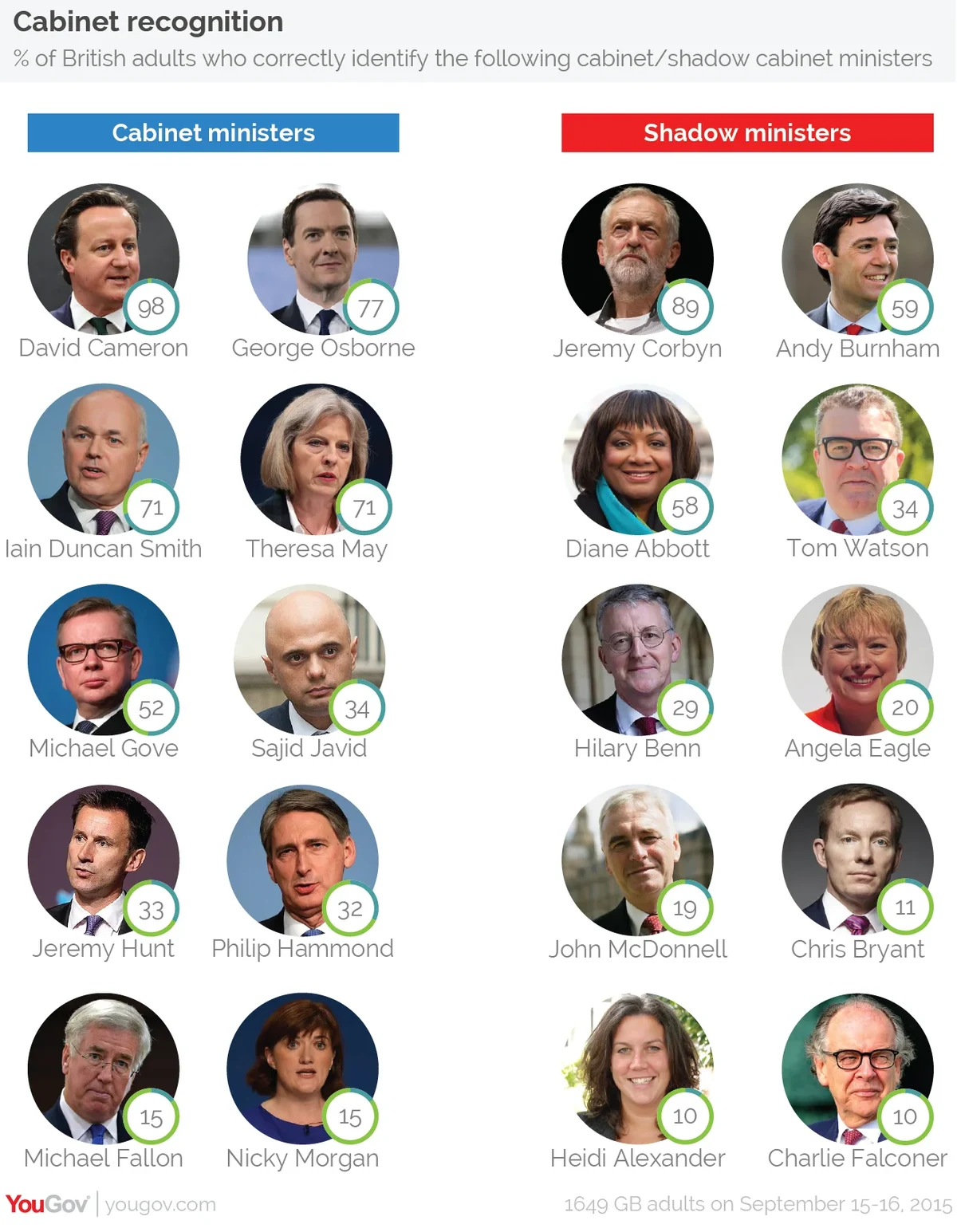 British adults were show a picture of each MP and asked to identify them from a list of 21 names. The MP with the highest misidentification is the minister for business, innovation and skills Sajid Javid – 19% think he's Chuka Umunna.
Only 34% of the general public and 37% of Labour voters correctly identify their deputy leader Tom Watson, while the shadow chancellor John McDonnell is identified by only 19% and 22% respectively.
Jeremy Corbyn's was criticised for failing to appoint a woman to any of the so-called 'Great Offices of State': leadership, Chancellor of the Exchequer, Foreign Secretary and Home Secretary. His is however the cabinet or shadow cabinet in history to include more women (16) than men (15) in the broader set of ministerial positions, many of which he says are the 'real' top jobs, overseeing key public services.