Most people say it's unlikey Jeremy Corbyn will win the next general election – and he receives negative ratings on every issue except the NHS
Jeremy Corbyn's first days of leadership have not been easy, with controversies over his shadow cabinet, position on the EU and not singing the national anthem. He managed to escape further trouble at yesterday's Prime Minister's questions, asking questions from the public in a bid to make the event less 'theatrical'.
The first poll to measure the British public's view of Jeremy Corbyn is not kind to the new Labour leader.
Today's YouGov research for the Times reveals that 48% of British adults expect Mr Corbyn to do badly as Labour leader while 30% expect him to do well. Not even a majority (50%) of those who voted Labour in May think he will do well, and 29% say he will do badly.
Four days after Ed Miliband's election as Labour leader in 2010, 50% of the public and 81% of Labour voters thought he would do well as leader, compared to 24% and 6% respectively who thought he would do badly.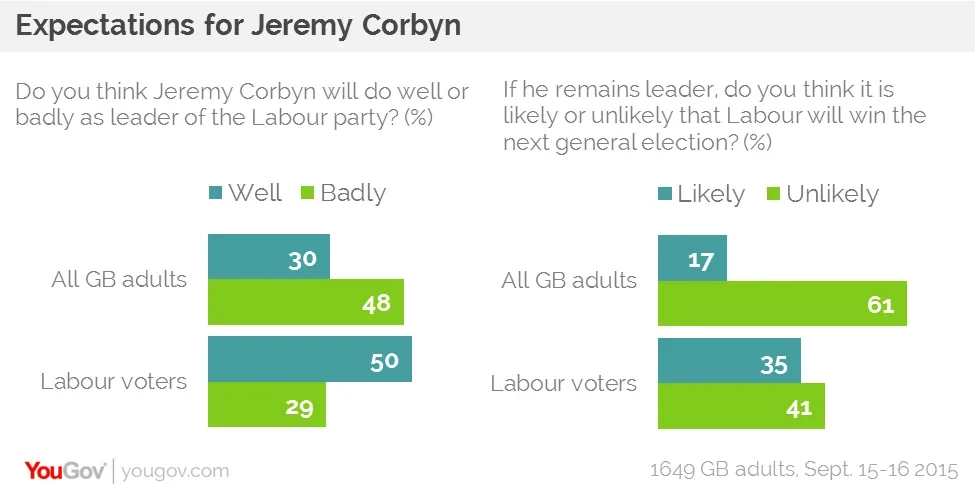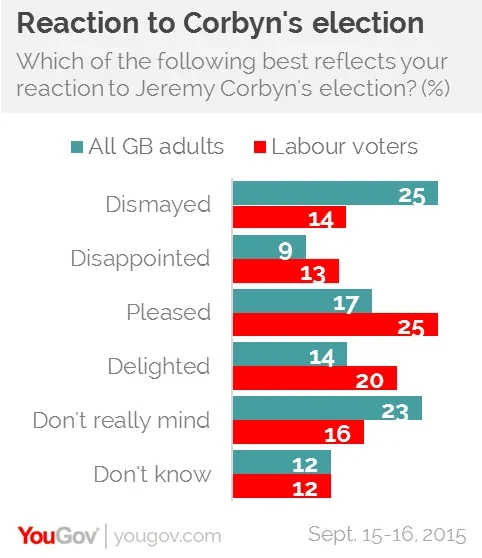 The results demonstrate the difference between the Labour members who elected Jeremy Corbyn and the voters who could make him prime minister. In our August Labour leadership poll 70% of Mr Corbyn's supporters said it was likely he could win in 2020 – but the latest research shows only 35% of those who voted Labour in 2015 think this is likely, while 41% say its unlikely.
Among the public as a whole 61% say its unlikely Mr Corbyn could win the next election, and 17% say it's likely. Those who are sceptical tend to see Jeremy Corbyn's chances as very slim – 39% say a Labour win under him in 2020 is very unlikely, while 22% say it's fairly unlikely.
45% of Labour voters say they were delighted or pleased with the leadership election news, however 27% say they were disappointed or dismayed and 23% say they didn't really mind either way.
25% of the general public say they were dismayed at the news, compared to 14% who were delighted.
Decisions
As leader Jeremy Corbyn is now responsible for determining the official Labour position on the big issues. The only issue the British public tend to trust him to make the right decisions on is the NHS – 40% trust him and 34% do not.
On every other issue he has a trust deficit of at least net -19, with terrorism (-27), managing the economy (-27) and defence (-34) particular concerns.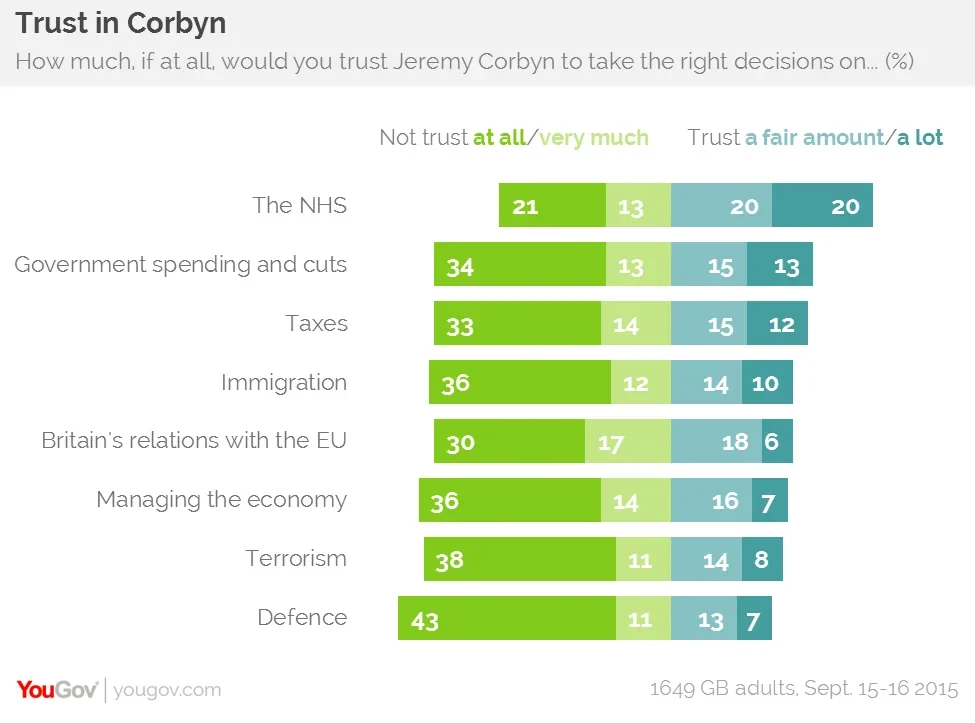 Labour voters are considerably more trusting in Jeremy Corbyn's decision making, with majorities having faith in his abilities on taxes (55%), the NHS (66%) and government spending and cuts (57%). On only one issue – defence – does the Labour leader veer close to negative territory (net +5), suggesting scepticism among Labour voters comes more down to his character than his ideas.
PA image