As the new university year begins, YouGov has released a new University Catering report, which explores students' financial situation as well as their eating habits and preferences.
The key finding from the report is that although the majority of students are struggling financially or just getting by, there has been a significant rise in the proportion who say they have enough money to enjoy themselves.
In 2015, 21% of students say they struggle to find enough money for their day-to-day needs, compared with 26% in the 2014 report. Additionally, there has been an increase of 10 percentage points of those who say they have enough money to spend on enjoying themselves; 26% in 2015 compared to 16% last year.
There is then the question of how and why this is the case. There has been a rise in the proportion of students that say that their parents or guardians top up their student loans (26% in 2015 vs. 19% in 2014). More students are also reporting that they work part-time or during holidays (35% in 2015 vs. 26% in 2014).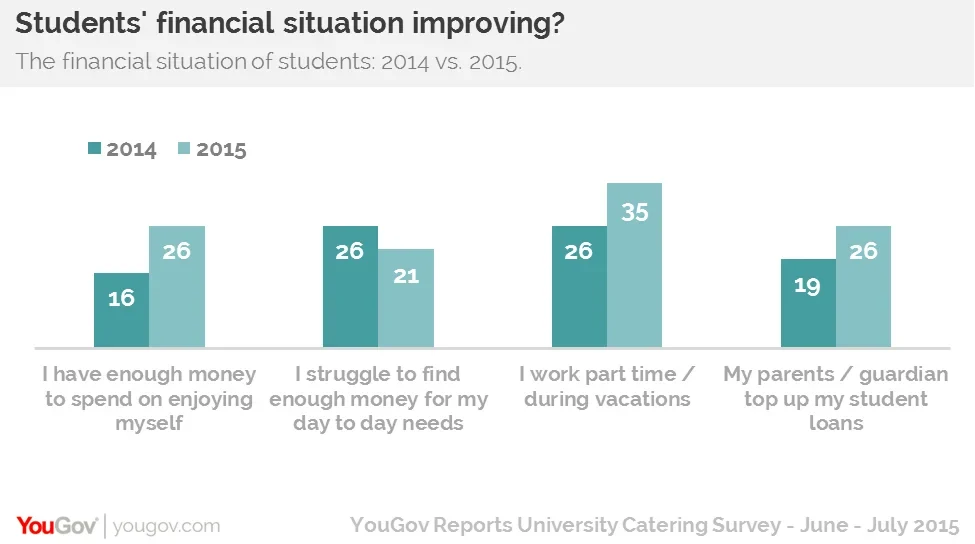 That is not to say that students are no longer on the lookout for value for money and good deals, especially when it comes to food. In terms of the most effective promotional activity influencing choice of food destination, 23% would like a general student discount and the same proportion favour meal deals. 10% would like one cheap meal/item which changes every day, 9% say one a cheap item that is always on the menu (e.g. £3 pasta).
YouGov Reports Research Director James McCoy said; ''The good news that the report indicates is that a number of students are feeling more content about their finances, and are able to feel more comfortable about spending money on fun activities.
''As student maintenance grants are replaced with loans for new full-time students, it will be interesting to see if the trend we have uncovered continues. Concern has been expressed that the move will deter some poorer students attending university.''
Image PA