Most British people say there should be no increase in admissions of Syrian refugees – and concerns over immigration have reached an all-time high
David Cameron gave in to pressure to increase the number of Syrian refugees Britain takes on Friday – he now is reportedly prepared to accept 15,000 – after a week in which hundreds of thousands of refugees entered Germany and other European countries – and the continent was stirred by a picture of a drowned Syrian child washed up on a beach. Some British newspapers that are traditionally averse to accepting asylum seekers were moved by the picture, urging readers to help.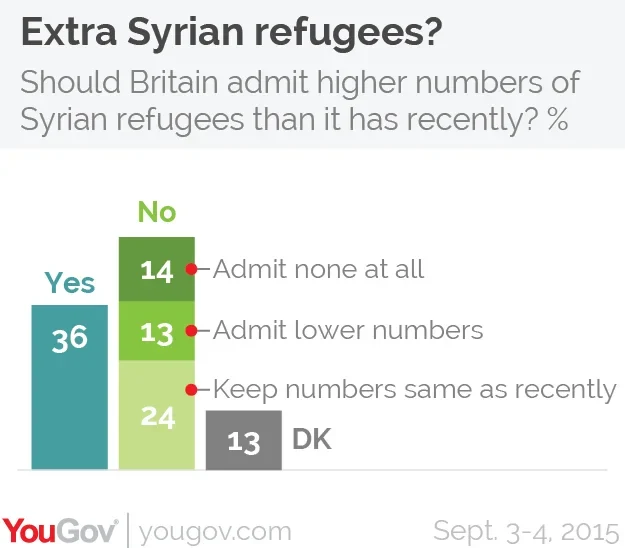 New YouGov research for the Sun reveals that most British people do not want more Syrian refugees in Britain. Slightly more than a third (36%) say Britain should admit higher numbers than it has recently, but 51% say it should not.
These divide between the 24% of people who want the numbers to remain as now – Britain has accepted nearly 5,000 over the last four years – and those who want there to be a reduction in numbers (13%) or a complete hold. (14%).
Syrians account for the largest proportion of refugees in the current crisis, but there are also hundreds of thousands from Afghanistan, Kosovo, Eritrea, Serbia and other countries. 28% say Britain should accept more of these refugees, while 60% say we should not.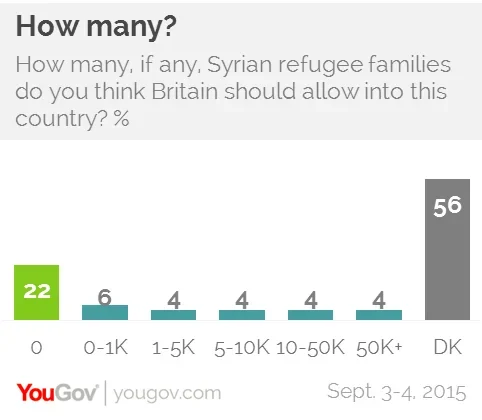 Regarding people in search of a better life, but not fleeing conflict or persecution, only 5% say we should accept higher numbers than recently. Of these, 37% say we should not accept any at all and 30% say we should accept fewer than recently.
Of the people who can put a number on how many Syrian refugees Britain should take, 50% say it should be zero.
Only 21% of the public say David Cameron has handled the crisis well, compared to 45% who say he has handled it badly.
Most British people (52%) would support Britain playing a greater military role in bringing an end to war in Syria. 22% would oppose this.
There has been a large increase in the proportion of people who say immigration is the most important issue facing the country. The economy is usually the number one issue, however 71% now say immigration is – the highest level since YouGov began asking the question in 2010 – compared to 35% for the economy.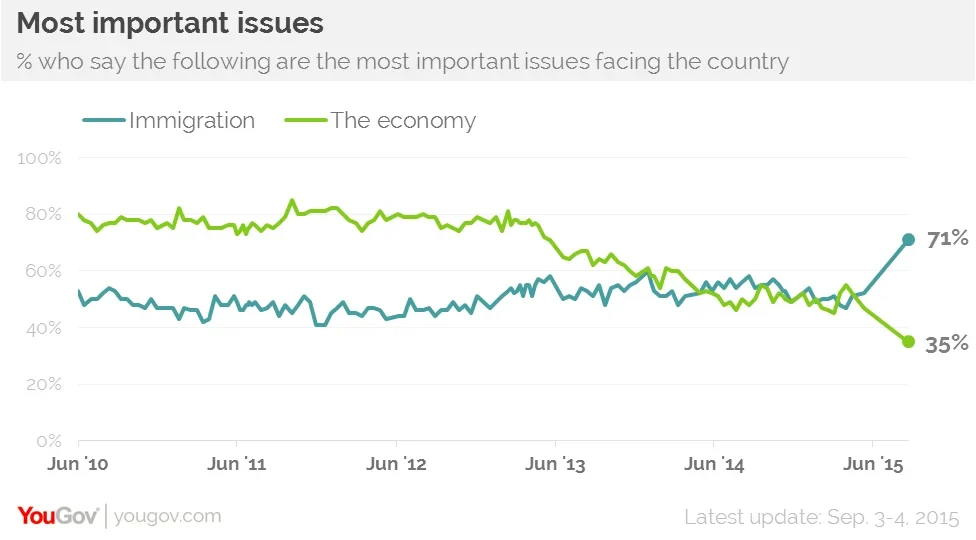 Between Thursday evening and Friday afternoon, 71% said they had seen the image of a child refugee featured on British newspapers' front pages, while 24% said they had not. Only 9% said it had changed their view in favour of accepting more refugees however. 33% say they didn't think we should accept more refugees and still don't, and 24% say they thought we should accept more and still do.
Germany
Germany has taken the vast majority of refugees so far, with numbers potentially reaching one million by the end of the year. YouGov polling in Germany has found that 63% of Germans say Britain should be following it's example, however 28% of Germans would rather their country had our approach.
Earlier this week, following reports of matchmaking schemes for citizens willing to share their homes with refugees, we found that 11% of British people said they would take a Syrian refugee into their home for six months. Now the results from Germany are in, revealing that 21% of Germans say they would house a Syrian refugee.
Government officials say the prime minister wants to prepare the Commons to back airstrikes on Syria in a vote in October. The US secretary of state John Kerry is said to be concerned that Russia, which has supported the Assad regime in the four-year civil war, is planning a military build-up in Syria.